Packing Tips & Advice
Follow these proven packing tips and advice from professional and frequent travelers. You'll reduce your chances of over-packing or forgetting a must have item while keeping your bag as light as possible.
1) Use a Packing List!
It's best to start your packing process days or even weeks ahead of your departure date; this gives you time to craft a complete list, plus purchase any additional items you might need. Start with a comprehensive published list and add or delete items. Creating a packing list is a fail-safe way to ensure that you won't forget to bring something important. Use this printable packing list as your starting point.
2) Know Your Airline's Baggage Rules and Fees
Before you begin packing review your airline's website and read its baggage policy. This is something you might even want to do prior to purchasing your plane ticket, especially if you're checking luggage. Don't forget to read their rules about carry-on bags either. Invest in and travel with a luggage scale. Click here for Luggage Accessories!
3) Never Check Essential Items
You must keep your valuable and essential belongings in your carry-on bag, not in your checked luggage. Your passport, identification, money, credit cards, jewelry, electronics, medicines other valuables should always be brought onto the plane with you. If the airline loses your luggage (or if a TSA agent gets sticky fingers), you'll regret stowing your expensive gear or meds in a checked bag. See the latest designs in security and anti-theft Document Organizers.
4) Follow the TSA 3-1-1 Rule Follow the TSA 3-1-1 Rule
The rule is all liquids brought onto planes must be in 3.4 ounce (100ml) bottles or smaller and all placed inside a single, clear, quart-size zip-top bag. Consolidating products into one bag and X-raying them separately from other carry-on items enables security officers to quickly clear all items. One-quart bag per person limits the total liquid volume each traveler can bring on broad. Want to carry more liquids, and then pack them in your checked luggage. Travel prepared with a TSA accepted toiletry kit.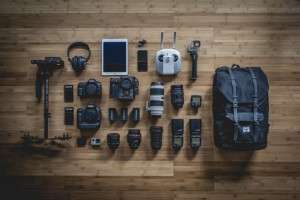 5) Packing Strategies
To maximize the space in your bag you need to use packing organizers. There are different styles for different needs. Our favorite type of packers are Compression Packers to reduce wrinkles and maximize space with their compression technology. Water proof styles help separate dirty and sweaty clothes from clean and keep toiletries in your checked bag from leaking. See all your options of packing gear here
Select Clothes Which Layer and Mix and Match - Wear layers, short sleeved shirts can go under long sleeve ones. A long scarf is decorative and can double as an evening wrap. Jeans or khakis go from day to night with the change of an athletic to a dress shoe or sandal.

Choose Knits, Wools, and Cottons - These fabrics tend to resist wrinkles and are versatile and stick to a few colors which mix and match.

Roll Softer Garments and Fold Stiffer Ones - Underwear, T-shirts, jeans, cotton pants, and knitwear won't wrinkle when rolled tightly. Stiffer fabrics, such as starched cotton shirts, blazers, dressy pants, and skirts, should be carefully folded.

Place Rolled Items in the Bottom of the Bag - Think of your suitcase as a three-layer cake. The suitcase is the icing; the rolled items make up the first layer.

Place Folded Garments Next - For your middle layer, start with the longest items, like skirts and slacks. Stack the garments on top of each other, alternating waists with hems. Position the pile flush with the suitcase, draping leftover fabric over the opposite end. (This conserves space since thick waistbands won't be piled on top of one another.) Wrap the draping ends of the pile into the center. Next, lay collars of shorter items, like shirts, at the hinge with the ends over the handles. Fold the collars and ends over once and fold the arms in.

Cover the Pile with a Dry-Cleaning Bag - Because of the bag's slippery surface, folded clothes don't stay in one place long enough for creases to set. Easy upgrade: Place a bag between each layer of clothing. To get to a certain layer easily, simply pull the ends of the bag up on either side.

Wash Your Clothes on the Road - Vacation rentals often have laundry facilities, however, if you're staying in a hotel, or taking a cruise wash clothes in sinks and hang them to dry, a blow dryer or iron can help get rid of any lingering dampness. Pack laundry soap sheets and a portable laundry-drying line. Carry a stain stick in your bag. Click here for essential Clothing Care Items!
Last but Not Least
Do not lock your checked bags except with TSA-approved locks; otherwise, if your bag is selected for random screening, agents will have to break the lock to get inside. Corporate Travel Safety offers a complete line of TSA Approved Locks, you're sure to find a style right for you.

Do not over pack your bag. Screeners will have a difficult time closing your luggage if selected for inspection, which will only lead to wrinkles and the potential for lost articles.

Place any packed belongings you don't feel comfortable with strangers handling in clear plastic bags.