Complete Guide to Travel Apps and Phone Security
Part 1 - Phone Security Tips
It just makes sense to take your phone with you when you travel, whether it's domestic or international. It can make your travels more convenient, but you also have to be much more vigilant, as for most of us our phone is increasingly our link to everything which is important to us. With so much personal information such as phone numbers, reminders, credit card information and saved passwords on it you'll want to take some extra precautions, so it (and all your information) don't end up in the wrong hands.
The risk of identity theft from a phone can be much higher than from a computer. Phones, go with us everywhere we go and their small size makes them more likely to be left behind or easily stolen than a laptop computer. Combine the higher loss factor with the fact that data on smartphones is less secure than the data on a laptop and it's a perfect recipe for identity theft.
To protect yourself you must protect your phone via two approaches. One is physically, and the other is using security features to guard and lock your personal information found on your phone.
Watch these short videos and read on......
Smartphone Password are Mandatory!
It's so easy to misplace or forget your phone while traveling, people tend to lose their phones in airports, cabs, and other public places because they're distracted. Setting a password is the simplest way to keep your data safe if your phone goes AWOL during the hustle and bustle of travel. Make sure that your password is strong enough so that a thief can't easily guess it. One of the most basic cell phone security tips is the easy step of setting up a password. If your phone has this capability, take advantage of it. Most phones have password settings you can customize.
Choose a difficult number, not 1234 or your birthday. Android uses an unlock pattern in which the owner has to run his finger over the screen in a certain manner. Make your unlock pattern complex by using more dots to connect your pattern. Set your phone up to go into password protect mode after as little time as possible, having not been touched. Many phones have this capability. On an iPhone you can go to "settings," then "general," then "password lock." On a BlackBerry, go into "security options," "general settings" and then "security timeout." This way, if your phone is physically stolen or lost, and if someone gets a hold of it, they able to get into the phone without the password. A lot of damage done in five minutes will not be able to get into the phone without the password. A lot of damage done in five minutes can be done in five minutes.
For ultimate security, set your phone so it goes into password protect mode immediately. Unfortunately, in some cases, having a pass code controlled lock on your phone's software isn't enough to protect your information. The user-set passcodes, which act like personal identification numbers to access phones, can be unlocked, allowing the person who holds your phone to reuse it.
While a passcode provides an extra layer of security because it makes it more difficult to access the phone's information; a number of YouTube videos show how to unlock passcodes on phones. In many cities, storefront cell phone repair shops can wipe the phone clean of information and data even if there's a passcode on it for as little as $20. Once wiped, a new user can personalize your phone and sync it up to his or her computer.
Ensure that your device locks itself automatically
If you set up password-protection on your phone but then leave it unlocked on your desk for 15 minutes, you won't have achieved very much. Most smartphones allow you to set them up to automatically lock themselves after a period of inactivity. Make sure you choose the shortest timeout you are comfortable with. Two to five minutes is better than ten to thirty, even if it does feel slightly inconvenient.
Install an anti-theft app
It might be a good idea to look into some of the anti-theft apps available out there. Numerous are available, just make sure you do the proper research before you buy. Install security software Your phone is a computing device and should be protected accordingly with security software just like your home computer. Numerous are available, and some are even free. Contact your cell phone provider. Look for apps that include malware prevention, remote data wipe, privacy review of apps and an automatic security advisor to alert you to potential risks when you change a device setting.
Be aware of your physical surroundings
Simply by being aware of your surroundings while using your phone in public can significantly lessen your chances of becoming a victim of theft. For instance, while your smartphone is on a table, desk, or counter, it is always a target for thieves. A quick turn of your head for even a moment is enough for your phone to be stolen. When not using it, put it in a pocket or bag or on your lap. Pickpockets practice stealing smartphones from the outer pocket of women's purse. Your cell phone can be easily lifted from an exterior pocket while you're intentionally bumped or distracted in a public setting by a thief or team of thieves working together, it happens all the time. Place your phone inside your purse.
Use an anti-theft phone security pouch or anti-theft travel bag

With the rise of smartphone thefts, you now have a solution with our new anti-theft travel bags, and pouches to keep your phone and other valuables secure. They look like ordinary travel gear, however, they have built-in anti-theft features to keep your phone secure, see them here.
Slashguard in front panel - Prevents the phone pouch from being slashed and the phone stolen

Slashproof

adjustable neck/shoulder strap - Prevents a thief from cutting the strap from the rear and running away with it

Tamperproof

concealed safety hook or lock keep bag closed.
Always keep an eye on your phone while traveling.
As you're going through airport security, watch your phone as it enters the x-ray machine and retrieve it immediately when it comes out—thieves will often steal phones during the few seconds where people don't pay attention as they go through the metal detector. If you set your phone down on a counter or table, don't let it out of your sight.
Don't click on links in text messages from people you don't trust.
As they do with email, spammers use text messages to install spyware and steal or "phish" your information. Make sure that whenever you click on a link in a text message, you trust the person who sent it. Even if you've been doing some recent holiday shopping, online stores, your bank, or your carrier won't ask to "verify" your account information. Be especially careful if you are traveling to Europe or Asia, where we have seen a much higher rate of text message spam.
Turn off automatic Wi-Fi and Bluetooth connections when you aren't using them.
One of the great things about modern mobile phones is their ability to connect to the internet in many ways. But keep in mind that when you do so, it's continually probing for wireless networks gives away information about your identity and location, and blindly connecting to unencrypted access points. This can let your phone leak all sorts of useful things for malicious actors to intercept and act upon. Airports, coffee shops, and hotels are especially attractive targets for hackers around the holidays, as they can use Wi-Fi and Bluetooth to attack phones and steal information.
The easiest way to stay safe (and conserve battery) is to turn Wi-Fi and Bluetooth off when you aren't using them. When you use Bluetooth, make sure it is in non-discoverable mode. When you use Wi-Fi, always try to use an encrypted network or use a VPN if your work has one, otherwise, hackers can easily "sniff" your data out of the air. So tell your phone to forget networks you no longer use, and configure your phone to automatically turn on/off wireless in certain places using a location-aware smartphone app.
Back up your data.
Before leaving on a trip, be sure to back up your data—it only takes a few minutes. If you happen to lose your phone (or accidentally drop it in the punch bowl), you'll be up and running in no time.
Apply software/firmware updates from your carrier or phone vendor.
Carriers and phone manufacturers routinely provide software or firmware updates to fix security vulnerabilities that hackers can use to attack your phone. Even if you get a brand new phone, it may be out of date. Check on the carrier or phone manufacturer's website for any available updates and be sure to apply updates as soon as they are available in the future. Just like a desktop or laptop computer, staying up to date is your first line of defense from hackers and viruses.
Only download applications from reputable sources.
Getting a new phone? The first thing you will likely do is download apps—lots of them. You will probably download more apps on your phone than you have on your computer. Make sure to download responsibly: it is safer to use application marketplaces provided by your carrier or phone vendor than to download directly from the web. Some sites have hosted repackaged versions of popular mobile apps—such as Google Maps—that include spyware. Malware and spyware can still sneak into marketplaces however, so be careful, especially with applications from unknown developers that have poor ratings or low download numbers.
Have a plan in case it gets stolen.
Many mobile security experts say it's not just a matter of "if" your smart phone is lost or stolen but "when." You should have a plan in place in case you lose your phone or it's stolen. There's software to remotely lock your smart phone or wipe it clean of all your information.
Pay attention to the private data accessed by apps.
Applications have the capability to access a lot of information about you. When you install an app, take the time to read the data and personal information that it needs to access. Whether it is access to your location, your personal information or text messages, it should make sense that the application needs access to those capabilities.
Download a "find your phone" app.
No matter how diligent you are about keeping your phone on you at all times, you're bound to lose it once, or it may even get stolen at some point. Download an app that helps you find your phone in case it is lost or stolen. Make sure you can remotely lock your phone if it is lost or stolen.
Exercise caution with links in SMS messages.
Smishing, or a combination of SMS texting and phishing, is when scammers send you a text to a malicious website or ask you to enter sensitive information. Don't click on links in text messages or emails if you don't know the sender or they look suspicious. Trust your instincts.
On Public Wi-Fi, limit email, and social networking.
Public Wi-Fi networks have become ubiquitous, but unfortunately securing the websites you may access haven't. Many websites, email programs, instant messaging programs and social networking sites are not entirely safe to browse or access from a public Wi-Fi network. Also, trying to limit your online shopping to "window shopping" on a public network.
Never enter your credit card information on a site that begins with only "http://".
If a website ever asks you to enter your credit card information, you should automatically look to see if the web address begins with "https". On unsecured networks, (those that have only have http://), mean a hacker could easily steal information like usernames, passwords and credit card numbers, which could lead to identity theft.
Enable a Wipe feature on your phone.
If you find yourself (or your phone) in a difficult situation, and you won't be able to get your phone back, a Wipe application will clear all the data so your private information won't fall into the wrong hands. If you can, try to download an app where you can wipe your SD card too.
Part 2 - Must Have Travel Apps
Traveling with a smartphone is all about having the right travel applications. The right cell phone apps can make getting there and being there a little bit easier! Here is a list of some of the most popular cell phone apps that travelers rely on worldwide.
First, before you go, the most important thing you need to do is understand your phone's data plan. Chances are your phone will work as you walk around Italy or Japan, but you need to know what it will cost you.
Don't be hit with a financial shock wave when you return home. Before you download any cell phone app, including any of the ones listed here - know that almost all app developers make you give up some privacy when you download an app. If you have never taken a look at an app's rules and conditions prior to downloading do this time, you may be amazed at what you find. The following is a listing of the most common smart phone travel applications broken down by subject:
Packing
Packing Pro: Even the most experienced traveler sometimes forgets a mobile phone charger or a hair dryer. Packing Pro asks you to set up a few lists of must-dos and must-haves for the various types of trips you take. The next time you go somewhere, just check off each task, from stopping newspaper delivery to packing your prescriptions, as you prepare to leave. If you're not in the mood to customize your chore list, an assortment of templates are tailored to women or men, kids or no kids (and how many), where you're going, and for how long.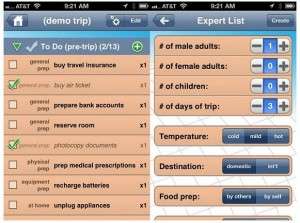 Packpoint: This is an easy to use packing list app that is for both business or leisure use. What makes it unique among other items is that this one helps you organize what you need to pack in your luggage and suitcase based on length of travel, weather at your destination, and any activities planned during your trip. Obviously its main focus is to help you with packing list - but this one helps you create ones that are unique to you. It lets you choose items based on activities you plan during your itinerary. The app has other features such as allowing you to save your list for use later on, it allows you to make lists for others via email, text message, Twitter and Facebook. The app also looks at weather data for your destination so that you should be fairly prepared for what's to come at your destination.
Packing List: Packing List helps you to create and maintain packing lists. It not only lets user to create a list from scratch, but also allows you to generate lists from an existing one. This application comes with a pre-loaded packing master list. You can simply check the categories/ items for their trip, click on "Generate List" menu item and you will have a packing list ready in no time. You can group items by category, location and luggage. Each items also has note, quantity and weight fields. Mass change features allow you to edit lists more easily. You may also email and share your lists. Printing out a copy of the lists helps you in case of lost luggage.
uPackingList: UPackingList is a true aider of the modern traveler and designed to help you pack and not to forget anything as you prepare for a trip. Familiarization with the program starts with a greeting page on which there is advice how to use the application. Thereafter, when you get used to the work with uPackingList, this option can be disabled. Start packing up with making a list of necessary things. Choose categories and things in these categories, mark them. If you can not find the thing needed in the catalog (it is unlikely though), you can add it to any section by yourself.
TripList: The Packing List & To-Do App For Travelers! Can't think of anything to pack? Not to worry. TripList includes a built in catalog with over 250 individual items. Add, edit and customize the items catalog as much as you would like.
Loyalty Programs and Frequent Flyer Mile Apps
MileBlaster This veteran mileage tracker lets you keep tabs on your loyalty points from most major domestic and international airlines (except American and Delta), as well as car-rental agencies and hotel programs such as Starwood Preferred Guest or Hilton HHonors. A nice touch: the service will alert you if your points are set to expire within the next six months.
Award Wallet This is another loyalty program tracker program similar to Mile Blaster.
RocketMiles Book your hotel stay through this pioneering site, and you'll get a nice kickback: thousands of airline points with your preferred carrier.
Airport, Airline and Airplane Information
Boingo: With a single account, Boingo's award winning Wi-Fi service helps you stay connected at more than 1 million hotspots around the world.
Airport Ace: When airport fast food is just not what you are looking forge it for you, this app gives you terminal maps and points out your other dining choices, as well as transport options out of the airport and WiFi info.
FlySmart: This is another airport map app.
AirSleep: is a free, easy-to-use audio app is perfect for sleep or relaxation in crowded and noisy travel environments. The AirSleep app blends a combination of beautiful nature sounds, ambient music and slow-wave (sleep frequency) audio shown to automatically trigger your brain's "deep sleep" response with sounds such as gentle rain, ocean waves, desert wind and more. The sounds are then blended with ambient music and slow-wave (sleep frequency) audio to automatically trigger your brain's "deep sleep" response. Users can adjust the length of each track based on travel time (up to 10 hours) and to break the spell, simply choose how you want it to end: with bells, chimes, harp, gong, xylophone or silence.
Entrain: This is an advanced sleep inducer and relaxation aid app for smartphones. The app is designed to help travelers relax by providing a rich selection of calming sounds, including soothing sounds from nature, gentle audio atmospheres, and music. It also includes NLP / hypnosis audio tracks designed to help travelers sleep, relax, meditate, and focus.
FlightAware - This is the easiest, no-frills app to track your flight; just provide your airline and flight number and let Flight Aware do the rest. Accept the push notification feature for updates on flight delays, gate changes or cancellations. It also pushes notifications for estimated departure times, delays or changes in the departure time, general airport delays, and gate or terminal assignment changes.
FlightStats - Perfect for day-of-travel information, the FlightStats app is designed to keep an up-to-the-minute watch on your flight with a map-based plane tracker; provides terminal, gate, and baggage-claim data; and keeps a vigilant watch on weather patterns for potential flight delays. You can also find information about airport services and amenities.
Just Landed Ever need to have someone pick you up at the airport, but don't want them wasting there time waiting for you because of a flight delay - that's were this app comes into play. The person who is picking you up just types in your flight number and your plane's status, anticipated arrival (with real-time updates) and terminal number all pop up on the screen. It'll even judge distance and factor traffic into a countdown to remind their lazy asses when to leave.
SeatGuru Never get stuck in the middle again. Just enter your flight number and consult one of SeatGuru's nearly 800 cabin layout charts, which offer details on legroom, seat-back amenities, recline ability, and proximity to bathrooms. A bonus: when you shop for flights on the site, a built-in key provides a comprehensive snapshot of each plane's comfort factors.
GateGuru - Great for finding your way around airports. During long layovers or unexpected delays, fire up GateGuru for a map of the airport. This app is essentially a Seat Guru for airports, the Gate Guru app has information and maps for gate locations, food vendors, stores, ATM's, places to plug in, airline clubs, Wi-Fi availability and more for heaps upon heaps of airports.
App in the Air: This app helps you fly smarter with everything you need to make the most of your flight experience. It provides information that helps you find the best food in the airport, how to connect to free wireless internet, to learning the best ways to spend free time during long layovers, to finding the best coffee. Don't be late with online check-in and keep your friends and family updated by sharing your flight status. Currently only available for iPhone. Other app features include:
Get the latest official information on your flight/airline/airport Follow advice from fellow passengers Connect with other travelers with online chat.

Use packing/to-do list Check in straight from the app Get your personal flight schedule and receive notifications on every stage of the flight.

Detailed flight tracking Sharing of your flight and airplane details Personal stats on miles/airports/countries Slick and beautiful design.

Make sure to check out the airport tips section for the airport you are visiting.
FlightTrack - Stay one step ahead of your bewildered travel mates: you'll know enviable details about your flight fast: gate changes, delay times, seat availability via SeatGuru, and baggage claim locations. Look up airport delay predictions based on FAA data. You can even be alerted to gate changes or flight delays. Plus, you can sync with TripIt.
Travel Organization Apps
TripCase - Stop poring through your inbox for confirmation emails and instead concisely view your trip's entire itinerary in a single, polished place: the TripCase app. Either forward email confirmations to TripCase and they'll sync the travel data to your profile, or manually enter trip details yourself. Particularly helpful for flights, the app provides information about your aircraft (plus its available seats), gate and baggage-claim details, and even directions to the airport. From car rentals to tours to accommodations, your itinerary is cleanly presented in a shareable timeline. Should you miss a flight, the app has readily available alternate-flight information from both the original airline and its competitors.
TripCase - Stop poring through your inbox for confirmation emails and instead concisely view your trip's entire itinerary in a single, polished place: the TripCase app. Either forward email confirmations to
Google Trips - Google's new travel taps into the traveler's Gmail and Google Calendar accounts and then pulls all of the data together. The Google Trips App - which is described as "your personalized tour guide in your pocket" takes all of your travel information such as reservations and confirmations and puts it all into one app. Google Trips also suggests nearby activities based on expert recommendations.
Flight+: This is a another flight tracker app that lets you track all available flights
worldwide in real-time, and display them in one intuitive interface.
FlightBoard: Turn your phone or tablet into the Arrivals and Departures board for any airport in the world! FlightBoard lets you check out the boards of your favorite airports and view all the flight information in real-time. The app designers used the board at Charles de Gaulle Airport in Paris as inspiration for the design so it has a beautiful, old school feel.
Next Flight: This is a great app to have during those times when you either miss a flight or want to check if a more convenient flight time is available. You'll be able to enter your flight itinerary and then will be shown a list of available flights for that day as well as the two days following. There are over 1,200 airline carriers in their system as well as more than 4,300 airports around the world, making your chances of finding a flight alternative pretty high.
HipMunk:There's more to selecting a flight than going by price alone. Hipmunk understands that, and sorts flights based on their "agony" level, which incorporates factors such as travel time, length of travel, and how many stops are involved. You can also sort flights by price, departure time, or arrival time. When you find a flight you like, you can book it from your phone, email the flight details, or finish up the transaction on a desktop computer.
Flyers Rights: This is a non profit airline consumer organization that represents passenger rights. This app helps inform passengers about what their rights are, new laws, key contacts like airline numbers, government agencies, and media outlets, and safety information like what to do if you are ever stranded on a tarmac.
Airport Parking and Rental Car Information
Airport Car Finder: An interesting app to help you find your car because who hasn't come back from a long trip, or just a trip to the grocery store, and wondered where they parked their car? This app uses the phones compass and camera to pinpoint the location of your car. When saving your car's location, you take a photo of the car, which is assigned a location that will show up on a map when you return to find your car. The new Parking Meter Alert is an excellent addition; it will give you a notification that looks the same as an appointment notification. Some users have reported spotty results, and the company is upfront about admitting that performance depends largely on the accuracy of the GPS signal at the time you pinpoint as well as return to your car.
Airport Car Rental: This is a very helpful app for travelers who need to use a car. This global app allows users to enter in their reservation requirements, including if they need to drop off the vehicle in a different location, and then compare and contrast different deals. You can browse by category (i.e. economy, full size, SUV, luxury) or simply peruse all of the available vehicles.
G-Park App is another app.
BestParking: This is an excellent app for U.S. travelers who want to find the cheapest and most convenient parking areas to keep their cars. The app reviews garages, parking lots, and even decodes street parking signs to help you save money. Before arriving you will know hours of operation, if there is a valet service, contact information, and acceptable payment methods. Plus, their newest version also has a "mobile coupons" feature for New York City.
Hotel Apps
TV Guide: This is a great app for domestic travelers (sorry, not avail internationally yet). How many times have you spent loads of time surfing the channels on your hotel cable box trying to find a channel. Now you have an option - Instead of looking around for the hotel's local channel listings every time you travel, just download the TV Guide mobile app—which USA Today calls "invaluable" and Time lists as one of 50 Must-Have Apps. You now have an app which will let you know what's on, search for programs or by category, set reminders and more.
Airbnb This is a unique app that is a community marketplace where guests can book spaces from hosts, connecting people who have space to spare with those who are looking for a place to stay. Whether an apartment for a night, a castle for a week, or a villa for a month, Airbnb connects people to unique travel experiences, at any price point, in more than 33,000 cities and 192 countries. Airbnb is the easiest way for people to monetize their extra space and showcase it to an audience of millions of travelers. For travelers, the app offers over 350,000 hosts and 500,000 homes in 34,000 cities. To give you an idea of its popularity, it was recently reported that more than 175,000 people stayed in an Airbnb listing in a single night. The use of AirBnB is becoming so popular, the City of New York is taking legal action because they say so many people use the app in New York that it is taking away vital tax money they loose when travelers stay at an AirBnB home in lieu of a regular hotel.
WeHostels This is the nomadic travelers friend when looking for a less expensive place to hang your head almost anywhere in the world at any time. The app has several features that make it valuable including a new feature called "Here & Tonight" which helps connect you with the best available rooms and rates nearby.
Homeland Security Customs Apps
Simply Declare: This is a company that has two app, the Simply Declare Travel App and the free version. The app allows you to add, update, and manage your declarable travel purchases.
Smartphone - WiFi - Communications - Keeping in Touch
Free WiFi: This is a website that lets you know about free WiFi at common locations such as companies like Panera Bread, Barnes & Noble, Starbucks, Krystal, FedEx Office and McDonald's, hotels, motels, resorts, RV parks, campgrounds, and vacation rental locations, all which have multiple or single locations with Free Wi-Fi. You can use each company's web site's location search feature to find a location near you or where you'll be traveling.
Onavo This app allows you to minimize your international data use, so when you get out of airplane mode when traveling overseas to use GPS or check an email, you don't have to worry about large charges from your cell phone company.
Free Airport WiFi: This is a website that lets you know about free WiFi at airports.
Boingo Wi-Finder: This app won the top spot as the 2012 Best Travel App. With the Internet such an integral part of our lives, being able to find a way to get online wherever you are is as much a part of modern travel as finding accommodations. But finding those networks isn't always easy--unless you've got an app like Wi-Finder, by Boingo. It helps Boingo users find both Boingo and free hotspots based on your location. This app is now available for both phones and tablets - note: to phone users: Wi-Fi Finder requires phone call permission on the phone version as an easy way to call the public Wi-Fi location when viewing the detail view of a Wi-Fi hotspot. The app will NEVER make calls unless you explicitly click on the phone icon and confirm that you would like to call the Wi-Fi location. The new Honeycomb version features over 550,000 free and paid locations in 144 countries worldwide. Never worry again about not finding a Wi-Fi internet connection. Wi-Fi Finder is simply the best app for finding free or paid public Wi-Fi hotspots online or offline—perfect for Skype users on the go!
Wi-Fi Finder Find internet hotspots around the world with a listing that span over 144 countries.
Four Square: Foursquare users are a helpful lot, especially when it comes to travel. If you find yourself in the unfortunate situation of being stuck at an airport without free Wi-Fi, just ask Foursquare for the insider access code. The travel blog foXnoMad points out you can track down a wireless password for an airport just by Googling something like "foursquare Ataturk Airport." Search for the words "wifi" or "wireless" and you should find tips on either where you can grab free Wi-Fi (e.g., inside some airport bar) or the wireless password.
IAmHere: Want your friends to know exactly where you are? This app sends an email with a link to Google Maps. In tests, this app was found to be accurate to within a hundred feet.
Skype: This app is a miracle of international communication, eliminating any need for a hotel-room phone. As long as you're connected by Wi-Fi, you'll get free phone calls to any Skype user in the world. And since calls to landlines are a mere 2 cents a minute, you won't need to shell out for an international call to a helpline if your laptop hiccups or your airline bungles your reservation.
Help Call This is a unique app that features a one-touch local emergency access around the world. The app uses your phone's built-in GPS to locate your exact location and then gives you access to local ambulances, police, and fire stations in 126 countries.in over 100 countries. If you are unable to see to dial the numbers, it even offers the option to shake the phone to make a life-saving emergency call if needed.
Travel

Convertors
HiConverter: The App Store is awash with converter programs for mundane info like temperature and distance. Most are about the same and work fine, provided you need to make density and pressure conversions on the beach in Spain. But this is one of only a few to include all the digits tourists crave: not just currency exchanges based on today's rates, but also clothing sizes and shoe sizes, making it indispensable for European shopping runs. There's a tip calculator that takes tax into account and divides the check by the number of people in your party, which obviates the need for that stand-alone App Store perennial, Tipulator.
Health
iSunBurn: Who hasn't been burned (literally) by a deceptively cloudy day? Download this app and get the UV Index forecast for the day, which will tell you what SPF level of sunscreen you'll need to apply and how long it will take unprotected skin to burn. Think of all the money you'll save on aloe!
Wolfran Sun Exposure Reference: This is another skin saver application that gives people guidance about what sun protection factor they should use based on the ultraviolet radiation index, time of day, location and their skin type. What makes this app a little different is that the makers of this app claim that it gives an accurate prediction of "time to sunburn," down to the minute; with the help of weather service satellite data, the app also forecasts the UV levels for five days. Available for Apple and includes sunrise and sunset time, the current position of the sun and the weather forecast. (The app also interfaces with Siri, Apple's voice activated search engine: If you ask, "What's the UV forecast for the day?" Siri can answer using Wolfram-sourced data.)
Sunblock is another sun exposure app.
Pocket First Aid & CPR from American Heart Association I'm sure you aren't expecting catastrophe, but emergencies are rarely scheduled events. This app offers step-by-step life-saving information, with images and videos, on how to assist in medical situations. You can also create a personal medical profile with medications, insurance information, and emergency contacts. You even have the option to add it to your phone as wallpaper so first responders can easily see it.
ATM Finders - Anywhere in the World
There are a number of ATM finder apps out there, including those embedded in official bank apps (such as the Bank of America app); platform availability varies for each, but you will find one for almost any smart phone.
ATM Hunter: This is a free app by MasterCard returns a list of nearby ATM's, including information on the establishment in which you will find it (bank, gas station, mall, store, etc.). It also allows you to filter to find a specific bank, a drive-through, wheelchair accessibility, 24-hour operation and a bit more. It's one of only a few ATM finders that claim to offer worldwide information. Unfortunately, it only offers map view once you have selected a specific ATM.
Money Converters
Oanda Currency Converter or XE Currency (free, Internet) instantly tells you today's best exchange rate. You can compare dollars to more than 190 currencies, plus see what exchange rate you'll get on your credit card purchases and ATM withdrawals. The app saves your most frequently looked-up currencies.
Currency This currency app provides travelers with up-to-date currency exchange rates. Currencies are provided for over 180 countries, which allows you to find out the value of local money while you are traveling.
Kurrency A new currency converter to hit the market which is similar to many on the market as it allows you to convert almost all the currencies of the world into your national currency. What unique about this app is its user-friendly interface.
Currency iPhone App: This is another free XE iPhone app.
Clothing Size Converters
Snag the Correct Clothing Size Abroad Clothing size is unreliable from label to label—and country to country. Now men and women can shop with confidence by using Convert Clothes. When you roll a dial to pick your U.S. size in four categories (clothes, shoes, pants, and bra), the app's simple interface spits out the corresponding numbers for eight countries, including Japan and France. Whether anything will actually fit is another story.
Subways and Trains
MetroNap the Alarm Clock for Subway Nappers Subway napping is an enjoyable but risky pastime: Falling asleep too deeply and you could miss your stop, your meeting, date, or other important destination - heck you could even miss your last train connection and really be in a rough spot. That's where MetroNap comes into play. This app can tell how many stops have passed based on the motion of the train and will wake you from your slumber at the stop of your choice.
Master Subway Transportation Whether you're in Tunis or Tokyo, the best way to feel like a local is to travel like one. The AllSubway HD app, loaded with zoom-able subway maps of 137 cities across six continents, lets you puzzle out your public-transportation possibilities wherever you are (yes, even underground—no Wi-Fi needed). The app links to each subway's website so you can bone up on fares, schedules, and service changes in advance.
HopStop: With maps for more than 600 cities from New York to Moscow, HopStop makes the most complex train systems in the world feel approachable. Enter your starting point and destination and the app yields detailed, step-by-step instructions, including pointers on underground transfers and real-time updates on service changes.
aMetro -- Subway and train transport information. Most of the major world cities will have applications for navigating city trains or subways. For bigger cities like Tokyo, there are more robust options available. But if you'd like a single app that gives you access to transit systems all over the world (in 180 cities to be exact) then this app is the way to go. There's a video demo of the app in action available on YouTube if you'd like a preview.
DB Navigator (free, Internet), German Rail's comprehensive train timetables, includes connections for all of continental Europe.
For the UK, try thetrainline or UK Train Times.
MetrO Various subway map apps for the London Tube, Paris Métro, and others (pay, self-contained) have detailed, digital plans of public transit networks that save you from having to unfold an unwieldy map on a busy platform. The free, self-contained MetrO is a handy route-planner for public transit in dozens of European cities, but does not have maps.
Maps
Google Maps (free, Internet), one of many handy route-finding apps, uses GPS to identify your current location and downloads step-by-step driving or walking instructions to your destination. Google Earth - Includes the same maps, as well as 3-D models of landscapes and buildings as Google maps, but this is a pocket-sized version of Google's awesome web app. The Google Earth iPhone app lets you travel the globe while traveling the globe. Handy for lending some perspective or just locating yourself in a new city, the app makes use of the same types of global satellite and aerial views you would get on the web. Just picture it: a third of the world's land mass, available for your viewing pleasure at the tap of a finger.
PocketEarth Never get lost again thanks to PocketEarth. Chock full of interactive maps (over 100,000 places worldwide), detailed travel guides, bicyclist maps, and much more, the PocketEarth app will guide your way. Best of all, you can access your maps offline so you won't have to use data roaming to navigate. Available on Apple as CityMaps2Go Never get lost or bored in a new city again. This app offers thousands of downloadable maps for every major city around the world-all available for offline interacting. You'll need an internet connection to download each map, but after that you're free and clear from data dependence and have the whole city (including descriptions on top tourist spots, food/drink destinations, hotels, hospitals and more) in the palm of your hand.
Driving - Navigation - Transportation - Taxis - Parking
Know that various GPS apps (pay, Internet) work the same as your car's GPS system, but the ones with European maps can be prohibitively expensive. Also, GPS gobbles valuable bandwidth, which can be extremely expensive if you're data roaming. Here are a few to consider.
Waze: If you're about to hit the highway, who do you trust for more-accurate traffic updates: a news reporter, or another driver who's actually out there on the road? That's where Waze comes in, a social GPS navigation app that gets its power from all the folks using it. Drivers contribute information on traffic and road data simply by using Waze. You can also share details on accidents, speed traps, and more. It's like a backseat driver, only helpful.
Where: In the mood for a quick bite, but unsure about the dining options in your area? Ask Where. This app helps you find restaurants, bars, stores, and other establishments that are close to your current location, and it also alerts you to deals that can save you money. In addition, you can share recommendations with friends, and get their suggestions on places to go.
Ulysse Speedometer: Using your cell phone while driving is a serious safety no-no, but adding Ulysse Speedometer can make you a safer driver. (As long as you don't operate the app while you're behind the wheel, of course!) This app calculates your vehicle's speed, altitude, and direction, and lets you set warnings to indicate when you're driving too fast. You also can track your car's speed and performance over time.
Car Finder: It is an interesting app to help you find your car because who hasn't come back from a long trip, or just a trip to the grocery store, and wondered where they parked their car? This app uses the phones compass and camera to pinpoint the location of your car. When saving your car's location, you take a photo of the car, which is assigned a location that will show up on a map when you return to find your car.
Park Me: Finding a parking spot, especially in unfamiliar territory, can be a hassle, so you might want to consider the ParkMe App to do the parking finding for you. The app available for both iOS and Android is basically a database that uses the Google Maps API Google Maps API to help you locate a spot in almost any city you can think of. Whats also unique is that it also shows you prices, how you can pay and when garages are open, but best of all, it'll tell you how busy specific locations are using real-time figures, thanks to partnerships with some of the companies that deal in floor space.
iExit Interstate Exit Guide:Few things will irritate road trippers more than exiting a highway only to find out that their favorite chain restaurant is MIA. If only they had iExit Interstate Exit Guide. This app tells you which restaurants, gas stations, hotels, and other services you'll find at each exit.
GasBuddy: Put your phone's GPS feature to good use, and save yourself some money. GasBuddy searches near your location for gas stations. You can sort the results by price or distance, and you can get directions and details on any extra services a given station provides.
Sygic Voice Guided GPS Instructions: Here's a GPS app that's packed with TomTom maps and delivers voice-guided, turn-by-turn driving directions. Sygic is an offline navigation tool that will have you wondering why you'd ever pay for a stand-alone GPS device again.
Taxi Cab
There are a variety of these apps - Such as Taxi", Call a Taxi, Cab4Me, and a variety of others. These apps find the nearest cab companies to your location and offer contact numbers, location, and even the ability to book and pay for your ride. None of the cab apps worked very well in the suburban and rural areas I visited this summer, but a number of friends swear by the apps, and have mentioned the three above at some point. Cab4me has a prettier user interface but costs a couple bucks; Taxi Magic is free. Call a Taxi has an iPad version, but since the iPad has no phone, that means that none of the phone numbers are clickable, a fairly serious failing. For any cab app, you may want to avoid using the auto-pay options, as some services hold up to $45 each time you call a cab, much like a security deposit.
Taxi Magic: Standing on a street corner, waving your arm to hail a taxi? That's so last century. Now you can use Taxi Magic, an app that finds taxis based on your location and includes an integrated online booking service so that you can request to have a cab come to you. This is a real-time mobile taxi app, available in 60 U.S. cities, that offers immediate pickups, including fare estimates, or reservations for later rides. But the best part of all is that if you don't have cash handy - now worries, you pay via a registered credit card, and your receipt is emailed to you, so you don't have to worry about pulling out your cash as you exit the car.
Taxi Cab Finder: Consider using a taxicab estimator which will give you a ball park price of the cab ride before you get in. Taxi Cab Finder http://www.taxifarefinder.com/ is a website that you can pull up on your phone or on your computer before you leave. While it may not have every city in the world, it has many large cities within the U.S.
Uber: This is the new way to catch a cab - Many travelers are using this service for a variety of reasons - and almost always positive. If you are looking for a way to save money - want to travel in a clean vehicle - and want a price for your fare before you get in the cab - Try out Uber.
Lyft: Simply download the app, request a Lyft and you'll be on your way in minutes with a friendly, background-checked community driver. It's more fun and costs less than a cab or an Uber. Lyft's got the lowest prices in town!
Photography Applications
Use Your Camera to Save Important Information Numerous mobile travel apps are now available and here are a few are listed below. However, many travelers don't think about using their phone's camera to its full potential. Travelers should remember that when they travel with a newer smartphone that has storage capabilities, they should consider that their phone's camera makes a great storage and communication tool. Don't want to carry around your map with directions to dinner? Take a photo. How about a snapshot of the street where your hotel is at so you can show the taxi driver? Voila. Have a food allergy? Take a photo of the food to show at the restaurant.
Google+ Fewer and fewer people whip out their cameras and prefer to shoot with their smartphones. If you are not the type to back up to clean up your photo album once in a while, you would likely find that your photos have eaten up your phone's memory or storage capacity. If you left your laptop at home and are traveling with just your phone, enable your Google+ account to automatically back up your photos; with your photos stored in the cloud, you will be able to free up space on your phone for more photos. Make sure however to enable this feature only on WiFi while abroad, as you might end up with a shocker of a phone bill if you are on a metered data roaming plan.
Slidely An interesting app that lets you share your favorite moments from a vacation with friends, and while great photographs can help you tell the story. What makes the Slidely Show app different from others is that it allows you to collect your top photos and match them with music so you can share not just a single photo but create a beautiful slideshow that captures the best moments of your trip. The Slidely Show app is a flexible tool, whether you want to recap a recent trip with one of your companions, share travels with your loved ones back home, or update the world on your most recent happenings. Hassle-free, allows you to grab photos from social media, your device's camera roll, DropBox, and more, then create your slideshow and send it out via Whatsapp, Instagram, email, social media, and more.
PostaGram This is a unique app that lets you take a picture and someone else prints it out in a post card format and sends it via snail-mail for you to anywhere in the world - Very low effort but with a great result. Other similar programs may be found such as SnapShot Postcard and fCards will let you email your postcard instead.
Photosynth - This is a free Microsoft program which is both an Internet and iPhone app. Whether you're standing at the base of Machu Picchu or flying down the slopes in Zermatt, Microsoft's Photosynth Interactive Panorama Capture and Sharing is a free app which makes the best of your camera by stitching together your photos to create panoramic images. Send 360-degree views to friends and family while you're abroad – prepare to be amazed.
Sphere Imagine viewing distant locales as though you were there? That's essentially what's possible with Sphere, which provides 360 degree panoramas that cover the entire scene. Every angle is captured so that your iOS device provides a sphere of the surroundings of different locations captured, and presented by the app. There are a ton of panorama apps in the App Store, but Sphere takes the genre to the next level by fully immersing you in the panorama. There's so much more to see of a given scene, and the app provides major landmarks, various interesting spots around big cities, and different places to stay. The app supports gyroscope allowing you to physically spin around to look at the scene, and there's also a touch option available. This is a great and absolute mesmerizing unique experience app that you can use to capture your surroundings in a 360 degree spinning view.
360 Panorama: This is a simple and ingenious iPhone panorama app that give you a 3D space and you "paint" your surroundings
InstaGram: A very high rated FREE iPhone app - It has a crisp, clear interaction with no fuss or muss. Snap a photo with your phone, choose a filter to transform the look and feel, send to Facebook, Twitter or Flickr – it's all as easy as pie. It's photo sharing, reinvented.
PicFari How do people get that amazing (or cheesy) picture where it looks like they're holding up the Leaning Tower of Pisa? Or that awesome sunset picture at just the right angle in front of the pyramids - with this great photo app of course. This photo app helps you hunt for the best photo location where you can get the best shots of landmarks and vistas and encourages you to snap the best photo shots in popular locales ranging from San Francisco to Venice Italy. Some say the app is like scouting a location that professionals do when shooting a movie or planning a photo shoot. Depending on the time you have in a place, you can choose an Express Picfari—the four to six best shots of a location—up to the longer, more comprehensive All-Star Picfari, 10 to 15 shots. You can plan far ahead and store Picfaris in your phone before you hit a locale (no Wi-Fi necessary), or be spontaneous with the Picfaris Around Me function, which leads you to hunts right around where you're standing. You can't push the photos to social media through the app yet, but that's on the horizon for one of Picfari's future updates.
Vapp This is another unique smartphone application that lets you take photos using your phone without touching it - thus eliminating a blurred picture - which is especially annoying when you are taking a selfie, or photo with a friend. What make this app different and a must download is that when you want to take a picture, instead of touching a screen - you taking of the picture is controlled by your voice or sound. Now you can snap a photo of your family and friends without camera shake.
Cinemagram This app is similar to Instagram but this one is for video. This app lets you select motion from small bits of video while keeping the rest still.
VSCO Cam VSCO Cam is a useful camera picture-taking, photo-editing, and online sharing app in one useful package. The app has a unique interface layout for editing and putting effects on your photos. Fine tuning capabilities with sliders for every effect helps you get the exact look you want.
Snapseed: This is not your typical one-dimensional photo-editing app - as this one is aimed at more discerning photographers, and packs all of the same photo-editing punch that helped make it famous on other platforms. The app features gesture-based controls that some might find a little scary at first, but once you play around with them, you'll realize how perfectly they lend themselves to Snapseed's tools. To get started, just pick a tool to use, then swipe vertically to pick which specific attribute, like Brightness or Contrast, to work on. From there, you can swipe horizontally to increase or decrease the intensity of the effect. Available for both iOS and Android.
Reading - General Books
Pocket: The downfall of all e-readers and mobile phones: having to pay for in-flight Wi-Fi or not having it at all. Never be without something to read with the Pocket app, which lets users save content (including Web pages, articles, and videos) to read later. Once content is saved in a user's pocket, they can access it on any device, even without Internet access.
Instapaper (for iOS) or Read it Later (for Android) are mobile reading apps that let you collect long articles for offline storage so you can read them later if needed without having access to the internet.
Eating Internationally - Gluten and Allergy Health Concerns
Gluten Allergy Free Passport: Traveling gluten and allergy free to foreign speaking countries? No worries! Arm yourself with critical phrases about key ingredients and food preparation in 13 different languages for gluten concerns and 10 for allergy concerns: Arabic, Dutch, English, French, German, Greek, Italian, Latvian, Norwegian, Portuguese, Russian, Spanish & Swedish. NOTE: We also recommend that you visit this companies website and print paper copies of their free dining cards. These are invaluable and are available for free at www.GlutenFreePassport.com. Carry these with you in case the restaurant staff or chef need to review your needs in the kitchen while preparing your meal or would like to keep it for future guests! Here is a YouTube video that explains the use of these free cards - a great idea for anyone with these types of food concerns. This company has other related product to consider which contain additional phrases in the French, German, Italian and Spanish languages, purchase the innovative Multi-Lingual Phrase Passport, winner of the Best Language Guide Award and Best Travel Guide Award. Make sure you check out the different apps they have, some are free such as the gluten free translations cards, others require payment.
VegOut: VegOut - Vegetarian Restaurant Guide for the iPhone. Every vegetarian knows that eating out can be a difficult task. VegOut makes this task easier by providing you with the world's largest international listing of vegan, vegetarian and vegetarian-friendly restaurants at your finger tips. Restaurant listings can be found by your exact location or a custom location if you're planning to travel. VegOut is a must have for any vegetarian who travels or is just looking for a new place to eat!
Travel Practicalities
Measures (pay, self-contained) converts various European units (metric measurements, clothing sizes, even currency) to familiar American ones.
Expensify This app and program does just what it sounds like. It helps you track and categorize expenses. You signup for an account on the web, and then you use the web interface to enter expenses, organize expenses, and even fill-out expense reports for company reimbursements. While the above link is for the web browser app, Expensify also provides a mobile app that you download to your phone. The mobile piece is what really makes Expensify shine. You use the mobile app to enter, categorize and make notes about expenses using your phone right as they happen. You can also use your phone to take pictures of the receipts that you attach to your expenses for upload to your account. According to Expensify, their eReceipts have been designed to meet and exceed IRS regulations for record keeping, meaning they will be accepted by the IRS if you are audited.
All-in-One Travel App "Where" is a cross platform app that distinguishes itself from the competition by trying (often successfully) to collect the location-specific information you can find in a number of other, more specialized apps into one uber-app. So instead of having one app for news, and one for local movies, and another for local gas prices, and another for weather, another for restaurants -- you get the idea -- Where has a small app-inside-an-app for each. In many cases, the app within the app has still another app inside -- in the Coffee applet, for example, you can choose only nearby Starbucks franchises, or nearby Dunkin' Donuts, or nearby Au Bon Pain, etc. Where gets all its info from reliable sources -- the weather comes from AccuWeather, the gas prices from Gas Buddy -- and I found that it could almost take the place of an entire handful of apps already on my phone.
mPassport (pay, self-contained) are city-specific apps that direct you to English-speaking doctors and hospitals, as well as local names for prescription medications.
Simply Declare: Helps travelers manage their duty-free purchases, alerting users once they're nearing their customs-exempt spending limit. Once a user punches in his limit around $800 per person per trip for U.S. citizens traveling overseas the app goes to work, deducting the value of each purchase while also converting 34 local currencies in real-time and updating those conversions at the end of the vacation. The app also stores digital images of credit-card receipts for those who don't like to keep them or are prone to losing them.
All-in Notes, Microsoft OneNote, and other note-taking apps (pay, self-contained) let you combine photos, recorded sounds, and written notes to keep a multimedia journal of your trip.
Tipping Bird Tipping is a practice that can vary from one country to the next. Indeed in many cultures, they might not even tip at all. The Tipping Bird app lets you select a country, and then it tells you a recommended tip for typical situations, such as in restaurants or taxis. You can also convert the currency to your own, just so you have a relative idea of how big a hole you're burning in your pocket.
Should I Bow or Tip?: World Customs and Cultures - This is an app is a guide to the sometimes odd and potentially confounding cultural differences you will experience when traveling internationally. You can learn that Bulgarians shake their heads from side to side for "yes," and up and down for "no," and that pointing with your index finger in China isn't usually done; instead, use your whole hand. There are countless such pointers for dozens of countries in the app, making it not only useful but arguably interesting enough to read.
Bathrooms: Sit or Squat: This is a web application that addresses a basic need that every traveler has thought about. When nature calls, this Sit or Squat app shows you a map and/or list of nearby publicly accessible toilets. Another website that has similar information is the website located at The Bathroom Diaries.
Flushd: This is a another unique app that is being called the Yelp of finding public toilets. The Flushd app is like the one listed above and designed to help you find a public toilet based on the user's current location. The app uses data from Foursquare to identify the bathrooms. The app has other unique features such as sorting, which would give you the ability to find a public restroom close to you that has a changing table. The app even give users the option to use it's built-in analyzer to help you keep track of your bathroom habits, as well as allowing you to rate the bathroom and leave a review to help other visitors.
Trip Splitter -- Finance organizer This app is a handy way to divy up travel costs if you're on a trip with friends. Most of the time, whoever has the cash readily available will pay, but quite often it can be tricky to remember who paid for what at the end of your travels. Trip Splitter (for iPhone or iPad) helps you do this, although the less-than-intuitive interface does take some getting used to. There's a free version that supports inputs for two travelers, but if you have more people whose payments you want to track, you'll want the paid version.
World Customs & Cultures
World Customs & Cultures includes information on the culture and traditions of more than 165 countries. It breaks down each country into several topics, including communication style, eye contact, gender issues, greetings, law and order, personal space and touching, views on time, and taboos. If you're traveling through a lot of countries, you can let the app figure out which one you're in by GPS. And if you want to stay entertained on a long flight, check out the Random tab to hop through randomly selected customs from any country.
Trip-Planning and Information
When doing trip planning and research consider storing your travel research on Your phone. Now that the vast majority of travel research happens on the web, there's no reason for all that research to get stuck on your computer when you leave for the airport. Take it with you - use your smartphone to collect it all in one place. Many people already use mobile reading apps like Instapaper (for iOS) or Read it Later (for Android) to collect long articles for offline storage - why not create a folder of great articles for your trip? Don't forget to install the app's "bookmarklets" on your web browser for easy adding. Another great free source of info is Wikitravel - try uploading the whole destination guide for the city you're visiting to your Instapaper or Read It Later app for easy offline reading.
TripIt: Send your airline, hotel, rental car, and any other confirmation to TripIt for easy tracking of your travel plans, including flight times and confirmation numbers (the app syncs with your calendar too). This is an application that makes it easy to have all of your different itineraries in one place.
AFAR: This is an app created by the travel magazine AFAR. The app is its newest travel guide app and designed to help your create and plan a memorable trip. The app has many features which are also found on it's website, like Wanderlists (saved lists of places or experiences you're pining over) and Guides (a map function that lets you browse the globe and get inspired by locations you wouldn't have thought of), plus trip suggestions from local experts and editors. The app also provides offline access if you don't have access to wifi.
Ultimate Road Trip App: This app is from the Budget Travel Magazine. The Ultimate Road Trips is an easy, hit-the-road travel guide to more than 75 Great American Drives. You can select your trips from regions in the USA, or based on your current location. From warm beaches to winding country roads, mountain lakes, big-city style, hotels, best places to eat, and even alerts you to "must-see" spots along the way.
Roundabout: During many of our travels we end up with so much information that sometimes we forget that this information came from. That's where this app comes from. The app allows travelers to create points of interest, all neatly laid out on a map, and then share their experiences of these destinations. That includes the ability to add photos and video their journeys and share via social media like Facebook, Instagram and Twitter. Other users can then discover these points of interest and learn about them from first-hand accounts. The app features a GPS interface, as well as several categories to explore, including Attractions, Arts and Culture, Entertainment, Food and Drink, Lodging, Parks, Historical Sites, Landmarks, Local History, Monuments, Local Oddities, and Folklore, Myths and Urban Legends.
EverNote This is great app for helping you remember your trip with a document storage app that lets you store everything from web links to photos to audio recordings. While you're on vacation, treat the app as though it were a living notebook. Brochures, menus, and maps can all be uploaded as mementos, so you won't be stumped when someone asked which trail you hiked or what you ate at a particular café or restaurant. (Those docs become searchable too once they're in Evernote's system.) Or, use audio and visuals to craft "rich notes" for intensely original moments, like a photo of a church and the sound of the church bells ringing. Every "note" you create is stamped with the time, date, and the location in which it was made; use the Atlas view to see where you've gone and what you did. That's particularly useful when you're vying for bragging rights with other frequent-traveler friends.
Skyscanner (free, Internet) helps you search a wide variety of European budget airlines to find the cheapest connection between any two points.
When using Kayak (free, Internet, other flight trackers available), plug in your flight details, and this app will keep track of whether your flight is on time — and, for the folks back home, will even allow them to track your plane's progress on a map.
GPS Based Audio Guidebooks
HearPlanet: Great app for replacing guidebooks. Forget buying (and lugging) multiple guidebooks. With these audio guides, you can learn about the Eiffel Tower while standing beside it or get the low-down on Rockefeller Center while gazing at the Christmas tree. HearPlanet alerts you to nearby attractions, or search anywhere in the world. Free for basic lite version, however the paid version give you obviously more. HearPlanet partners with publishers, organizations and everyone else with something to say about places, to bring the user a highly comprehensive audio guide to the world around them. Users can create their own tours and store offline collections to avoid data charges, and the app also features geo-location for instant information on what's nearby.
AudioTrip : The AudioTrip app is your personal tour guide. The app itself is free, and is available in both iPhone and Android, but some of the city audio guides have download fees, but others are free- you just have to search the app app which is avail. The app features audio-guided routes from professional guides and locals in more than 80 worldwide destinations, including hotspots London, Paris, Venice, Prague and Budapest. Once a traveler reaches a highlighted destination, the appropriate audio and information is cued up with the assistance of the smartphone's GPS. You can even use use the app when your GPS is offline-enabled, so you don't have to worry about racking up data usage or roaming charges. The app even shows you photos and video during your audio tours.
Travel Story GPS Here is an interactive guide to thousands of historic locations across the United States, brought to you by the HISTORY CHANNEL. The easy-to-use interface, photos, video and dynamic maps bring history to life anywhere in the country. Whether you're on vacation or just running errands, the app makes it simple and fun to get the facts on the history hidden all around you, including amazing architecture, museums, battlefields, monuments, famous homes and much more. The app is being updated all of the time. So if you don't see info regarding your location today, check back tomorrow. App Features: Thousands of exclusive points of interest, written by the history experts at HISTORY CHANNEL. Select your current location with GPS or choose any location across USA only. Customize your search to see historic points of interest—from right next door to 100 miles away. View images and stream HISTORY video directly within the app. Display historic locations in a zoom-able, map-based view or in a scrolling list. Share the locations you find with friends via Facebook, Twitter and email.
GyPSy Guide Driving Tour Apps: Using the latest GPS technology right on your own device, the Gypsy Guide plays commentary AUTOMATICALLY as you drive. The audio is interesting, informative and entertaining. Its just like having a local expert right in the car with you. Just choose the destination that you are visiting and see the range of tours that are available to you. Prepared by local expert tour guides, GyPSy Guide is filled with interesting stories and information, tips and advice about what to do with your precious vacation time. Tour routes are prepared to ensure that you can the opportunity to see all the best things an area has to offer. But if you choose to skip something or to stay longer at a place you enjoy, no problem, GyPSy will just pick up wherever you next join the routes. Currently available for a limited amount of locations, and as of this posting, it was available throughout western Canada - with extensive touring information through the Canadian Rockies, Hawaii, and Las Vegas. Don't be afraid of roaming charges – once downloaded, the Gypsy Guide Tour Apps do not require any data to operate. This is a great app If you like the freedom of driving yourself, but you still want to hear all the interesting stories and helpful advice. If you don't have a smartphone, you can even rent a device that allows you to plug it into your rental car's audio jack - that is really a great idea.
Audio Guide Toozla: If you're a frequent traveler, you know how hard juggling all of your tour materials can be. For instance, you may have a map of one place, a guidebook describing another, and an audio guide for yet another location. With Audio Guide Toozla, you can lighten your load: This app uses your phone's GPS function to provide relevant audio tours, stories, local information, and more, giving you a complete travel guide to many locations around the world.
Rick Steves Audio Europe (free, self-contained) has 200 radio interviews and 29 audio walking tours of Europe's top sights, organized by destination for easy browsing. Download the playlists that interest you before your trip, then listen to them as you travel.
Impromptu - Activity Travel Apps - Get a Recommendation from a Local
Many travel apps claim to help you find cool things to do in new places you're visiting. The trick to getting good recommendations is to use what the locals use, many people obvious use Foursquare and Yelp you're not already using Foursquare, it's quietly become the new killer travel app. Most people think of Foursquare as "that service that lets you check in to bars to try and look cool." But with a series of great recent updates, including an ability to share and make lists and the new explore feature, Foursquare is now a powerful tool to help you find good stuff to eat, see, and do in unknown places. Check out their Foursquare Cities account for some great user-created tips in cities like Berlin, Milan, Sydney, London and more. Yelp is another app many of us know from our daily wanderings in our hometown. Ever tried it on the road? Open the app and click on "Nearby" on the bottom menu, then "Hot New Businesses" to find out what local users are talking about right now.
Schemer: Schemer is made by Google and is their location-based activity recommendation app that many people don't know about. This is also Google app that is a direct competition to FourSquare - but a little different. The premise of this app is that it is based by your current location and neighborhood you are in and will suggest activities worth doing there. The app has several unique features and even tailors its recommendations to the time and the weather, so if it's a rainy afternoon the app will recommend a museum visit instead of a long hike. To get more relevant suggestions, filter ideas by category, such as restaurants, outdoor, kid-friendly, beauty and cooking. If you're belong to the Google+ social network, the app will suggest activities similar to ones that are popular among your online friend circles. The app has global coverage.
Triposo: The Triposo app will become your truthful aider if you arrive in an unknown city and wish to see local sights, go to a restaurant, cafe, park, museum etc, but have no idea how to start familiarization with the country. Don't even know where to begin looking in your bulky guidebook? Open up the Triposo App instead and it will actively suggest what you should do. The app will automatically take in to account your geo-location, the time of day, the weather, and the opening hours of nearby places, and then suggest a plan for you. For example, open the app at 9:00 a.m. on a rainy day and Triposo may suggest a nearby coffee place as well as open museums.
AroundMe This app quickly identifies your position and allows you to choose the nearest Bank, Bar, Gas Station, Hospital, Hotel, Movie Theater, Restaurant, Supermarket, and Taxi. The AroundMe app will show you a complete list of all the businesses in the category you have tapped on along with the distance from where you are.
Field Trip: This app from Google runs in the background on your smartphone, and a card pops up with information when you are driving near a local attraction that's cool or interesting. Field Trip is your guide to the cool, hidden, and unique things in the world around you. No click is required. If you have a headset or blue-tooth connected, it can even read the info to you.You can pre-select your interests, and the app may notify you about a nearby historic golf course, a Civil War battlefield or a restaurant. Field Trip will also help you when you aren't in the car. You can get directions to the attraction by car, walking or using mass transit. Expect a lot of reviews by Google-owned Zagat. Unlike Roadtrippers, the attractions in Field Trip tend to be on the beaten track.
Rove Should you find yourself to be a wandering tourist in a new city, Rove lets you keep an automated diary of sorts as it automatically remembers where you went and what you did, the restaurants you ate at, the museums you visited, and even your hikes and romantic strolls. Simply start the Rove app, slip your phone into your pocket, and Rove will plot your journey from place to place so you can look back at your adventure later. The app even senses when you're either moving quickly, like in a car or plane, or sitting still so it can conserve your phone's battery life.
IDotto: When in Rome, put down the map and put in your headphones. The iDotto app is an audio guide that follows you around the city and gives you a personalized guided tour (fully customizable to your interests). It's currently only available for Rome, but there are plans to expand to more cities soon. If you are going to Rome, this app has more than 25 hours of audio information for you to listen to.
Wikitude This is a smartphone camera bases location guide that is a very handy application. It draws a lot of useful info about your surroundings from Wikitravel (a Wiki for travelers) and display users in Augmented Reality to display annotations of nearby points of interest over the top of the regular camera display. Using this app allows the traveler to see things they wouldn't normally see .
For Less Guide: Download this guide that has service for limited cities, but is expected to expand - currently the cities include London, New York, San Francisco, or Amsterdam, and get navigation help and discounts for each city. The app's discount feature offers coupons for many attractions, tours, and restaurants. There's also a built-in map aspect, which can be used offline and has transit directions as well as street navigation.
Trip Advisor Off Line City Guides If you need general facts about the city you're in and you need them now, TripAdvisor's Offline City Guides are a no-nonsense way to get an overview of what's going on. Download maps straight from the app for free, without Wi-Fi—useful for foreign cities to avoid roaming fees. When downloaded, the guides take up a big chunk of memory space on your phone, but the lists of restaurants, hotels, shopping, nightlife, tours, and attractions are extensive, all with TripAdvisor's signature reviews and ratings. A few other fun (free) features: You can check out suggested itineraries, see public transportation information, and send virtual "postcards" via Facebook, text, or email using the app's instagram-like filters in quirky customizable frames that feature sentiments like "Greetings from New York City," "Miss You," and "What a View!"
Tripomatic What does summer mean to you? First of all, summer vacation is time for traveling. The most favorable time for new experiences. Thousands of people pack their backpacks and bags and set off on a exciting journeys through the cities and countries. But don't forget that only a well-planned trip can bring fun, positive and unforgettable emotions. The app that will help you to manage this critical activity is called Tripomatic. And nowadays it's one of the most promising travel services.
Maplets This is an app that provides maps for unique maps such as those of ski resorts, national parks, college campuses, ski resorts, rail systems, subways, and all other kind of maps for places you might be visiting. Download the maps when you have a free Internet connection, and then pull them up later when you don't have WiFi.
City Maps 2Go Offline Maps' greatness is as straight-forward as its name -- it provides pre-downloaded city maps which don't require any Wi-Fi or roaming data once you're at your destination. As well as providing offline GPS services, the app also pins locations of bars, restaurants and shops. The free version only allows limited downloads of maps.
Desti This apps helps you map out a game plan for your trip by allowing you to extract "meaningful" reviews of destinations like wineries and hotels in more than 14,000 U.S. cities from looking at numerous per-existing reviews. The result is similar to a Zagat guide. One advantage of Desti is that you're able to be incredibly specific with long searches, typing in multiple details about what you're looking for in, say, a hotel—price, child-friendliness, proximity to beaches, number of rooms, etc.—and get back the best match.
Matador Network: So you've booked your flight, packed your bags and got a nice hostel to stay in, but the question still remains of what will you do when you arrive? Most people turn to their trusty Lonely Plant guidebook to decide how to spend their time, but with so many people doing this they all end up in the same place! The Matador Network is a massive community of bloggers who write original articles about anything and everything concerning travel. Instead of listening to the LP authors who are paid to tell you the best spots, give this website a look to gain a new perspective on your future destinations!
Smart Layover: A free app that makes it easy to book sightseeing tours in over 140 countries. You can also find last-minute hotel rooms, check your flight status, and find things to do in airports.
Roadtrippers: Going on a road trip and want to see where to stop along the way? Use Roadtrippers, a free app that let's you map out your bike or car route based on interesting sites. You can upload your itinerary and it will map out what you should see, or you can browse for ideas. Follow the dozens of included cross-country cultural tours (like eating all the best sandwiches in a region or visiting its best haunted houses), add in accommodations, shopping stops and watch as your trip time triples and your road trip's itinerary turns from transit into travel. (free)
Trip Journal: Taking a trip? Create your own digital scrapbook with Trip Journal, which lets you record your route with GPS tracking and allows you to add your favorite places and destinations manually or automatically. You can geotag any photos and videos you capture along the way, and share the entire trip with family and friends via Facebook and Google Earth.
TrackMyTour: A unique app that lets you create a fun way to stay in touch with friends and family while you are traveling. After downloading the app, users can create a map and share it with family and friends back home. Along the way, users mark up the map with photos of all the different sights and attractions visited. It works as a real-time travel journal, and once you're back at home it sort of evolves into an online scrapbook of all your amazing adventures.
EveryTrail Pro: Get outside this summer with the EveryTrail Pro app. Use your GPS to track your route, take photos and plot them on your personal travel map, or download terrain maps for offline viewing in the wild. Search for nearby trips and follow one of the 400,000-plus trips uploaded by fellow travelers. Editor's Note: SmarterTravel is owned by TripAdvisor, Inc. TripAdvisor, Inc. also owns EveryTrail.
Skyscanner: The vast number of websites claiming to have the 'BEST DEAL' on flights is overwhelming and downright annoying. Skyscanner is this traveler's choice for booking airfare because of the clean interface, excellent deals and plethora of useful and fun options. The website is a search engine for flight deals covering almost all the other websites out there. For the flexible traveler, there is one interesting feature where you can simply put a country, continent or just 'anywhere as' your destination. Instead of searching for flight prices to a specific place you can see ALL flights that are departing from your hometown airport on any given day.
Skobbler GPS Navigation 2: End road-trip squabbles over poor map reading without shelling out for an expensive GPS in your rental car. Get the Skobbler app, which will give you turn-by-turn voice-guided navigation without requiring a subscription like traditional GPS systems. You can also use the navigation online or offline. It's available in a number of countries as well for those international road trips.
Oh, Ranger! ParkFinder: It's like having your very own personal park ranger with you at all times. The Oh, Ranger! ParkFinder app has information on every federal and state park in America, including popular parks and lesser-known wildlife refuges and other public lands. Find out what activities are offered at each location, or use the search tool to find the perfect place to camp or the best scenic route to drive.
TripIt: Send your airline, hotel, rental car, and any other confirmation to TripIt for easy tracking of your travel plans, including flight times and confirmation numbers (the app syncs with your calendar too). This is an application that makes it easy to have all of your different itineraries in one place.
TravelZoo: This is a deal aggregator site that might be best known as a tool for broader vacation planning hunting for cheap flights and travel packages. The site's app version offers real-time local travel deals on-the-go, using coupons that don't need to be printed out. The app has a "Local Deals Near Me" function for travelers who roll into a new town.
RoadNinja This app is billed as the ultimate interstate travel app since it supposedly helps you find great savings on food, lodging and attractions at upcoming exits. Travelers can tap the promotions icon to learn about specials and savings, and access twitter feeds from all chains within a three mile radius.
Woofound: This is a GPS search engine application that asks users to play a "personality game" to build up a profile of preferences that the app can use to make personalized recommendations of what to do while on vacation. One example: "National Parks: Me or Not Me?" Much like a dating website, Spears says, the more questions you answer, the more likely the recommendations will hit the mark. The company has three psychologists on staff to map out 300 different personality types. It can combine the accounts of several different users, which means it can help plan activities for family vacations. Currently, Woofound covers only 70 American cities, but it's partnering with a data aggregator next month to add 50 more countries.
Kayak Mobile: When reserving a flight, room, or car on the go, rely on this easy-to-use app from one of the most comprehensive booking sites on the web. What else to like? Price alerts on your phone, so you won't miss a deal; a tracker to see if your flight is on time; and a packing list.
Scout: When you're in a foreign city, you sometimes look around and ask: Where are all the people? Scout has the answer. This app pinpoints the neighborhood hot spots (including museums, hotels, eateries, and more) in your vicinity. But its true value comes in finding nearby events. You'll discover concerts, plays, and more right around the corner. If you're in a crunch to find a hotel for the night, Hotel Tonight might just be your lifesaver. The program works with local hotels in major metropolitan areas to post last-minute room rates for properties with vacancies. A relatively new app, Hotel Tonight's coverage is not quite as expansive as one might hope, but it will only continue to grow.
Plnnr: Although limited at present to a few handfuls of major cities in North America and Europe, Plnnr.com is an extremely well realized and fun site to use for planning a multi-day itinerary based on your interests, energy level, budget and more. When you click on one of the listed cities, Plnnr asks for your arrival date and how many days you will stay; pretty routine stuff. Then things get interesting. On the next screen, Plnnr asks "what your trip is going to be like," with the following options: with kids, outdoors, the best of (great for a first-time visit), and culture. You can select your trips intensity -- ranging from light ("wake up late... here to rest") to extreme ("wake up early... see everything!) An itinerary is tailored specifically to your selections, with daily schedules, maps, reviews and options to customize the itinerary even more. The site is best for travelers heading to major cities, as the site currently only offers itineraries for 20 locations -- all of them popular urban destinations in Europe and the U.S. This is a free web based product which you view and use in your browser.
GoGoBot: What's unique about the free GoGoBot app is that it gives you suggestions on where to go and what to see based on what type of traveler you are. Looking for something more active? Family-friendly? The results will be broken down for you by your type. You can save the suggestions GoGoBot gives you to an itinerary and lets you pull them up when you're out exploring, or search for new places to visit based on what's nearby. You can even make collaborative trip plans, looping in family and friends to add to group itineraries.
Four Square: Use the popular free app to find places to eat and even locate free WiFi, among other things. Minube This is a e-library phone app that stocks thousands of user-generated mini-guides. The social app covers 24,000 destinations in about 200 countries (and counting). There are more than 100,000 mini-guides from travelers for free or at a small cost. The app tracks nearby spots recommended by travelers and allows users to search for locations worldwide -- from restaurant reviews at your current location to insider tips to Park Güell in Barcelona -- "How to get there without dying because of the hills" -- by browsing through an image library. Users can also plan and interact with friends using Minube.
TripAdvisor This is a free app that gives you access to millions of user reviews of restaurants, hotels, and sights (though TripAdvisor ratings should be taken with a grain of salt). Yelp is arguably even better, since most reviews are from locals rather than travelers — though in Europe, Yelp only covers London and Paris (so far).
Raveable Get the skinny on user opinions across the Web which is culled from hotel reviews from multiple sites, including TripAdvisor, Travelocity, and Expedia, and sums them up in a few short sentences. Helpful icons also rank properties based on reports of theft, hidden fees, and that increasingly crucial factor: bedbugs.
Orbitz, Priceline, Booking.com, Expedia's TripAssist, Travelocity, and other travel-booking apps(free, Internet) allow you to search for flights, hotels, rental cars, and more.
TripIt This is a free travel organizer so you'll never have to dig through your printed, paper itineraries again. Trip It links to your e-mail account and picks up every confirmation number that comes into your inbox. Any flight, hotel, or even dinner reservation that contains a confirmation number will be put into an organized itinerary, all in one place. Flight delays and last-minute changes sent to your e-mail will be updated automatically.
Layar Look around you—think you're seeing everything there is to see? Think again. Layar will show you an entire world that you never even knew existed. This is a free application and is an augmented reality app, meaning it gives you extra information from the digital world "layered" on top of something real in this world. Simply point your camera's phone at a landmark, and the app will share interesting facts about the destination. This app adds layers of information to your real-world view, showing you tidbits such as details about the restaurants you're looking at, information on nearby apartments for rent, or tweets that people posted from nearby. Layar works best when you think of it as a travel app. It works very well in big cities and top destinations, but can be middling or even useless in lesser-traveled spots. Yelp - Stuck in a new city without a clue as to where to eat? No worries. Just fire up your handy Yelp app, which locates all the nearby eateries, then browse by proximity, neighborhood, price, or what's open now. You also get easy access to Yelp's burgeoning collection of customer reviews, so you can avoid any clunkers. Not hungry? The app lets you find a whole host of other on-the-road necessities, such as bars, banks, drugstores, and gas stations.
Foodspotting: is an interesting social app which will help find a good cafe, bar, canteen or restaurant nearby. This service is an analogue of Foursquare, but it specializes exclusively in search of facilities with food and beverages. But the Foodspotting app in no case imposes any restaurants or facilities. All reviews, photos and commentaries are made by active facility visitors which share worthy places with other people. Visited place where you were served excellently and food was tasty? You can quickly add a photo and write a short review. All this is a matter of several seconds. Thus, you help the facility and people who have not yet made a choice of place.
Urbanspoon This app helps you quickly vet restaurants to find exactly what you are looking for. Or if you are feeling adventurous, you can use their "Shake" feature - tap a few inputs, and give your phone a shake. The app even has lets you get reviews from other diners as well as food critics. It has a unique feature that looks like a slot machine allowing you to scroll up and down. The app uses your phone GPS feature to to pick popular restaurants local to your neighborhood throughout the U.S., Canada, U.K. and Australia. Even available on a computer web browser version.
Meal Ticket: This is a app like the TravelZoo app, but focuses solely on restaurant deals while you are traveling and are looking to save a few dollars while on the road.
Lonely Planet Well known online travel guide.
Frommer's Well known online travel guide.
Rick Steves Well known online travel guide.
Beaches - Swimming
Swim Guide: Need a beach and need it now? Download the Swim Guide app and you'll be able to get directions to the closest beach, plus get real-time information on water quality so you don't drive all the way out to a beach only to find out it's having water-quality problems. The app will find a wide variety of beaches, from city parks to lakes to traditional beaches, and offers photos of more than 1,500 different beaches. Use the app to invite friends via social media, texts, or email to join you on your chosen beach!
Travel and Home Security and Emergency Apps
iPatrol Travel Advice: Summer means peak travel time, crowds, and more opportunities for scams and pickpockets. Put in your current destination and iPatrol will warn you about nearby reported scams and pickpocket schemes.
Travel Scams Advice: When you travel overseas, you might want to download this app which is avail for iPhone and Android users. This travel security application provides you links to many travel scams that occur around the world. This app also has a variety of other scams which are also just as useful.
Help Call This is a unique app that features a one-touch access to local police, ambulance, and fire departments in over 100 countries. If you need to make an emergency call, just shake the phone.
IKeepM Imagine if the unthinkable were to occur and you were to lose everything you owned in a fire or a flood. What exactly would that include, and how much would it all be worth? If you'd been using iKeepm to maintain an accurate and updated inventory of your personal possessions, then finding those answers would be a breeze. Homeowners, apartment dwellers, and anyone else with personal items they'd rather not lose track of can sign up for iKeepm to start putting together a home inventory list right away. The items you add to iKeepm are organized by room, so you'll need to add separate pages for each room in your home. Once you've added a bedroom, for example, and then you can start typing in detailed information about your bed, dresser, clothes, and any other valuable items you keep stowed away nearby. Not only do you have space to add a description, category, and brand for each item you list, but iKeepm also prompts you to type in the model, serial number, date purchased, and value. When all your items have been added and saved, you can browse your inventory by keyword, room, or value.
Pocket First Aid & CPR from American Heart Association I'm sure you aren't expecting catastrophe, but emergencies are rarely scheduled events. This app offers step-by-step life-saving information, with images and videos, on how to assist in medical situations. You can also create a personal medical profile with medications, insurance information, and emergency contacts. You even have the option to add it to your phone as wall paper so first responders can easily see it.
Weather
Rain Aware: This app aims to predict showers within an accuracy of one mile and five minutes. The app uses algorithms designed by a team of meteorologists that work with National Weather Service data to forecast when rain or storms will start and stop, but GPS technology and further computer analysis by his meteorologists give minute-by-minute details on the location and magnitude of impending showers.
OurCast: Is a another weather prediction app that uses weather service data and information from "several thousand" users to give a heads-up on showers up to two hours away.
The Weather Channel: Another weather app.
AccuWeather: Another weather app that help you better plan your day.
All-In-One Travel Apps
Travel App Box: This is a travel version of a Swiss Army knife. It features many apps all in one main map, including, offline maps, currency converter, clothing sizes, international dialing codes, most of all the things you might need. However, you need to talk a look at the other apps to see if you like any of the stand alone versions better. What the benefit of this app is that it saves you the trouble of downloading a many apps.
Travel Bloggers
Top Travel Bloggers For a list of some of the best travel bloggers read the link to the Huffington Post article which will give to some interesting travel blogs to read.
Kids - Children Apps
PBS Kids Video For ages 2 to 9. Save money (and time) downloading videos to your iPad before a trip. The PBS Kids Video app has several clips from your child's favorite shows like Dinosaur Train, Sid the Science Guy, Sesame Street, Curious George, The Electric Company, Martha Speaks and more. Use the browse function to see a list of what's available, including a smattering of full episodes.
Draw and Tell by Duck Duck Moose (HD) For ages 2-9. This is the ultimate coloring book. From the same award-winning children's app developer that brought you Wheels on the Bus and Word Wagon, this coloring book is more extensive than others you'll find in the App Store. There are 27 colors and you can use crayons, paints or pencils to color your drawings on a blank page, or ready-to-color scenes. The patterns and stickers are good fun, and you can even record your voice to tell a story or to send your creation as a greeting card.
Monkey Preschool Lunchbox Ages 1-4. A squealing, jumping, silly monkey teaches your child how to count fruit, build shapes, match objects and more. This is a fun way to learn the basics for your youngest of travelers. A great game for your child to start playing even before they start preschool.
Alfred Alfred the robot concierge will be your guide through U.S. travels. In the beginning Alfred will ask questions about what kinds of restaurants you like. Then he'll start recommending places so you can approve or deny. The more you use Alfred, the better he is at choosing places you love. Then, when you get to a new town, you can trust his picks based on previous favorites. This is a clever travel app for the whole family to use together.
Viator Tours & Activities Let your children participate in what the family will be doing when you get to your destination. This app has 9,000 tours, tickets and activities in more than 750 destinations around the world. From double-decker bus sightseeing tours to tickets that get you to the front of the line at popular attractions like the Vatican in Rome, or the Louvre in Paris. Includes user-submitted photos and reviews.
Roadside America Ages 2-adult. Quick, stop the car! Roadside America is a thorough guide to all that's weird and story-worthy. You can find unusual attractions near to wherever you are, or look for something by city or state. Search by themes like "big," "movies," "animals" and even "freaky hoo-ha."
Tales2Go Ages 2 to preteen. Stop the kids from fighting over your device and turn on an audio story for the long road trip. There are more than 1,700 stories divided into age-appropriate categories for 3-plus, 5-plus, 7-plus, 9-plus and preteen kids in Tales2Go. There's Clifford and Curious George for the younger set, while the older crew can switch on Diary of a Wimpy Kid or How to Train Your Dragon. Something like Black Beauty could take nearly two hours to get through, which just might give you a break from hearing "Are we there yet?"
Road Trip Bingo HD Ages 4+. If your child is sitting up high enough to see out the car window, they're old enough to play this fun game where you look for signs and vehicles to complete a bingo card. Share between two kids in the back seat with the two-player option. Keeps them busy.
Mad Libs Ages 6 to adult. This is another fun game for the whole family to play whether you're stuck in the car or waiting for your food to come at a roadside restaurant. Just like in the hard-copy versions, you enter funny nouns, verbs, and plural nouns, and adverbs to create a laugh aloud story. Even in the free version I found topics on Vacations, Driving in the Car and Letter to a Friend Back Home.
Stack the States Ages 6 +. Kids will learn about capitals, state shapes, and map locations in this four-in-one game populated with cartoon states that stack, drop, tumble and slide around like puzzle pieces. Once you complete a level, you earn a state to add to your country map. You can also tap on states to learn about them before you play. This company also makes Stack the Countries, and both are available in a free lite version.
Kids Maps Ages 4-8. A colorful, interactive, map puzzle for kids. Not all games have to have a million bells and whistles.This one has a simple premise: See the state and drag it to its correct place on the map. But the interface is colorful and interactive, and it offers quirky comments like, "North Dakota. North Dakota is where lots of geese live." All in all, this puzzle makes learning states more fun than a text book.
Fotopedia National Parks Ages 5 to adult. All of the Fotopedia apps are brimming with photos of startling beauty from renowned photographer QT Luong. Inspire your kids with otherworldly blue-white glaciers from Glacier Bay, starry night skies from Yosemite's Indian Rock and red-hot molten lava flow from Hawaii Volcanoes National Park. You can use the pictures to plan a future trip and even get directions via Google Map if you are using the app while already on the road.