So you've booked your flight, hotel and rental car, now all that's left to do is stuff your entire closet into a bag. Let's face it; the best part of travel is not packing. We often worry about having enough options, over packing our suitcase, making sure it's within airline weight restrictions and much more. We have put together three packing items that will make your trip more enjoyable and ease the stress of packing.
It's best to start your packing process days or even weeks ahead of your departure date; this gives you time to craft a complete list, plus purchase any additional items you might need. Start with a comprehensive published list and add or delete items. Creating a packing list is a fail-safe way to ensure that you won't forget to bring something important. See the packing list below as your starting point. Click here for a Printable Packing List!
Remember these three words: Hanging Toiletry Bag, Packing Bags and Bag Bungee
 Save yourself time by having a fully stocked toiletry bag on ready for each trip. Use the elastic loop to hang the bag in your bathroom on a towel bar, shower rod or hook. The many clear pockets eliminate wasting time hunting for small essentials, as you can see where everything is stored.
There are 3 types of Packing Bags that we recommend that will safe you time.
1. Compression Bags – Place clothing into bag, seal, and roll to move air out of one way valve system. These bags are ideal for compressing bulky items such as: jackets, sweat shirts, coats, and socks or dirty clothes

2. Packing Cubes – Each lightweight and breathable cube has a different size to keep items neat and easy to find.

3. Compression Packing Cubes – Compression packing cubes are the best of both styles. Place your clothes or other travel necessities inside the mesh pocket and zip the perimeter to watch your clothes flatten and compress to maximize space in your suitcase.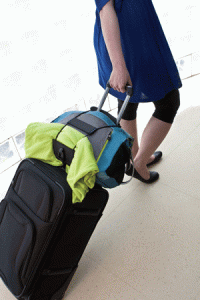 Once you're all packed don't forget your bag bungee which is an expandable luggage strap. The Bag Bungee allows you to strap another bag to your wheeled suitcase, so you can carry more with less effort and just one hand.
Do you have any additional packing tips? Share your ideas below
Related Posts via Categories