What is Premium Economy?
Relatively new, premium economy class is a class of service between economy and business or first class. The premise of premium economy is to offer more than economy class and less than business class for only slightly money than the cost of economy class. The price jump from economy class to business class is often more than the price of another ticket so this class of service definitely has its appeal. What you get varies by airline. Typically all airlines offer a little bit of more leg room. Some airlines offer slightly wider seats and a few now also offer priority check-in, earlier boarding, among other upgraded perks.
The cost for premium, economy seats varies too. On domestic carriers, the price can be only $19 to approximately $180 more, while on international flights the cost increase over an economy ticket is approximately $250 -$1500 more. Distance and services offered seem to dictate the fare. United Airlines basically just offers more legroom, while on the other end of the spectrum Virgin America's Main Cabin Select offers larger seats, complimentary food and drink, priority check-in and security screening where available, priority boarding, and a free checked bag. The website SeatGuru has a chart comparing economy plus seating and amenities.
Why You Should Consider Premium Economy Over Regular Economy
Beyond the extra legroom reasons to purchase a premium economy fare could include.
Need to sleep – Extra legroom can help with stretching out your legs. Place your bag in front of you and put your feet on top of it using it as a footrest to help make your body more prone.
Need to do work – Using a laptop in tight economy is almost impossible. Having more space in front of you can make seeing the screen easier and typing on the keyboard easier.
Need to dash out of the plane quickly – Sitting at the front of the plane so you deplane sooner than those in economy can help you make a tight connection or meeting on the ground.
Need more legroom – If you are tall or have long legs.
What if Your Travel Budget Doesn't Allow for the Premium Price but You Long to Upgrade Your Travel Experience in Economy Class?
A few low cost and cleverly designed gadgets or travel items can make your trip in the sky getting there and back more comfortable.
Ultimate Air Travel Cup and Electronics Device Holder- Turns the seatback in front of you into useful space.

————————————
Airplane Footrest – Portable Travel Foot Hammock for Flight  Increase Comfort and Reduce Swelling 

————————————
Business Laptop Backpack, Extra Large TSA Friendly Durable Anti-Theft Travel Backpack with USB Charging Port
————————————
Sleep Mask 3 Pack, Upgraded 3D Contoured 100% Blackout Eye Mask for Sleeping with Adjustable Strap, Comfortable & Soft  for Women Men, for Travel and Naps

————————————
Portable GelComfort 3 in 1 Foldable Gel Seat Cushion Featured with Memory Foam (A Must-Have Travel Cushion! Smart, Easy Travel Cushion)
————————————

4-in-1 Poncho Style Travel Blanket and & Shredded Memory Foam Pillow Set. The Perfect Plush Blanket & Comfortable Pillow Set for a Cozy First-Class Travel on Airplanes, Trains, Cars.
————————————
Such a Cleverly Designed Carry On Bag That Allows the Tote to Stay on Top of Your Rollaboard Bag. The Bag's luggage Attachment Sleeve Offers Extra Security Too, Foiling Snatch and Go Thieves.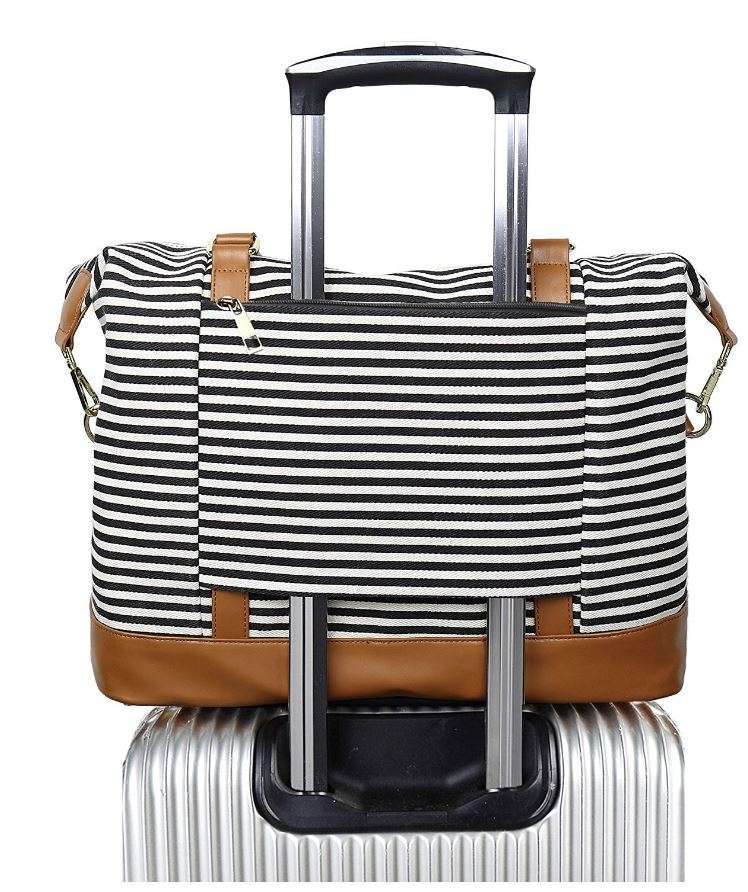 ————————————
2 Pairs of Compression Socks, The Zipper Feature Makes Them Easier to Put on. Stretchy Strong Open Toe Knee Stockings. Find Your Customer Size. Help Prevent DVT.

————————————
Compression Socks For Men and Women for In-Flight Leg Health  Find Your Customer Size. Help Prevent DVT
These few convenience and comfort items can help your flight be more comfortable and restful.
More Articles You May Like