The Roma Termini train station is the main station that everyone uses in Rome.  It is also one that has been known for years as prime hunting grounds for pickpockets who are in search of a never ending supply of fresh tourists to target. If you plan on arriving or departing from this train station, make sure you have read up on the most common scams used by thieves and scammers at this location.  While many of the scams used at the Roma Termini station are similar to those used at other train and metro stations around the world, it just seems that this place is the training ground for all of them. 
Because there has been so much bad publicity about the crime that occurs against tourists at the Rome's Termini station, the city of Rome is slated to make modifications to parts of the train station to help keep out the thieves and tourist scammers.  The local government has recently reported that they are going to install barriers at the beginning of train platforms which will only allow access to ticketed passengers. This is being done in an effort to provide protection to tourists from scammers who would work the platform masquerading as baggage porters. These baggage scammers would use high pressure to help train passengers with baggage and would demand large amount of money from unsuspecting tourists.
These types of barriers were in place until the late 1970s and early 1980s, but were removed for efficiency, but now will be returning to help reduce tourists from being targeted.  These barriers are not a new idea, as similar security measures are already in place at the S. Maria Novella station in Florence, which was installed for the same reasons.
Over the last year, there have also been reports of criminals dressed in suits boarding first-class carriages at Termini and removing luggage just before the train departs. The security upgrade follows the recent report in the Rome daily Il Messaggero outlining the fake ticket controllers at Flaminio metro station. Dressed in red uniforms, they provide tourists with information in English before requesting tips.
The newspaper also published a photo showing a group of gypsies stationed at Termini's electronic ticket machines where they "help" tourists before demanding money. The image went viral on social media sites in Rome and led to calls for a clampdown on illegal activity at the station. Another newspaper, La Repubblica, recently quoted a representative from the Lazio branch of police trade union ANIP Italia Sicura who said that over 100 pickpockets are arrested each day at Termini despite the fact that less than half of the station's security cameras actually work.
Here are a few other scams which travelers have reported on trains leaving the Roma Termini terminal.
In one of these scams, a pickpocket "gang" targeted a couple who had traveled several times before to Europe, Italy and South America. They got hit by a team of young girls while they were boarding the train at Rome Termini going north.
The couple had reserved train seats and was walking along the platform looking for their train compartment.  They found their car and began to board the train when two young girls offered to help them with their luggage.  The couple politely refused their offer of assistance and made their way towards the entrance to their train car. Just as the couple reached the stairs to the car, the two young girls got between the couple as they boarded the train and a third girl was behind them.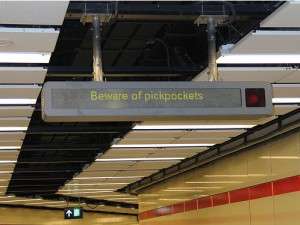 As the couple began to look around the inside of the car, they discovered they were in the wrong compartment and had to retrace their steps and go into another train compartment.  There is a sliding door connecting the two train compartments that usually opens by pushing a button on the door – but it refused to open.  This caused the couple and everyone behind them to bunch up that also wanted to go into the next car.  The wife attempted to open the door and pushed the button several times to no avail. The woman did not realize that her husband was not behind her and that one of the young girls who tried to help her previously was.
The woman's husband was two passengers behind the victim and was trying to see what was going on with his wife, but he was also distracted by the back up of fellow train passengers. It is believed that the time the woman was distracted with the sliding door not opening, one of the young girls got behind the woman, unzipped her jacket pocket and took out her travel wallet. She lost her credit cards, money: USD/Euro bills and even her USA passport.  At or about the same time, her husband had his wallet pick-pocketed from his back pants pocket. When traveling, he normally carries it in one of his front pants pockets but had used an ATM at the train station and forgot to place it back into his front pants pocket.
Neither the husband nor wife did not notice anything out of the ordinary until after the train departed the Rome train station and for some reason the husband reached for his wallet and noted that it was missing. She felt for her travel wallet and felt it through the outside of her jacket. It was not until she got off the train and observed that its contents were missing.
Lessons learned:
NEVER get in the situation when you are rushing to the train station. They thought they had enough time to get to the train station and board their train in time but they got delayed.
NEVER used the ATM at the train station when possible. It is believed they got targeted by this pickpocket team when they were observed taking the money out of the ATM and placing it in their respective wallets and where they placed their wallets on their persons.
NEVER allow anyone to step between yourself and your traveling companion on a train, bus or tram.
NEVER leave your wallet in your back pants pocket or an unsecured purse, handbag, or backpack that can be easily entered by a pickpocket!
ALWAYS use an anti-theft travel wallet or bag with locking compartments to thwart pickpockets.
For an extensive listing of the most common scams that occur on subways and trains, this post will provide you a long list of tips, including videos that will teach you how to avoid subway and train pickpockets.
Related Posts via Categories