Your laptop, phone, and wallet are not just valuable to you, they are valuable to others too, so protect your gear virtually anywhere with a portable safe. Safes are no longer just metal boxes, and they're definitely not just for homes. portable travelsafes 
offer security in hotels, vacation rentals, vehicles, RVs, boats, offices, dorms, and even outdoors!  The latest safe designs are portable, packable and they even incorporate a layer of steel protection too. The safes can be tethered to a stationary item for lock-n-leave security.
There are many situations where your valuables are vulnerable. Many of the better hotels in the US and abroad offer room safes. However, many of the safes are too small to fit a laptop, files, or larger camera gear. So what do you do if you need to secure bulkier items?  What if you're out and about, or just even poolside and need to secure your valuables while you leave your lounge chair? How many people have access to that vacation rental property? Do you trust that your apartment can only be entered by you?  Are valuables secure in your office when you leave them behind?
Portable travel safes are made with steel mesh cages that you lock closed and tether to a fixed item with a steel cable, are a great solution for everyday security concerns and travel as well. Safeguard what's important to you no matter where you are.
Travel Safes

are a well-made layer of security that stop opportunistic theft and give you peace of mind. They include:
A sturdy steel cable for securing the safe to a stationary item, like a bedframe, pool lounge, car seat, or in your trunk
Solid steel padlock
Steel mesh cage called exomesh laminated between the layers of a highly cut resistant material to thwart bag slicing.
Increase your peace of mind with a portable travelsafe.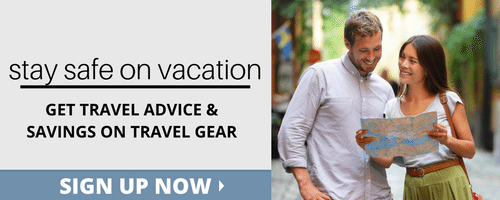 Related Posts via Categories