The US Department of State has created a free smart phone App called "Smart Traveler." This is a brand new travel tool than anyone traveling overseas should consider downloading to their smart phone – and it's free!   The app is called "Smart Traveler" features travel warnings and alerts for countries around the world.  At your finger tips you can gain access to embassy addresses and phone numbers, entry and exit requirements, and safety and security tips for foreign countries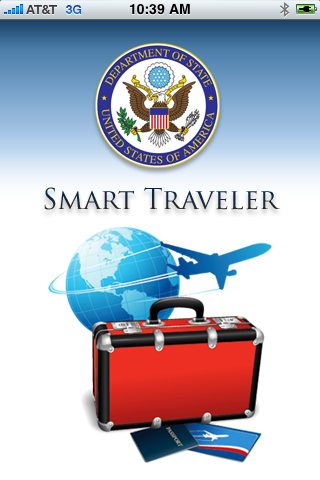 The Smart Traveler app the official State Department app for U.S. travelers. The app invites you to see the world with easy access to frequently updated official country information, travel alerts, travel warnings, maps, U.S. embassy locations, and more. The Department of State smart phone apps are free to download and are available in both iPhone and Android versions located here:
The Smart Traveler Enrollment Program, which allows you to enter details about your upcoming trip so that the State Department can assist you in an emergency. Americans living abroad can also use the program to access information about the nearest U.S. Embassy or Consulate.
How To Use Smart Traveler App
By Country
Select the country or area you're interested in from the alphabetical list, or start typing a country name.
Once you've selected a country,
–Choose "Know Before You Go" to get travel warnings on that specific country or region, a map, safety & security information, and more.
–Select Country Background for information on people, history, government, political conditions, and more.
–Select US Embassies/Consulates for a complete list of all US embassies & Consulates overseas.
Build an eTinerary
–Select e-tineraries from the icons at bottom menu
–Select the Plus sign (+) in upper right to build a new itinerary. Name your itinerary, add any notes, and then select Save.
–Add destinations by selecting the Plus sign (+); fill in country and arrival and departure dates, then Save.
–Add other destinations, and Save again.
–Select Smart Traveler Enrollment from the bottom of the e-tineraries screen to enroll in this free program so that the State Department can better assist you in an emergency.
Warnings and Alerts
–Select Warnings or Alerts from the icons at bottom menu to see all recent travel Warnings and Alerts.
More
–Select More from the icons at bottom menu to enroll in the Smart Traveler program, to follow travel.state.gov on Twitter, or to visit us on Facebook.
Fun!
–For a bit of fun, shake your iPhone to learn about a random country.
FREQUENTLY ASKED QUESTIONS (FAQ)
Q. Will other versions of the Smart Traveler app be available?
A. Smart Traveler is our pilot product and is currently compatible with iPhone, iPod touch, and iPad (requires iOS 4.0 or later). We chose iPhone for the pilot after results from our pop-up survey showed that was the preferred platform. Based on the success and demand for the Smart Traveler, we would like to develop the same product for other platform(s) but do not have an expected release date at this time. However, our mobile site is compatible with virtually all mobile devices and contains a subset of information available through Smart Traveler. Specifically, Countries and Other Areas is our mobile version of Background Notes. Additional information is available in our Press Release and the Smart Traveler page of the iTunes store.
The small icon seen on the iPhone after you download Smart Traveler is here:  Small Smart Traveler icon [1.5MB]
: Smart Traveler opening screen [800KB]
Related Posts via Categories