Guide to the Best TSA Approved Luggage Locks – Which Lock to Choose
We've done the research to find the best TSA approved luggage locks. Many travelers ask, "should I lock my luggage?" Yes, however, you should only travel with a luggage lock that has the dual function of locking your luggage while still allowing for inspection of your bags by the TSA. You may need to upgrade your luggage lock to a TSA approved lock, here's why. The Transportation Security Administration of the United States Department of Homeland Security knows as the TSA protects the nation's airports and screens all commercial airline passengers and their baggage to keep us safe while flying. If you don't use TSA accepted luggage locks you risk removal of your locks by a TSA inspector and potential damage to your bags.
What are TSA Approved Luggage Locks? 
TSA approved means the TSA has a master key that will open any TSA approved luggage lock
, instead of breaking, cutting, or damaging a standard (non-TSA) lock to open it and gain access to your luggage. Two lock manufacturers—Travel Sentry and Safe Skies have worked with the TSA to create TSA-approved locks under various brands that can be opened with a TSA master key.  What is good for you is that the TSA's master keys feature a special mechanism that enforces re-locking of the lock after inspection. This is accomplished by the functionality of the master key. The key cannot be removed from the luggage lock body until the luggage lock is re-secured by the TSA screener. TSA screeners no longer have to cut locks or force your bag open and risk damaging it, if you travel with a TSA accepted lock. If you do not use a TSA accepted luggage lock they have the right to damage and remove your lock to gain entry to your luggage for inspection, which of course will leave your bag unlocked.
Where are TSA Locks Recognized? 
In addition, to the US and US territories, the UK, Canada, and Australia are also using this system.  In other countries, they may flag your bag for inspection. Usually, they require you to open it at the counter when you are physically present unlike in the US, where they may do it later after you have checked your bags. In this case, you are not present to unlock your luggage lock, and the airport agents have the right to break your luggage lock if it is not a TSA accepted lock.
Different Types of TSA  Accepted Luggage Locks & Their Unique Functions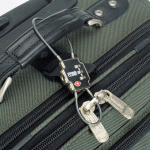 One of the most common methods thieves use to enter bags with zippers is to split the zipper open with a pen or similar tool, take what they want, and reseal the zipper by sliding the zipper pull over the open portion of the zipper.  When your luggage bag is opened in this manner, it leaves no visual clue that your bag was broken into. Double flexible cable technology stops this type of theft. Attach one end of the lock to your bag handle and the other to the zipper pulls. This prevents the traveling of the zipper pulls by keeping them in place.  Lock your luggage handle to zipper pulls, or lock your luggage to fixed objects, preventing thieves from repairing zippers after entering the luggage. This TSA lock allows TSA Agents easy access to your suitcase or checked bags without damaging any of your luggage or breaking zippers. This TSA approved luggage lock has a 3-dial resettable combination. Click here to read more!
The SearchAlert indicator button is a feature that lets you know if the TSA has opened your bag while it was out of your possession during the baggage handling process. The indicator light changes from green to red once the TSA inserts their passkey into your lock to unlock it. The window will not go back to green once they removed their passkey, only you can reset the indicator window back to green. The locks are one of the best TSA approved luggage locks because of the SearchAlert feature.
This lock design is probably the easiest to use. A strong, durable, flexible steel cable, (coated in rubber) is designed to thread more easily through the holes in zipper pulls than a hard formed shank. Also, the wider design has dials that are easier to see and use. The combination numbers are on the edge and easier to set and read.  Another great feature of this lock is how easy it is to set the combination of the lock with the included screwdriver. Cable locks are thin enough to thread through all standard sized zippers and hard case lock holes but strong enough to protect your belongings. TSA approved luggage lock cable measures 4 in from end to end and has an internal looped length of 1.5 in when locked. Click here to read more!
The  SureLock uses an ultra-tough alloy body to protect it from the harshest of baggage handling. The hardened stainless steel internal lock mechanisms won't rust or freeze up even after years of use. This lock is backed with a complete money-back guarantee. Available in many colors and multi-packs. Click here to read more!
The best feature of this lock set is that the locks are keyed alike, so one key works on either lock. No fumbling trying to find the right key and no remembering of a combination code. The lock body is made of solid brass and the shanks are solid steel. If you need more locks they are also available in a 4 pack that are keyed alike. Lifetime warranty from a company that is synonymous with security. Click here to read more!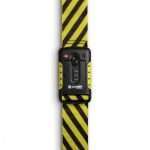 Baggage Constrictor TM technology means the strap cannot be loosened when locked. Great for hard case luggage! When the TSA secured access device is used to open the lock, the lock's security window changes color from green to red. When you retrieve your luggage, all you have to do is look at the Search Alert security window. If it is still green, no one has entered your bag.  Click here to read more!
Buying New Luggage?
Now you can purchase suitcases with built-in TSA-approved locks. This feature eliminates the chances of you losing a lock during the baggage handling process or otherwise. Another reason to consider a new bag with a built-in TSA lock is that most bags with built-in locks are "hard-sided" and virtually impossible for an opportunistic thief to breach, offering more security for your possessions than soft-sided bags which could be sliced open. Here are a few well-priced, good-value suggestions.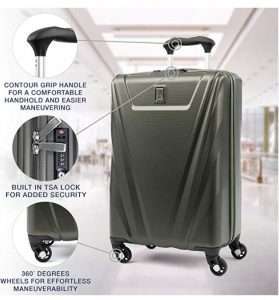 Travelpro Maxlite 5 Carry-on Spinner Hardside Luggage with built-in TSA lock

COOLIFE Luggage Expandable Suitcases PC+ABS Spinner Built-in TSA
A Guide to the Different Styles of Luggage Locks
Protecting your possessions and valuables inside your luggage is the purpose of a luggage lock. Buying a good quality lock just makes sense, especially when you compare the cost of your luggage contents to the price of locks.  Depending on your preferences you can find a lock style that is just right for you. Here is a summary of the various styles of TSA approved luggage locks.
Key Lock: This is a lock that is opened with a key. The good news is you do not need to remember a combination. The bad news is if you lose the key, you'll need to cut the lock off. This will require bolt cutters or a saw that cuts metal.  When traveling think about bringing the second key and keeping it secure (not in your luggage.)
Combination Lock: This style of TSA approved luggage lock uses either 3 numbers or 4 numbers. If you choose this type of lock you won't need to worry about a key. This style of lock is the most common one travelers choose.  Make sure to select a lock that is sturdy and with easy to read dials that are easy to turn. Another easy use tip is to select a slightly larger lock as it is easier to use than super small locks.
Wordlock: The WordLock luggage lock is locked with words instead of numbers. Words for some people are easier to remember than numbers. The combination is a four-letter word.  This lock style is fully TSA approved which allows entry and relocking by airport security.
Cable Lock: The benefit of a cable TSA approved luggage lock is easy to use.  The cables are rubber coated flexible steel cables. They are easier to thread through small locks than hard-formed steel shanks.
Beyond Luggage Locks and Checked Bags
Locked bags discourage opportunistic thieves who will take advantage of bags without locks. However, even the most robust locks will not keep out those who are truly determined to break into your bag. That's why we always recommend that you should place any valuables, including medications, electronics, and jewelry in your carry-on bag and not your checked luggage. If you must place an item of value in your luggage, take photos of it and your bag. It's also worth it to investigate various travel and trip insurance policies to see if they cover loss as airlines typically don't accept liability for the loss of expensive items such as jewelry, electronic equipment, or fragile souvenirs.
Final thought
After weighing the benefits of traveling with one of the best TSA approved luggage locks or not we suggest you protect your gear with a TSA approved lock.
More Articles You May Like