An international driver's license or international driver's permit known as an IDP is a must if you intend to drive overseas, check with the embassy or consulate of the countries you will visit to learn their driver's license, road permit, and auto insurance requirements. The IDP allows you to drive a vehicle in a foreign country as long as you have a state-issued driver's license. Over 150 countries recognize an IDP as valid for driving and as valid form of identification in 175+ countries.
Many countries do not recognize a U.S. driver's license. Most, however, accept an international driver's permit. Before departure, obtain one at the local office of an automobile association, the links are below. You must be at least age 18, and you will need two passport-size photographs and your valid U.S. license. Certain countries require road permits instead of tolls to use their divided highways and will fine drivers without a permit. Do your research ahead of time.
The Benefits of An IDP
The IDP works as an official personal ID with a photo that is recognized by the countries that require it to drive, even if you're not driving. Additionally, the document is required for renting a vehicle.
It is important for you to know that if you lose your wallet and driver's license, many countries will not allow you to drive with just an IDP.
International Drivers Permit (IDP)
The best and easiest place to obtain an International Drivers Permit (IDP) is from your local AAA club office. You will have to pay a fee, but it is usually less than $30.00.
When driving you must carry your regular driver's license and well as your IDP license. The IDP is a "permit" and not a "license" and is only valid if it is paired with your state-issued driver's license.
Make sure you read up on the driving rules of the country you are visiting, as many times they will be different than here at home. Some countries have a minimum and maximum driving age. Check the laws before you drive in any country.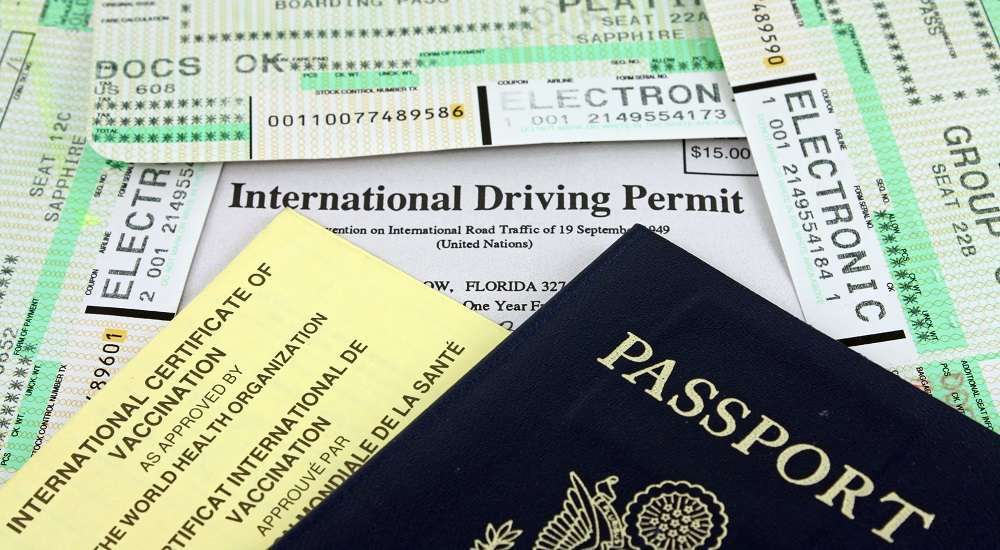 How Long is an International Driving Permit Valid for?
An IDP is good for one year. So ease your last minute pre-trip to-do list and apply for your international driver's license up to 6 months prior to your trip.
Is an IDP Required to Drive in a Foreign Country?
Not every country requires an International Driver's Permit but many do. For Example, in Europe, countries like Austria, Germany, Hungary, Italy and Spain require the IDP.
What is the Cost to Apply for Each Permit?
Triple AAA has an application fee of $20 for each permit. You can apply via mail, you don't have to go a branch to get a permit.
When to Apply for the International Driving Permit
It only takes a day to a few weeks to get the IDP. Plan ahead and get it a few months before you plan on driving. You can get your IDP issued within six months of your desired effective date.  For example, if you plan to travel on December 1, you can apply for the IDP on June 1 before December.
How to Apply for an International Driving Permit
There are only two authorized agencies that can issue an IDP.
Download the AAA IDP application
Download the AATA application
To apply for your permit, print out the form, fill it out, and follow all the instructions before mailing in. That's it. Of course, you can visit your local office for either agency.
Geographical Areas Which Honor International Driving Permits (Convention on Road Traffic, United Nations,  Geneva 1949) as of May, 2015.
AFGHANISTAN*
ALBANIA
ALGERIA
ANDORRA*
ANGOLA*
ANGUILLA*/**
ANTIGUA*/**
ARGENTINA***
ARMENIA*
ARUBA
AUSTRALIA
AUSTRIA
AZERBAIJAN*
BAHAMAS
BAHRAIN*
BANGLADESH
BARBADOS**
BELARUS*
BELGIUM
BELIZE
BENIN
BHUTAN*
BOLIVIA*/***
BOSNIA
BOTSWANA
BRAZIL (Inter-American Driving Permit Only)
BRUNEI*
BULGARIA
BURKINA FASO
CAMBODIA (WAS KAMPUCHEA)
CAMEROON*
CANADA
CAPE VERDE ISLANDS*
CAYMAN ISLANDS*
CENTRAL AFRICAN REP.
CHAD*
CHILE***
COLOMBIA*/***
COMOROS*
CONGO, REP OF (BRAZZAVILLE)
CONGO, DEM REP OF (KINSHASA)
COSTA RICA*/***
COTE D'IVOIRE (IVORY COAST)
CROATIA*
CUBA
CURACAO
CYPRUS
CZECH REP.
DENMARK
DJIBOUTI*
DOMINICA*/**
DOMINICAN REP.***
ECUADOR***
EGYPT
EL SALVADOR*/***
EQUATORIAL GUINEA*
ESTONIA*
FIJI
FINLAND
FRANCE (INCLUDING FRENCH
OVERSEAS TERRITORIES)
FRENCH POLYNESIA
GABON*
GAMBIA
GEORGIA
GERMANY*
GHANA
GIBRALTAR
GREECE
GRENADA**
GUATEMALA***
GUERNSEY
GUINEA*
GUINEA-BISSAU*
GUYANA
HAITI ***
HERZEGOVINA
HONDURAS*/***
HONG KONG
HUNGARY
ICELAND
INDIA
INDONESIA*
IRAN*
IRELAND
ISRAEL
ITALY
IVORY COAST
JAMAICA
JAPAN
JERSEY*
JORDAN*
KAZAKHSTAN*
KENYA*
KOREA (REP.)
KUWAIT*
KYRGYSTAN
LAOS
LATVIA*
LEBANON
LESOTHO
LIBERIA*
LIBYA*
LIECHTENSTEIN*
LITHUANIA*
LUXEMBOURG
MACAO*
MADAGASCAR
MALAWI
MALAYSIA
MALI
MALTA
MAURITANIA*
MAURITIUS
MEXICO*/***
MOLDOVA*
MONACO
MONTENEGRO
MONTSERRAT*/**
MOROCCO
MOZAMBIQUE*
MYANMAR*
NAMIBIA
NEPAL*
NETHERLANDS
NETHERLANDS ANTILLES
NEW CALEDONIA
NEW ZEALAND
NICARAGUA*/***
NIGER
NORWAY
OMAN*
PAKISTAN*
PANAMA*
PAPUA NEW GUINEA
PARAGUAY***
PERU***
PHILIPPINES
POLAND
PORTUGAL
QATAR*
ROMANIA
RUSSIA
RWANDA
ST. KITTS & NEVIS*/**
ST. LUCIA
ST. VINCENT & THE GRENADINES
SAN MARINO
SAO TOME & PRINCIPE*
SAUDI ARABIA*
SENEGAL
SERBIA
SEYCHELLES
SIERRA LEONE
SINGAPORE
SLOVAKIA
SLOVENIA*
SOUTH AFRICA
SPAIN
SRI LANKA
SUDAN*
SURINAME
SWAZILAND
SWEDEN
SWITZERLAND*
SYRIA
TAIWAN
TAJIKSTAN*
TANZANIA
THAILAND
TOGO
TRINIDAD & TOBAGO***
TUNISIA
TURKEY
TURKMENISTAN*
UGANDA
UKRAINE*
UNITED ARAB EMIRATES
UNITED KINGDOM
URUGUAY (Inter-American Driving Permit Only)
UZBEKISTAN*
VATICAN CITY (HOLY SEE)
VENEZUELA***
VIETNAM*
WESTERN SAMOA
YEMEN*
ZAMBIA
ZIMBABWE
*Not party of 1949 Convention: International Driving Permit Honored.
**U.S. driver's license and International Driving Permit recognized on presentation to local police and payment of Special Registration Fee upon arrival.
***Geographical Areas Which Honor Inter-American Driving Permits (Convention on Regulation of Inter-American Motor Vehicle Traffic, Organization of American States, Washington, D.C. 1943)  as of January, 2009. If you intend to drive in the following countries, be sure to check INTER-AMERICAN DRIVING PERMIT box page 1: Brazil and Uruguay.
Maps, GPS and Getting Around
If possible, obtain road maps before you go or make sure your GPS or GPS app on your phone is updated to support your travel destination. Car rental agencies often have GPS units for rent for an additional fee if you don't plan on using your phone.
Should You Buy Collision-Damage Coverage Even if Your Credit Card Provides It?
The insurance that car-rental companies offer overseas can be very expensive, sometimes it can be more than $20 additional or more per day. Most of the time your personal auto insurance will not cover a loss so you may have to obtain the additional insurance.   Remember you are a visitor to a foreign country and becoming involved in an accident is not the time to wonder if you have proper coverage.
When I am traveling internationally, in a place unfamiliar with laws and languages, I buy the insurance. But ask first whether the coverage is for all damages or only some. Some international car rental insurance covers only damages above a certain dollar amount so make sure to check the fine print.
More Articles You May Like