Portable Safes That Secure Handguns and Small Valuables Such as Wallets and Phones
Firearm or gun security is the responsibility of you the firearm owner. Many law enforcement officers or those with CCW's rely on vehicle
safes to help ensure that pistols or guns if left in vehicles, don't end up in the wrong hands. Make sure you're in compliance with your most recent State laws regarding firearm security.
Being a victim of car burglary and theft of property is an unpleasant experience at the very least. Burglars know that people leave items of value inside vehicles out of necessity – and with cars and trucks being so easy to break into, every once in awhile a burglar is bound to find a gun, hopefully not yours. Car alarms may provide some protection, but it just takes a few seconds to find a handgun and flee.
To act responsibly, gun owners who leave firearms in vehicles should strongly consider utilizing a vehicle gun safe or
a portable car gun safe portable car gun safe as a measure or layer of security. If you can't wear your gun on your person or carry your gun with you, always store it
securely whether at home, at work or in your car or truck. Look for solutions including; Console Vaults intended for securing valuables out of sight.
A quality car gun safe or vehicle gun safe
will keep your gun enclosed in a steel case with a secure lock,
and hidden from view. Some designs of car gun safes come with a heavy-duty steel cable so that you can secure the safe to part of the vehicle, like a car seat frame or to the trunk. The benefit of this style of car gun safe is that it is portable. You can take the safe with you to another vehicle, home or office to keep your valuables secure there as well. If you have a truck, consider a style of safe which is designed to fit inside your console. These safes are installed by bolting them to the console cavity. Once you lower the lid of the console, the safe is out of sight. No one but you knows it is there. You can use this style of car gun safe to hold other items you carry in your console and still have access to USB ports. Known as a Console Vault this style of car gun safe is not portable.
A Car Gun Safe is a Portable Safe for Valuables Besides Firearms
A car gun safe may also be used to secure other valuables. If you need to travel using any form of public transportation and are authorized to carry a gun with you, then carrying your gun in a portable gun safe may be the only way that you are allowed to carry it with you. Whether your gun is stored within baggage or if it is carried in a briefcase, a portable gun safe is a perfect way for you to travel with your gun safely and in a manner that is generally approved. Check with the transportation management for rules and regulations. The TSA offers specific guidelines for traveling with a gun.
We're sure that as you begin to think about a car gun safe, that you will begin to think about the potential uses for it and will want to buy a portable safe or console vault even if you don't intend to travel with your gun. A vehicle gun safe is an investment in your peace of mind.
The below gun security safes are for vehicles but are security solutions for other environments too. Many of these safes work well in RV's, boats, home, garage, office, apartments or dorms.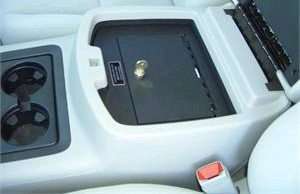 Console Vault for SUV's and Trucks