Frequent flyers are always prepared for air travel
. They're on the right lists, they know the layout of airports, they own anti-theft travel gear, they use the best travel tools, and they always pack the right travel products. Here's how you can up your travel game to travel like a pro even if you're an occasional  air traveler.
FREQUENT FLYERS REGISTER FOR TSA PRECHECK AND GLOBAL ENTRY
Frequent flyers join both TSA Precheck and Global Entry because they know the trusted traveler programs save time for frequent travelers. TSA Precheck and Global Entry both provide a fast track through security. Anything that saves time and stress is always a huge benefit for frequent flyers.
FREQUENT FLYERS RACK UP LOYALTY AIR MILES
Frequent flyers always join the airline's loyalty programs so they can fly free in their leisure time. More importantly, they can use those miles to earn free upgrades on flights. It's always good to arrive at the airport early so you can talk to the airline personnel at the gate.  Sometimes a smile helps put your name at the top of the gate agent's list so you can get an upgrade when it becomes available. Some airlines have now taken the management of upgrades out of the gate agents hands by creating a digital list based on flyer seniority.
Airlines love their loyal passengers and the benefits of traveling as part of a loyalty program include getting the best seats, free food, free drinks, and ongoing attention throughout the flight. Flight attendants know via the passenger manifest who the frequent flyers are so that they can make sure they take of them
FREQUENT FLYERS ARE NICE TO FLIGHT ATTENDANTS
It's amazing how far being nice can take you while traveling. Flight attendants have challenging and stressful jobs. However, if you're very nice from the moment you enter the airplane, you might be bumped to an empty first-class seat or be offered a free drink when the flight attendant comes through with the cart. Bonuses oftentimes go to the nicest, most loyal passengers.
FREQUENT FLYERS GAIN AIRPORT LOUNGE ACCESS
There are several credit cards that give you airport lounge access. Those cards include the Platinum Card from American Express, the Diners Club Premier, United MileagePlus Club Card by Chase, and Citi Prestige Card by Citi.  Oftentimes, frequent flyers can buy a day pass to an airline club to gain access. Frequent flyers are never afraid to walk into an airport lounge to ask about a day pass. The cost of a pass is off-set by the free food and drink offered in the lounge.
FREQUENT FLYERS HAVE COPIES OF PASSPORT, CREDIT CARDS & AIRLINE TICKETS
In case any of your belongings are stolen or lost, you need to have a backup copy of everything so you can get home again, especially your passport, credit cards, and airline tickets. This is a smart tip that frequent flyers do automatically because they don't want to be stranded half-way around the world without a passport or ID. Having copies will help you sort everything out much faster and may save you any delays in your return flight home. If you don't have a physical copy, take a cell phone photo of all your travel documents.
FREQUENT FLYERS CHOOSE AISLE SEATS
Frequent flyers love having a little bit of power in their row on the airplane and the aisle seat provides the freedom that a middle seat or window seat does not allow. No matter where you're sitting on the plane, an aisle seat is always a reward unless it's in the very last row of the airplane and the seat does not recline.
FREQUENT FLYERS USE ONLINE TOOLS
One of the best online tools for finding the best seat on an airplane is SeatGuru.com. It's a valuable tool that shows the limitations in reclining seats, lack of windows, proximity to lavatories, and the amount of room for personal items. The site is FREE! It was created to help frequent travelers choose the best airline seats and in-flight amenities.
AwardWallet helps you track and monitor your reward programs and itineraries so you're notified when your balances change and before your points expire. Frequent flyers love this popular online tool. The cost for a one-year membership for AwardWallet Plus is only $30.
AwardMapper is also a great tool that provides a map to help you search for hotels based on your membership loyalty program. It's also FREE!
FREQUENT FLYERS OWN A TRAVEL PILLOW, BLANKET & EARPHONES
For health safety, frequent flyers always bring their own small travel pillow, travel blanket, and earphones on every trip. Being comfortable on every flight is a priority. By using their own travel items, frequent flyers ensure that they're not going to be exposed to excessive bacteria or germs from other passengers. Learn this tip from the expert frequent flyers so you can be healthy during your entire trip.
FREQUENT FLYERS INVEST IN ANTI-THEFT GEAR & RFID BLOCKING GEAR
When you're sleeping on the airplane, you want to safeguard your valuables in the overhead bin. The best way to do that is to invest in an anti-theft backpack with locking zippers or locking compartments.
The Anti-Theft Urban Backpack with RFID Protection featured below is a favorite for travelers because it has slash-resistant body panels and straps, locking compartments, and RFID blocking slots and pockets for identity theft protection.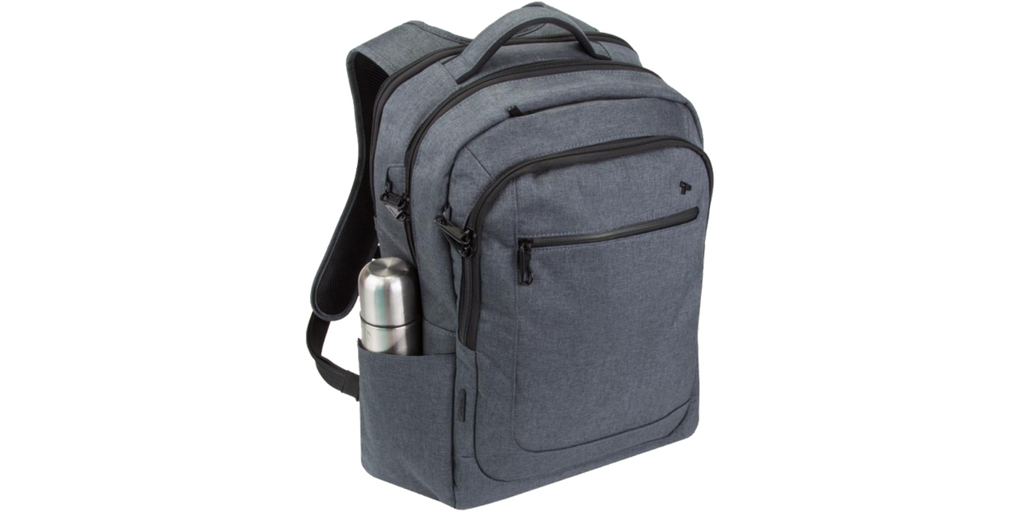 Anti-theft travel gear will frustrate a thief because it takes longer to open. If they see a backpack with locking zippers or locking compartments, thieves will move on to the guy who has his wallet sticking out of his pocket instead.
Due to RFID scanners being used to steal your identity, it's also smart to invest in backpacks, handbags, or wallets with RFID  blocking material, pockets, or slots. Protect your identity by turning anything into RFID protection with RFID sleeves.
FREQUENT FLYERS USE HANDS-FREE TRAVEL ITEMS
To make everything easier in the airport, frequent flyers know that hands-free travel gear will save you time and trouble. Instead of juggling extra carry-on items and a handbag or backpack, consider reducing it to only a backpack and a hidden neck pouch or a crossbody handbag for easy access to your passport or ID.
The Anti-Theft Classic Light Convertible Crossbody Handbag and Waist Pack will make traveling easier and safer because it provides security, organization, and peace of mind. The bag is compact, but also big enough for all of your basics. It has slash-proof body panels and straps, locking compartments, and RFID blocking slots to protect your credit cards and passport.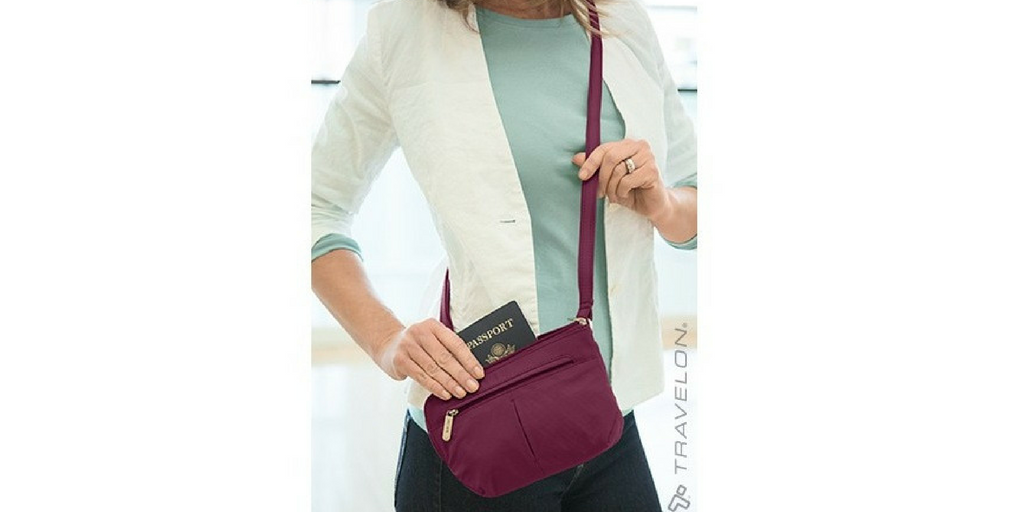 FREQUENT FLYERS USE A HOTEL SAFE LOCK
"Trust No One" may be an old motto, but that's true when it comes to hotel safes. You don't know how many people have access to your hotel safe when you're on day trips away from the hotel. The Milockie Hotel Safe Lock is very popular among frequent flyers. The Milockie Hotel Safe Lock is a visual deterrent and it physically prevents the safe from being opened by hotel staff or anyone else who has access to a master key or master code to the safe.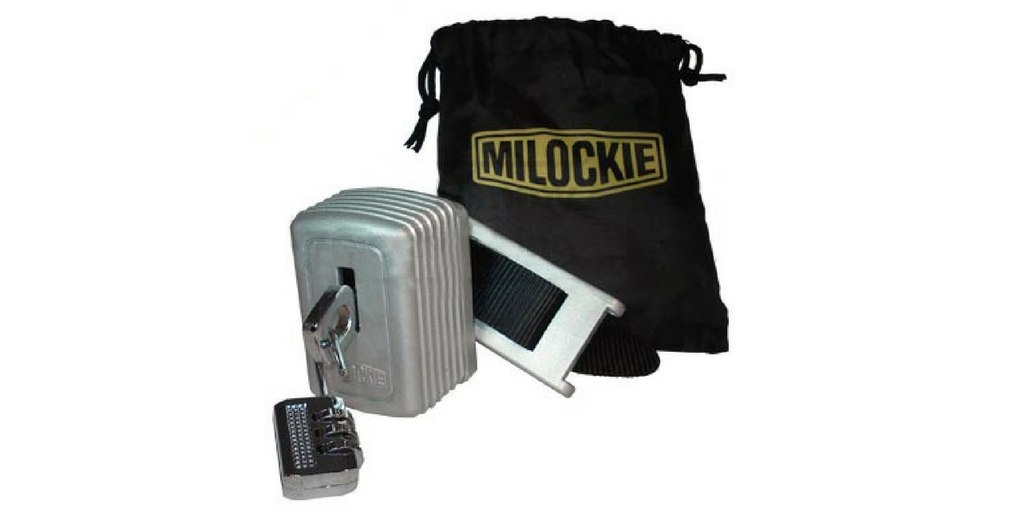 FREQUENT FLYERS ASK FOR TWO SNACKS
Be the passenger who smiles throughout the flight. When the flight attendant offers you a single cookie package OR a package of peanuts or pretzels politely ask, "Could I have both please?" They will probably give it to you if you're nice and friendly. The same is true if you ask for a can of soda instead of a single cup plus a cup of water. Ask politely and always smile!