The Best Money Belts to Hide Money, Credit Cards, and Passports
Best Full-Sized Money Belt
This money belt fits 3 passports easily, has RFID protection, and is water-resistant. What's more, the money belt strap is elastic for comfort and to fit a variety of waists. See more colors by clicking on the image.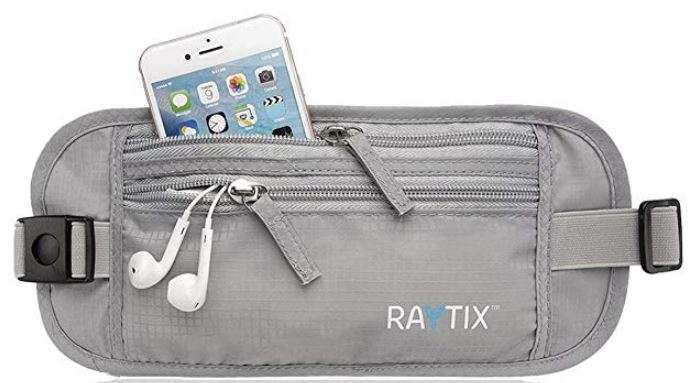 Best High-Tech Money Belt with Theft Insurance
This money belt is made by Peak Gear of 210D ripstop nylon so it is lightweight and durable. Besides having built-in RFID blocking technology this money belt also includes 2 global recovery tags that you attach to valuables like your phone or passport. Attach the tags to your phone, passport, camera, etc. If the protected items are ever lost and found, ReturnMe's 24/7 call center will help get the items back to your door, from anywhere in the world. There is NO additional cost. This comfortable and slim belt is the perfect travel accessory with adjustable straps that fit both women and men. The moisture-wick backing will keep the pouch cool against your skin, especially useful for all day use or in warm climates.
All About Neck Wallets – Money Belt Alternative
Travelers have relied on neck wallets, often referred to as a security neck pouch or neck safe for years.  They are one of the most common and secure types of money pouches and are highly recommended by experienced travelers. Quality neck pouches are made with soft moisture-wicking fabric for comfort.
However, neck wallets do have some drawbacks. A neck pouch hangs under your clothes, and the biggest complaint is that depending on the type of shirt or blouse worn, it may take a while to get to it when needed.
Whenever possible you do not want people to see that you are wearing a money pouch around your neck. Neck pouches are designed to be flat and not bulky, even though a tight-fitting top will reveal that you're wearing a neck pouch so look for one with a long strap so that you can lengthen it and wear it lower towards the stomach. Lowering it also makes it easier to access because you just need to lift up the bottom of your shirt. The bottom line is even if noticeable, a neck wallet is a great security wallet because no pickpocket or thief can reach through your shirt and get at the contents.
Considerations for a Neck Wallet or Body Pouch
When worn for long periods of time, you may be aware of it more than other money belts.
When considering the purchase of a neck pouch, think about one in a tan or beige color.  A black one may be easily seen if you are wearing light-colored clothing and thereby calling attention to it.
Always purchase a quality neck pouch that has some type of inner liner. The inner liner works as a moisture barrier to protect contents.
Consider how you will retrieve items from the neck pouch. If you are wearing it when you go to dinner at a nice restaurant, will you have to excuse yourself to the restroom in order to unbutton your shirt to retrieve your money or credit cards? This may not be a problem if you are a student and backpacking your way across Europe, but for others, you may want to consider another style or plan ahead and tuck what you need in a secure pocket.
A thief may recognize the pouch strap around your neck (they are not that hard to recognize) and a non-reinforced strap can be easily cut from behind by a skilled pickpocket and then pulled off your body. Therefore, the best type of neck pouch to wear is one that has a wire woven throughout the length of the strap. That way your property is better protected from snatch and run thieves. This is one of our favorite styles of neck wallet or neck pouch to recommend.
Keep your money belt completely out of sight. The most secure way to wear it is over your underwear but beneath your pants.
Conceal the belt even more with a longer untucked shirt, or better yet wear your shirt tucked in.
If you're wearing a neck pouch style money belt, wear it bandolier style with it tucked under one arm and over the shoulder of the opposite arm.
Minimize what you carry for the day leaving the balance of valuables in your hotel room safe. Carry the cash, credit card, and ID you need just for that day.
Before you leave on your trip, spend some time understanding how pickpockets operate so you can "see them coming" before they get your wallet, camera, or phone.  Get a quick tutorial by watching videos of "pickpockets in action." Before You Go – Watch Real Pickpocket Videos and Read Up on Pickpocket Scams
 Additional Advice You May Like