Should you choose the TSA PreCheck or Global Entry Trusted Traveler Program? If you dread going through the TSA checkpoint then joining a trusted traveler program may be your solution.
What are the Trusted Traveler Programs?
Decide which trusted traveler program is best to get you through the security line faster. Is it the TSA PreCheck or the Global Entry program operated by the Department of Homeland Services (DHS)? Both are designed to get pre-approved travelers faster and more efficiently through airport security. Each program has a different travel security focus depending on where you tend to travel to the most. TSA PreCheck is ideal for domestic travel and Global Entry is ideal for international and domestic travel.
How long does membership in any of the Trusted Traveler Programs last?
The two most commonly joined trusted traveler programs are  TSA PreCheck and Global Entry are good for five (5) years. Assuming you fly two round-trip flights per year. That equals 20 times you're going to stand in line, 20 times remove your shoes, jacket, and certain carry-on bag contents, and 20 times you'll queue in long security lines. Is your time, and the inconvenience factor worth it?
Do the Trusted Traveler Programs have fees associated with them?
All of the programs managed by the U.S. Department of Homeland Security have fees. We think the fees associated with the programs are reasonable. They really offer value if you travel even a moderate amount or are impatient with standing in long lines which results in partial disrobing and emptying your carry-on luggage. The one-time fee covers 5 years of hassle-reduced flying. The chart below shows the program costs with a cost of as little as $50 for 5 years.
Overall the best program is Global Entry
Global Entry is the best-trusted traveler program if you have a passport. Global Entry includes all the advantages of the TSA PreCheck plan plus it allows you access to an express line through customs and immigration on your way back home from international airports and destinations. Global Entry costs just $15 more than TSA PreCheck for 5 years, that's $3 more per year.
See if you qualify for any of these time-saving programs to make your trip through airport security easier and stress-free.
Trusted Traveler Programs Explained
TSA PreCheck –  applies only to air travel within the U.S. This is the most popular of the expedited airport security screening programs. Run by the TSA           you get access to shorter security lines and the screening process is also more pleasant as you do not need to remove your shoes, or laptop among other items.  You can use this program everywhere the TSA operates PreCheck lanes. You need to be a US citizen or a lawful permanent resident.
According to the TSA, the national average wait time for Precheck lines is 10 minutes compared to 30 minutes for standard lanes.
TSA PreCheck is available at over 200 US airports and the cost is $85 for a five-year membership.
Global Entry – is best for frequent international travelers even if it's just once a year or once every two years that you travel internationally. Here's why, it includes TSA Precheck and since it only costs $15 more for the five-year membership, or $3.00 per year more, it may be the better investment between TSA Precheck and Global Entry. You must have a passport to apply for this program.
This program is run by US Customs and Border Protection (CBP). This is the benefit of the program. You get to skip the long customs line which can have wait times of up to 45 minutes to get through, instead, you use a self-serve kiosk. The kiosk scans your passport, takes your photo, and asks a few questions. The result is a printout you hand out to an official so you can go on to collect your luggage.
Nexus – is limited to those whose international travel is mainly between the U.S. and Canada and includes TSA PreCheck and Global Entry. You can only use this trusted traveler program for travel between the US and Canada.
Sentri – is a program for travelers who regularly cross the U.S. and Mexico border by vehicle. The participant gets an RFID chipped card that brings up all your personal information quickly on the border patrol's computer.
An interesting side note is that sometimes your boarding pass will be flagged with TSA PreCheck even if you're not enrolled in the program and will allow you to go through the PreCheck line and not have to remove your shoes or jacket. The TSA randomly selects passengers for expedited screening based on the information they can read from the frequent flyer profile you established with the airline you're traveling on. Bonus tip: So the tip here is always sign-up for the frequent flyer program of the airline you're traveling with as it might get you through the TSA screening process quicker on your next trip.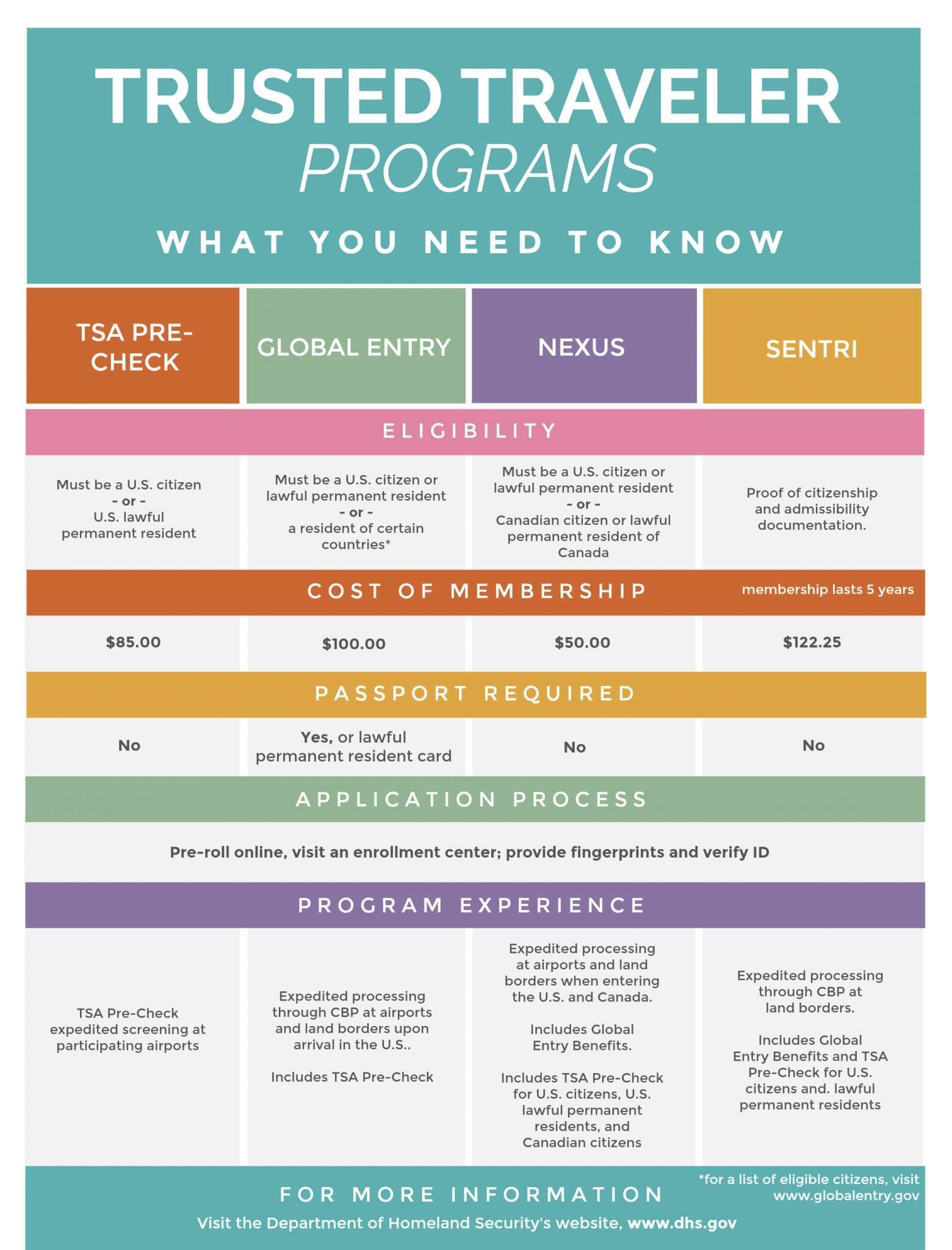 For more information, visit the website of the Department of Homeland Security (or click HERE).
How do I apply for either TSA PreCheck or Global Entry?
Applying for TSA PreCheck
1. Fill out an online application form (about 5 minutes)
2. Schedule an in-person interview at an enrollment center. There are over 380 centers where you can go for your interview.
3. Go to the in-person interview and get fingerprinted.
Once approved you'll get a Known Traveler Number (KTN). When you book a flight you must add your KTN to your reservation to get the Precheck symbol on your boarding pass. It's this symbol on your boarding pass that lets you use the Pre Check lane at the airport.
Applying for Global Entry
1. Fill out an application online, the first step in this process is setting up your Trusted Traveler Program account.
2. Set up an in-person appointment for a background check and fingerprinting. You'll have to bring a valid passport,\ and another form of  ID like a driver's license. If you're a lawful permanent resident you'll have to bring your permanent resident card.
One final thought on these programs. Both TSA PreCheck and Global Entry are administered by government agencies. The agencies are well respected but you are providing them your personal data including fingerprints and a photo of your face. You have to weigh the trade-off of convenience at airports versus a bit of anonymity.
More Articles You May Like