Which Portable Door Lock / Alarm is Best for My Travel Needs? 
Yours and your family's security and peace of mind is of paramount importance whether on vacation, for an overnight stay, or at home. Do you have a student in a dorm? Are you staying in a vacation rental or cabin? Chances many of these locations just reuse the keys and there is no telling who has a copy.
Portable door locks
are essential for your security at home while traveling or anywhere you feel the need for additional personal security. Great for the traveler, renter, or homeowner, who wants to guard against unwanted entry. These door locks are perfect as they protect and don't damage the door or door frame.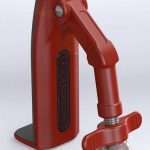 Designed to fit a wide range of inward opening doors, this portable door lock uses the principle of counter force to help prevent the door from opening as force is being applied to the door from the other side.
Attach it to your door and no one can enter, even with a key! (Stops entry even with a master key) Carry it on board your flight – TSA Friendly. Read more about the Door Jammer.

Made from heavy gauge steel. The Portable Door Lock is effective on both lever and knob style doors. It works only on doors that swing inward toward the living space. This portable lock can be used on almost all internal doors that open towards the area to be secured. It makes the lock inaccessible from outside the room, even if someone has a key to the room. Read more about the portable door lock.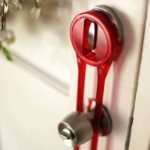 Works with deadbolt locks. The lock locker stops the deadbolt from opening even if a key is used.
Stops copied keys, lock bumping, and lockpicks.
Keeps you safe at home at hotels vacations rentals, cabins and more.
Click here to read more.

This Door Alarm is easy to use and fits most hotel doors and windows. Simply hang the door alarm on the inside handle of your hotel door. If the opening of the alarmed door is attempted the contact between the door and door frame dislodges and emits a piercing 120-decibel alarm.  Click here to read more!
Please Note: Using any door stop, door deadbolt, chain, or similar device could delay emergency personnel from entering the room in case of emergency. Consider all scenarios prior to engaging these types of devices. The purchaser assumes any and all risks and takes full responsibility and waives any claims of personal injury, death or damage to personal property.
Related Posts via Categories