How to pack a suitcase or bag is a learned skill. Your best chance of packing just the right amount of clothes is to plan what you will wear each day or by activity re-using as many items as possible. . Think a long sleeve shirt could be a light jacket over a t-shirt or be worn separately. Over-packing will also leave less room in your suitcase for purchasing gifts and souvenirs! Follow the below guidelines and you'll be expertly packed. You can learn to pack a suitcase quickly, here are our favorite tips.
 1. Use a Packing List!
When it comes to how to pack a suitcase expert travelers agree, it's best to start your packing process days or even weeks ahead of your departure date; this gives you time to craft a complete list, plus purchase any additional items you might need. Start with a comprehensive published list and add or delete items. Creating a packing list is a fail-safe way to ensure that you won't forget to bring something important. Here's a packing list to get you started.
2. Follow the TSA 3-1-1 Rule
The rule is all liquids brought onto planes must be in 3.4-ounce (100ml) bottles or smaller and all placed inside a single, clear, quart-size zip-top bag. The bag limits how many liquids you can bring on board. Consolidating products into one bag and X-raying them separately from other carry-on items enables security officers to quickly clear all items. One-quart bag per person limits the total liquid volume each traveler can bring on board. Want to carry more liquids, and then pack them in your checked luggage. Common travel items that must comply with the 3-1-1 liquids rule include toothpaste, shampoo, conditioner, and lotion. 
This 1-quart bag with refillable bottles is a TSA Accepted Toiletry Kit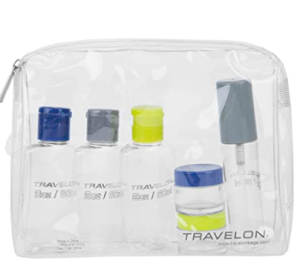 3. Know Your Airline's Baggage Rules and Fees
Before you begin packing review your airline's website and read its baggage policy. This is something you might even want to do prior to purchasing your plane ticket, especially if you're checking luggage. Don't forget to read their rules about carry-on bags either. Invest in and travel with a luggage scale, it'll save you money, especially on your way home with the addition of souvenirs in your bag.
4. Put Essential Items in Your Carry-On

You must keep your valuable and essential belongings in your carry-on bag, not in your checked luggage. Your passport, identification, money, credit cards, jewelry, electronics, medicines other valuables should always be brought onto the plane with you use a document organizer and small bags to keep track of your valuables. If the airline loses your luggage (or if a TSA agent gets sticky fingers), you'll regret stowing your expensive gear or meds in a checked bag.
5. Use Packing Aids-They Save Space
The one thing that experienced road warriors and frequent flyers agree on when it comes to packing a bag is that using packing aids and particular packing cubes really do make a difference! There are several styles. Select one or a combination of them, depending on what you're packing. No matter what your choice you'll be more organized and have more space, we promise.
Compression Packers Create More Space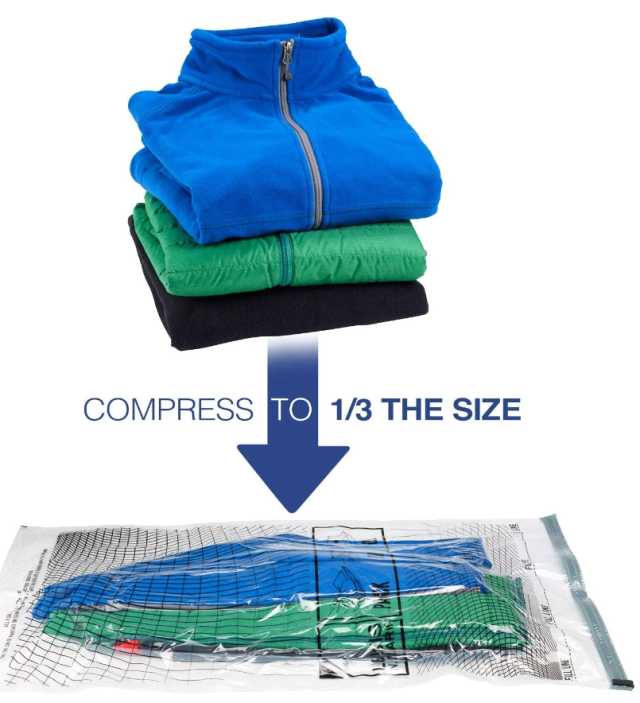 Place clothing into a bag, seal, and roll to move air out of one-way valve system. Now you've maximized your packing space by eliminating the air in your bag! These compression bags are ideal for compressing bulky items such as jackets, sweatshirts, coats, socks or dirty clothes. Compression Packers.
 Packing Cubes Keep Things Organized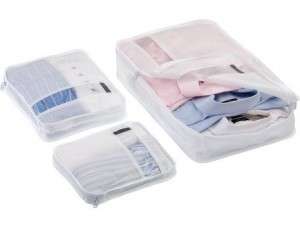 Each lightweight and breathable cube has a different size to keep items neat and easy to find. TSA friendly, the cubes keep like items (think socks and lingerie) together and reduce wrinkles since clothes won't be sliding around your entire suitcase. The larger one keeps dress shirts looking crisp and fresh.
Select Clothes Which Layer and Mix and Match
When thinking about how to pack a suitcase think about wearing layers. Short-sleeved shirts can go under long sleeve ones. A long scarf is decorative and can double as an evening wrap and added warmth on the plane. Jeans or khakis go from day to night with the change of an athletic to a dress shoe or sandal.
2. Choose Knits, Wool, and Cotton
These fabrics tend to resist wrinkles and are versatile and stick to a few colors that mix and match. If you are going to a warm climate pack moisture-wicking synthetics you can wash in your hotel sink, hang up overnight and wear again.
3. Roll Softer Garments and Fold Stiffer Ones
Underwear, T-shirts, jeans, cotton pants, and knitwear won't wrinkle when rolled tightly. Stiffer fabrics, such as starched cotton shirts, blazers, dressy pants, and skirts, should be carefully folded.
If you need more space in your suitcase and aren't worried about the weight, roll your clothes (as this will take significantly less space than folding). If you do not need as much space and want to keep the weight down, fold your clothes.
Roll items as tightly as possible in order to achieve the space saving effect.
Rolling does not necessarily make your clothes more wrinkled, you simply need to be careful that when you roll clothes, you do not roll in any wrinkles. Roll the item as flat as possible. Folding the item along its natural seams first will help.
Elastic items will be easier to roll without introducing wrinkles.
If you aren't very good at rolling, avoid rolling items which wrinkle easily.
Rolled items will need to be packed tightly, which is why this method should only be used if space is at a premium. Rolled items not tightly packed will cause them to unroll and wrinkle.
6. Wash Your Clothes on the Road
Vacation rentals often have laundry facilities, however, if you're staying in a hotel, or taking a cruise wash clothes in sinks and hang them to dry, a blow dryer or iron can help get rid of any lingering dampness. Pack laundry soap sheets ( they can't spill or accidentally pop open) and a portable laundry-drying line. Carry a stain stick in your bag.
7. Strive to Fit all Your Clothes into a Carry-on Bag
Limit yourself to what you can fit into a carry-on bag with wheels.  Your luggage will fit into the overhead bin of an airplane so you never have to check and risk it going on a different trip than you are. When you do reach your destination, you'll enjoy the ease of mobility.
Carrying your bag onto the plane reduces the chances that it will get lost, broken, or stolen.
Save on checked bag fees
8. Use a Large Personal Item
We like to use a backpack in addition to a carry-on bag. You can use your backpack as a day bag at your destination too. pack any medications or can't live without essentials in this bag just in case of the rare chance that you must gate check your carry-on. Plus wearing a backpack and pushing or pulling your wheeled carry-on keeps one hand free too.
9. Use Air Tags or Tile Devices to Track Bags
Apple's Air Tags and Tile for Android phones are small discs that use Bluetooth on your phone to track items.  Not just for luggage. both carry-on and checked, they can be used to track bikes, cars wallets, and just about anything where you can hide and secure the small battery-operated disc. By putting a tracker inside your checked luggage you will be able to see exactly where your bag is when traveling. We have used trackers on our last few trips and had peace of mind knowing both our checked bags made it onto the plane. In two cases it helped us find our bags in the sea of black bags at baggage claim. Now the first thing we reach for after reaching for our bags is our Air Tags or Tile Tracking devices.
More Advice on How to Pack a Suitcase
 Do not lock your checked bags except with TSA-approved luggage locks; otherwise, if your bag is selected for random screening, agents will have to break the lock to get inside.
Do not overpack your bag. TSA screeners will have a difficult time closing your luggage if selected for inspection, which will only lead to wrinkles and the potential for lost articles.
 Lastly, place any packed belongings you don't feel comfortable with strangers handling in clear plastic bags.
Additional Articles You May Like