Starting in November 2023 US citizens will need to register to visit the 26 European countries that make up the Schengen Area countries which include some of the most popular destination countries of  Spain, France, Italy and Germany. This is a security screening of travelers prior to travel and entering European countries. Once you get your clearance from the European Travel Information and Authorization System it will be good for three years or until your passport expires whichever comes first.
US citizens will have to register online with the European Travel Information and Authorization System, or ETIAS, set up for travelers to Europe. It's simple and should be done only if you already have a passport. If you don't have a valid passport get that first and then go online to the ETIAS website.
What is ETIAS
The ETIAS is an electronic travel authorization, it is not a visa. It requires the currently 63 nationalities, including the USA, to apply ahead of their journey in order to be able to board their flights or enter the Schengen area countries.  The 63 eligible countries that will be required to submit an online ETIAS application can currently travel to Europe without a visa. The ETIAS for Europe is a system that will pre-screen travelers before they even board a plane. All information provided on the ETIAS application will be closely examined and checked against security databases.
What ETIAS Does
The online screening system is meant to prevent potentially dangerous individuals from entering Europe. In a statement, a spokesperson for the European Commission said the EU expects that in 95% of cases the application will result in a positive result, and the traveler will obtain immediate permission to travel to Europe for three years, or until their passport expires if that happens before three years.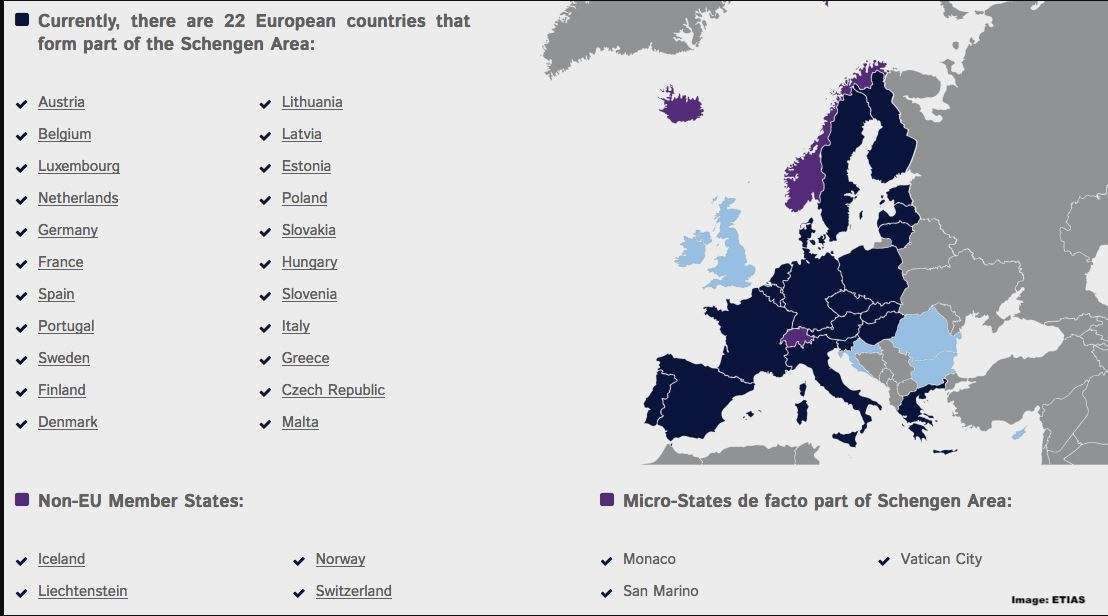 How to Register With ETIAS
To register with the ETIAS system you will need a valid passport. What's important is that the ETIAS requirements will involve having an eligible passport valid for at least 6 months upon entry to the Schengen Area. Without this, the application will be rejected (and probably invalidated when the expiration date is near). Much like other visa waivers, the EU application form will require that all eligible applicants provide their personal details as noted below.
Applicants from the visa waiver countries will have to provide the following information when applying for an ETIAS visa:
Full name
Date and place of birth
Current address
Parents' information
Passport and other nationality details
Apart from basic personal information, applicants will also have to answer questions related to:
Drug use
Terrorism
Human trafficking
Travel to conflict areas
Criminal history
Employment history
Past European travel information
Security information
Providing false or misleading information during the ETIAS application process may result in having the applicant's entry into the Schengen Area denied. The registration will require neither a consulate visit nor the collection of biometric data.
The ETIAS is essentially the European version of the US's Electronic System for Travel Authorization (ESTA), which European citizens have had to fill out since 2008. However, the ESTA is only valid for two years, as opposed to the ETIAS's three.
As of this writing, the ETIAS will cost 7 € for applicants over 18 and will be free for applicants under the age of 18 and over the age of 70. The fee has to be paid online through a valid debit or credit card, see the website for details.
Bottom line
If you plan on going to Europe in 2023, get a passport or make sure yours has at least six months left on your current one, and then register online with ETIAS.