Your laptop, phone, and wallet are not just valuable to you, they are valuable to others too, so protect your gear virtually anywhere with a portable travel safe. Safes are no longer just metal boxes, they can be soft and packable and they're definitely not just for homes, portable travel safes 
offer security in hotels, vacation rentals, vehicles, RVs, boats, offices, dorms, and even outdoors too!
What is a Portable Travel Safe
The latest safe designs are packable and they even incorporate flexible steel for added protection too. Most have hidden steel mesh cages or are of a hard quality plastic that you lock closed and tether to a stationary item. Typical stationary items used for tethering are bed-frames, lounge chairs, car seat frames, bike frames, umbrellas, and even tree trunks. Travel safes are great lock-n-leave security solutions for everyday security concerns and travel as well.
Where to Use a Travel Safe
There are many situations where your valuables are vulnerable and that is precisely why you need to pack a portable safe. Many of the better hotels in the US and abroad offer room safes. However, many of the safes are too small to fit a laptop, files, or larger camera gear. So what do you do if you need to secure bulkier items?  What if you're out and about, or just even poolside and need to secure your valuables while you leave your lounge chair? How many people have access to that vacation rental property you're staying in? Do you trust that your apartment can only be entered by you?  Are valuables secure in your office when you leave them behind?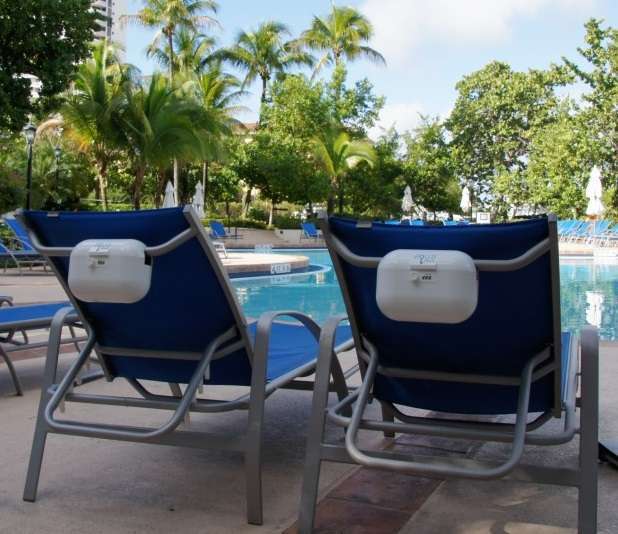 Useful Locations to Use a Portable Safe
hotel
gym
home
car trunk
boat
beach
camping
vacation rental
dorm
hostel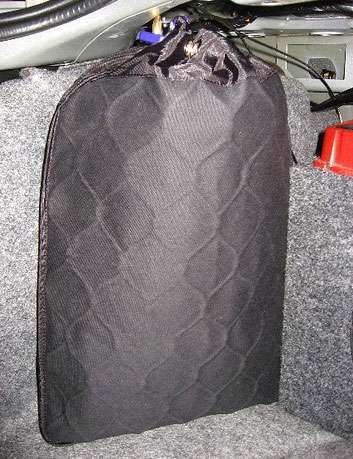 In all these situations a portable safe can offer peace of mind and security. Each of the following designs has unique features to meet the various need you may have. I have two portable safes. One which is larger that fits my laptop and DSLR camera and a smaller one just for essentials like glasses and phone and wallet. Keep reading for our review of the best models you can choose from. Be sure to click on the item to see images of how and where to use the safe!
Check out These Popular Portable Travel Safes
Pacsafe Travelsafe X25 Portable Lock Box 25 Liter Stainless Steel Mesh Design
The largest portable travel safe this bag has carry handles and backpack strap straps to help carry it. It measures 20 inches H x 13 W  x 8 D. This bag secures a generous amount of equipment like camera gear. Your 15-inch laptop, a table and so much more! The external fabric of this travel safe is water-resistant in addition to being slash safe. There's actually steel mesh known as 360-degree exomesh embedded in the material of the bag to stop any slashing or cutting attempts.  The built-in locking cable is steel and the included lock is a 3 dial TSA accepted steel lock.  The safe can be folded flat and placed inside luggage for use at your destination, or you can use it as your carry-on bag making this portable travel safe highly versatile. The travelsafe weighs 2 lbs.
Pacsafe Travelsafe 5L GII Portable Safe, Charcoal
This maximum-security portable travel safe has stainless steel wire mesh embedded in poly canvas is extremely cut resistant. It's designed by Pacsafe the original anti-theft brand. This portable safe measures 10 inches wide by 16 inches high and 1.5 inches deep.  So measure your laptop to see if it fits and place it your tablet passport, wallet and other valuables inside. The way the safe works is that once your valuables are inside you cinch the bag closed with the steel cable keeping it closed with the built-in locking nut and the looping the steel cable around a secure item and locking it down with the included TSA accepted 3 dial combination lock. The light-colored interior enhances the visibility of the travel safe's contents.  This safe stores flat in your luggage taking up very little room and it's surprisingly light at just one pound. About  $99.00
LOCTOTE Flak Sack SPORT – Lightweight Theft-Resistant Drawstring Backpack | Lockable | Slash-Resistant | Portable Safe
This portable travel safe is theft-resistant and designed to be a drawstring backpack too. This bag has a steel-reinforced locking strap and heavy-duty combination lock so you can the bag shut and to a fixed object. The material is slash, tear and abrasion resistant fabric with industrial exterior coating It's also water resistant to protect your contents from rain, spills, and more. This bag features a large interior RFID blocking pocket to shield credit cards and passports from unauthorized scanning by e-thieves. About $120.00
Anti-Theft Portable Safe. FlexSafe by AquaVault (Beach Chair Lockbox & Packable Travel Vault)
The Flexsafe is the smallest and most portable of the travel safes we've reviewed. This design fits your phone, passport, small wallet, and keys. This easy to pack travel safe is water-resistant and measures 10 x 6 x 2.5 inches. It's perfectly suited to pool-side security and sports applications like golf carts and bikes. Take the Flexsafe to water parks, on cruises, or camping. It secures with a programmable and quality magnetic closure. the Flexsafe makes a great bon voyage gift. About $69.00
Masterlock Set Your Own Combination Portable Safe-with Lock Down Cable
Made by the trusted name Master Lock. This compact portable safe or lock box secures your small essentials in a hardshell case that has a built-in cable and 4 dial lock so you can lock it closed and then lock it down for peace of mind at the field, park, pool or anywhere else you may want to secure your small valuables. this little security box even has an ear/bud/charging cable access port so you can still charge your phone or use the headphone while your phone is secure inside. This is a great feature that most use for charging and while keeping their phone safe if they are away from it. The dimensions are 8W x 3.5 D x 1.25 H. A great value at about $24.00.
SAFEGO Portable Indoor/Outdoor Lock Box Safe with Key and Combination Access
This is a great smaller safe that is lightweight but strong enough to keep smaller valuables secure. You can stash your phone, wallet, keys, and even your glasses when you head out for a swim or jog along the surf in this element resistant portable safe. Made by Safego this portable safe is constructed with high-impact ABS plastic and is water and sand resistant to offer protection for small electronics when you're out boating, camping, lounging poolside, or diving.  The Safego travel lock box is equipped with a 17-inch adjustable cable you use to attach the safe box to a fixed object.  A fixed object can be a lounge chair, clothing rod in your room, or fence at the park among other things. Select from a variety of colors to express your style. About $49.00
The Cool Bag has a locking zipper to secure contents and a handle that locks to a stationary item to thwart theft of the bag. It's made of 100% UV-resistant polyester and features stain/water resistance and waterproof coating. Side water bottle pockets are expandable, and a magazine pocket has a hidden zipper that allows the TSA-compliant bag to fit over a rolling luggage handle. Make this your onboard travel bag, your bag for sporting events, and beach days. As its name suggests it's also a cooler with a separate compartment for snacks and beverages.
Can't decide? See a greater selection of anti-theft portable travel safes to secure your valuables at home or while traveling.
Related Articles