Looking for an anti-theft crossbody handbag for travel? If you're planning on traveling finding an anti-theft crossbody handbag is a must and is always a popular choice for travelers.  Anti-theft crossbody bags or purses look like regular bags or purse however, their built security features are discreet so you can enjoy the sites with peace of mind.  Anti-theft travel bags are practical, comfortable, and can keep your belongings safe from pickpockets with built-in anti-theft features. The crossbody feature keeps your hands free and the bag secure on your body. The best way to carry your anti-theft crossbody travel purse is so it hangs a little bit in front of you and not bouncing on your back. This provides even more security from street thieves and pickpockets.
 Good Anti-Theft Crossbody Handbags for Travel have:
A zipper closure that locks down. The number one feature to keep the hands of a pickpocket out of your bag is a zipper with a zipper pull that locks down with a clip to prevent it from being pulled open. Both Pacsafe and Travelon Bags offer this as standard issue on their travel bags.
A hidden flexible wire in the strap. A flexible wire embedded in the bag strap prevents slice-and-run theft. Slice-and-run thefts typically happen more in crowds and busy tourist locations. Have peace of mind knowing your strap is slice resistant.
A panel of wire mesh. Fused in the lower portion of the bag should be a wire mesh that stops bag slashers from cutting through your bag. The most vulnerable part of any bag for this type of crime is the lower and lower sides of the bag. Thieves who cut bags are looking for the bag contents to fall out into the awaiting hands before running off with them.
A pocket with RFID protection. Passports and credit cards contain your personal information embedded inside them. This information can be read by hand-held RFID readers up to 10 feet away and even through your bag. Store your credit cards and passport inside an RFID blocking pocket of your bag to shield your personal data from theft.
What size handbag are you looking for: long & skinny, small, medium, or large? Be like Goldilocks and find the right size for your next trip. Each size can hold a different number of items but they're all anti-theft to safeguard your valuables.
Long & Skinny Anti-Theft Crossbody Handbags for Travel
This stylish anti-theft crossbody bag converts in size when you need it. The Citysafe CX Anti-Theft Convertible Crossbody expanded bag fits a tablet, as seen below. Folded down it's perfect for an evening out.  This bag definitely does double duty. As with all Pacsafe bags, this bag has built-in security features to deter thieves, including digital or e-thieves.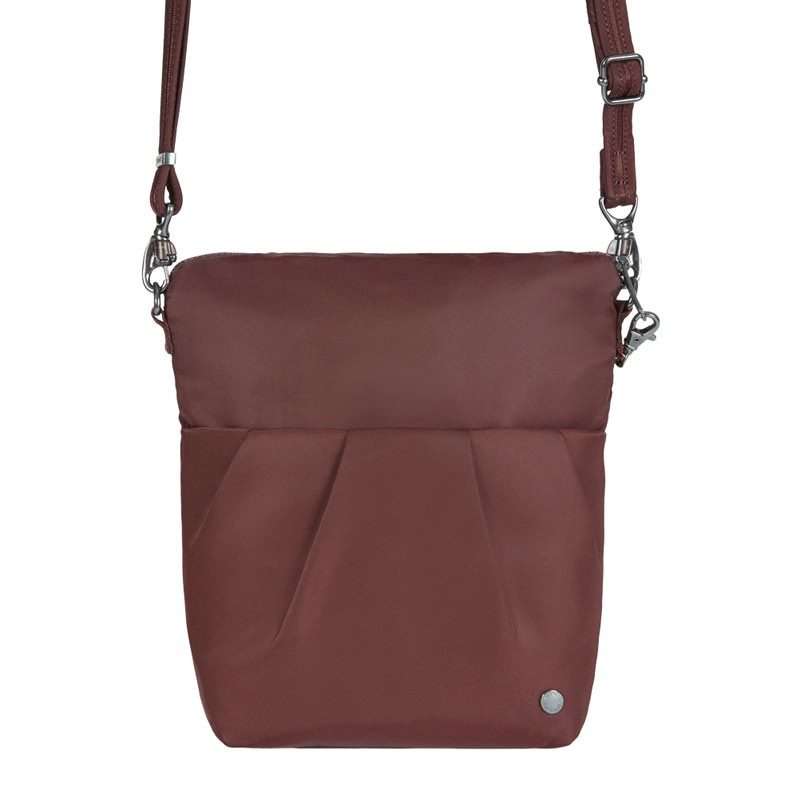 This Anti-Theft Classic Slim Double Zip Crossbody hugs your body comfortably. The roomy zip compartment is well thought out with RFID blocking card and passport slots, an open-top wall pocket, a zip wall pocket and a tethered key clip with LED light. Two locking zip pockets on the front are perfect for keys, lipstick, tickets and other quick-grab items. The rear snap close pocket holds a map, book or sunglasses. Travel securely and confidently with Travelon's anti-theft features including slash-resistant construction, locking compartments, slash-resistant and locking straps to keep you and your belongings protected
Small Anti-Theft Crossbody Handbags for Travel
The Travelon Anti-Theft Signature Quilted E/W Slim Bag is perfect for carrying more than just the essentials. Whether you're off to work or a day of running errands, you'll love keeping everything you need in an organized manner. The roomy main compartment features a zippered wall pocket, a tethered key clip with LED light, two drop pockets that are perfect for frequently needed items plus opens wide providing full access. The front locking zipper compartment has a zippered wall pocket, RFID protected Passport pocket and 5 RFID card slots plus room to hold additional items. The front slash pocket keeps your phone accessible and easy to locate. The rear zipper compartment is perfect for travel documents and can hold an iPad Mini. With Anti-Theft features like locking zippers, slash resistant, adjustable straps and body panels and RFID protection that keeps your identity secure from high-tech electronic readers, you can travel safely and securely. This Crossbody bag effortlessl
y integrates a signature style and is an excellent addition to your accessory collection.
VIDEO: Perfectly sized, the Anti-Theft Boho Slim Crossbody Bag will go with you long after your travels are over. The locking main compartment has RFID blocking technology to stop e-thieves from reading your personal information embedded in credit cards and passports. Well thought out compartments will keep your essentials organized and handy and the adjustable slash-resistant strap secures to a stationary object to prevent grab and go theft.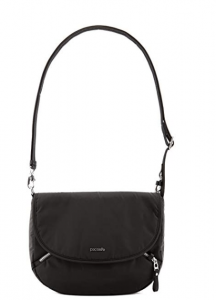 This Pacsafe bag has an RFID-blocking pocket that protects the personal info embedded in your passport and credit cards plus all the other security features you've come to expect from Pacsafe.  You'll keep using this bag long after your trip is over.
Medium Anti-Theft Crossbody Handbags for Travel
The Travelon Anti-Theft Crossbody RFID Blocking Bag is a great travel bag when you want style with security and hands-free convenience. Its slim profile and crossbody design is comfortable and looks fashionable no matter what the season, expressly designed to be worn the most secure way which is slung across your body.
A locking zippered roomy main compartment allows you to take more than just the basics with you. It features 5 RFID blocking card slots, a RFID Passport pocket, a large zippered wall pocket plus a slash pocket that is ideal for glasses, a smartphone or other frequently needed items. It can even fit an iPad. The long, cut-resistant, adjustable strap lets you carry the bag as a crossbody for hands-free convenience, or traditionally over your shoulder. The swivel clasp allows the strap to move freely and it can also be attached to a stationary object to prevent a grab-n-go. With 2 front-locking zippered pockets, a deep rear zippered pocket and a tethered key clip that allows you to easily locate your keys you will be well organized. Made from durable water & stain resistant nylon and accented in gorgeous antique brass finished hardware.

The Anti-Theft Signature 3 Compartment Crossbody Bag is a lightweight bag that features 3 locking compartments to provide discreet, yet highly effective protection against pickpockets. The signature pleats on the front & brushed brass zipper accents, add style & and a fashion-forward look, fooling anyone into thinking this is just an everyday bag! The coordinating RFID-blocking travel wallet like the purse can be used long after your trip is over.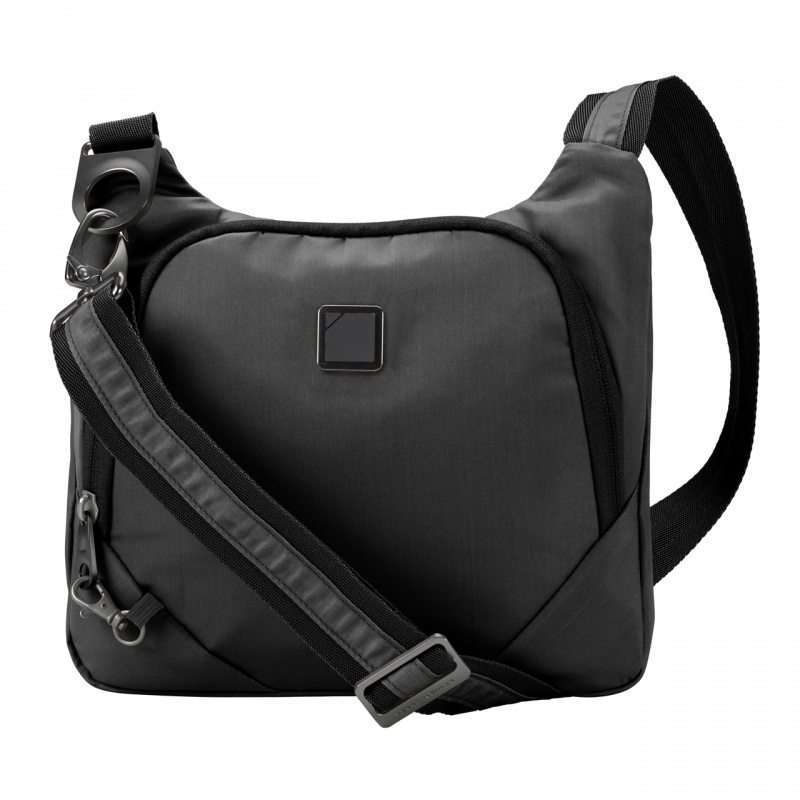 This medium-sized bag infuses style and security into what will be your favorite travel bag. Lightweight and with decorative hardware that does double duty as built-in security features. One opening to secure and to hold your essentials for peace of mind.
Large Anti-theft Crossbody Purses for Travel
This lightweight cross-body bucket bag is very comfortable to wear, it offers a slash-proof strap that can be attached to a post or table with ease. Great size for carrying everyday items as well as a small iPad or reader. The front and main locking compartments offer slash-proof construction for peace of mind along with the RFID reader blocking card slots. The outside mesh panels easily store a water bottle and umbrella. Cash and card wallet included
Two stylish anti-theft bags in one – the city safe CX convertible backpack can be worn as a backpack or fold down to sling over your shoulder as a handbag. There's room for a wallet, cosmetics case, and more, with zipper security and a cut-resistant anchor strap to keep everything protected.
Additional Articles You May Like