I'm sure you've wondered what is the best way to keep valuables safe at the beach or pool. Have you ever gone to the beach and wondered what should I do with my phone, camera, keys or other valuables while I'm in the water? You're not alone and thefts are common, especially at popular and crowded beaches favored by tourists.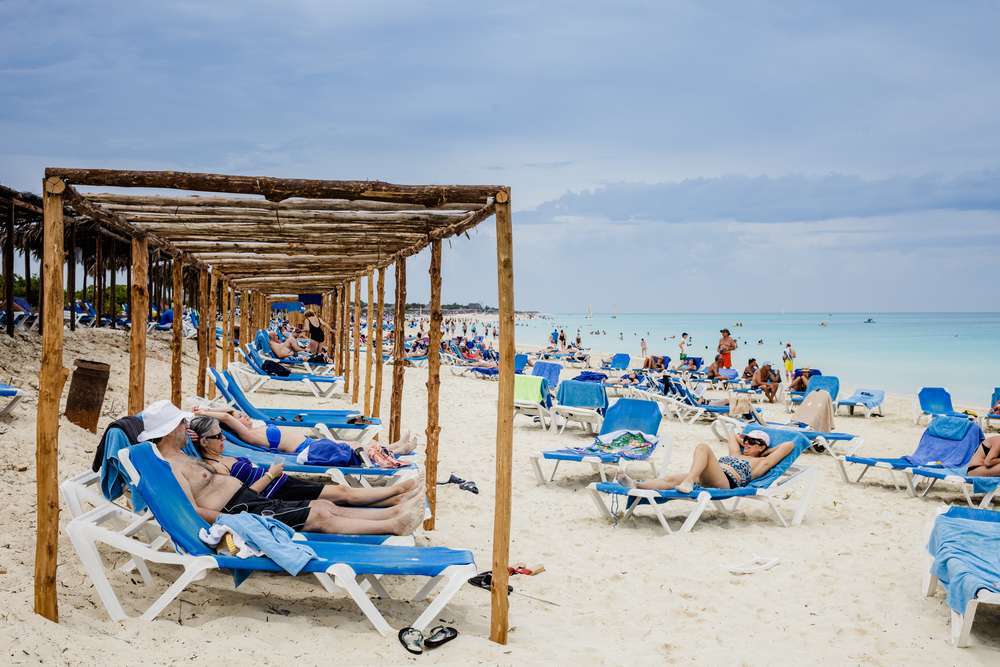 Keeping Valuables Safe While at the Beach
1. The only way not to lose something to theft is not to bring it in the first place. Well, that is not always possible.
2. The next step is to try to thwart the efforts of would-be thieves by keeping your valuables on your person (in a waterproof gear) while you swim or stroll along the shore.
3. The next option is to secure your gear in bags you can lock down to a stationary item like a lounge chair or umbrella. Be sure to see the videos below that capture how thieves operate and get inspired to protect your valuables too before you pack your sunscreen and towel.
(VIDEOS ARE AT THE BOTTOM KEEP SCROLLING DOWN)
Guarding Your Possessions at the Beach or Pool
The first thing you can do to protect your valuables is never to leave them unattended.  Especially when you go into the water or doze off to catch a few winks.
Store small, necessary items like your car key, spare cash and credit cards and even your phone or tablet inside a waterproof pouch you can carry on your person. Yes, you can go into the water with your phone on your person. Make sure your waterproof pouch is secured to your body as closely as possible so that a wave doesn't pull it off.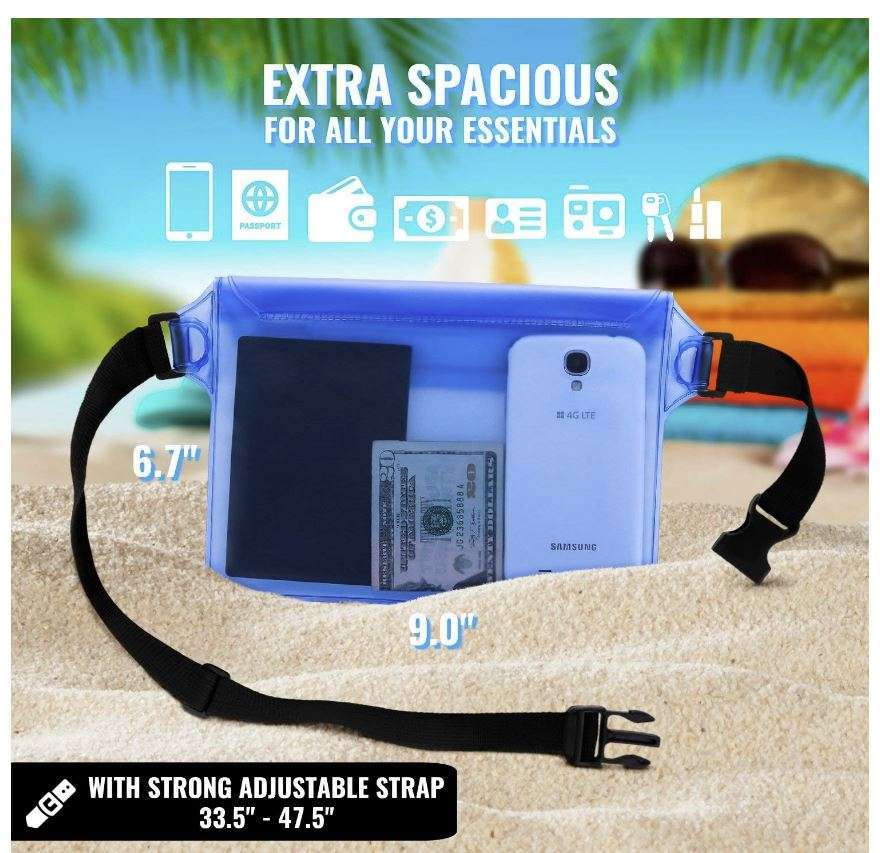 Waterproof waist pouches are better than waterproof neck pouches in the ocean as neck pouches are more apt to float off your body especially if you get hit by a wave.
Use a portable locking safe. Certain bags can be secured to a stationary item like a chair or umbrella, or another immovable object. The Pacsafe Travelsafe X15 Anti-Theft Portable Safe secures essentials in many environments including the beach or pool. You just need something to lock it to like a lounge chair or beach umbrella.
Alternatives To Keeping Gear Safe at the Beach or Pool
Don't have the right anti-theft gear with you? Here are a few alternative measures to take.
Try to go into the ocean in shifts so someone is always watching the valuables.  If you can't do this, read on for various suggestions to protect unattended valuables.
Set your towel down in front of a lifeguard tower when possible. The hope is that thieves won't want to operate near someone who might catch them in the act of stealing while you are in the water.
Don't leave your valuables exposed – if you must leave your valuables, at least, tuck them under a beach towel.  If the item is larger, dig down a little in the sand so the towel remains flat when placed over it. If you have electronics place them in a large zip-lock style bag and bury it, then cover with a beach towel.  The bag protects the electronics from the sand. If you do this, make sure the bag is completely sealed. We like weather and water-proof cases specially designed for 100%  protection against water and sand. These bags are stronger than plastic food storage bags.
Strike up a conversation with a family near you. Make sure the people remember you and don't be shy about asking them to keep an eye on your stuff for short periods of time. If you're generous about sharing things like cold drinks, you can generate enough goodwill to ensure your possessions are watched over even when you're not there.  If you ask another beachgoer to watch your property, remember, you don't know who they are, nor that they would watch your property as much as you would so make sure you think this idea through – but it is an option if you had no other choice and at least you are selected the person.  Most people really don't mind, and they might even ask you to return the favor.
Take or rent a beach chair and use it to attach a portable safe to or place your beach bag directly underneath it, making it more difficult for a thief to grab it and run. The added cost of renting a chair or umbrella is better than having to replace valuables.
Great Packable Security Safes
The following two beach or pool safes lock to a stationary item (like a beach chair or umbrella) and they also lock closed to keep valuables safe while at the beach.
The beach towel with built-in sand resistant and water-resistant pocket is a less secure alternative, but ideal if you don't have a chair or umbrella to lock a portable safe to.
SafeGo Portable Lock Box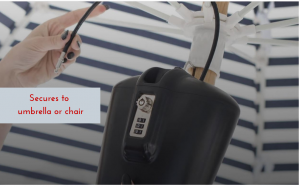 •  Durable plus water and sand resistant
•  Lock box has 3 digit combo + key access
•  Heavy-duty 17″ steel cable wraps around a fixed object
•  Rust-resistant, nickel-plated lock
•  Lightweight ABS plastic, easy to pack


Flexsafe Portable Safe

•  Ultra slash-resistant portable travel safe
•  Water-resistant design
•  RFID  blocking
•  Re-programmable 3 digit combination lock
•  Light-Weight & easily packable


Travel Towel with Hidden Water/Sand Resistant Pocket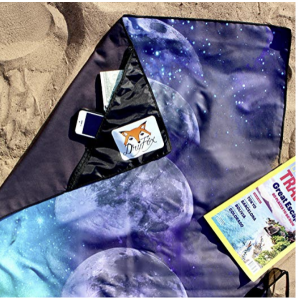 •  Towel with built-in water-resistant pocket
•  Conceals valuables while you're sleeping  or swimming
•  XL size, 60″x 30″ weighs 8oz.
•  Made of quick-drying and ultra-soft microfiber
•  Light-Weight & easily packable


These Videos Show How Thieves Work at the Beach
.
You really need to plan ahead and think about how to keep valuables safe while at the beach or pool before you leave on your trip. That way you can invest in a waterproof body pouch or a larger portable lockdown safe. While more expensive than a body pouch the flexibility of a safe is that you'll be able to use it in a hotel room, car, vacation rental property, camping, etc. for years to come.
More Articles You May Like