Protection from Identity Theft  – RFID Blocking Wallets and Credit Card Sleeves are Now Must-Haves! What's in Your Wallet?
What's in your wallet? Identity theft continues to be the fastest-growing crime in America and you need to take measures to protect your personal and financial information from tech-savvy thieves who now e-pickpocket their victims without even touching or taking their wallets! Identity theft is now possible with hand-held scanners that allow an identity thief to read your credit card information while it's still tucked safely in your pocket or purse. That's where RFID Blocking Wallets and Credit Card Sleeves are now must-haves.
Besides being smart about to whom you give your personal and financial information to, there are other ways you need to protect your identity as well. Carry a RFID blocking wallet to stop high and low-frequency skimmers that can steal your credit card information right off the card without you even taking it out. If you love your wallet and don't want to replace it. You can create a barrier by placing your credit cards in an RFID blocking sleeve and then keeping the shielded cards in your wallet. Identity theft is a silent intrusion you can prevent. These are some of the latest products you'll want to have for yourself and for those you love and care about.
RFID Blocking Wallets
RFID blocking wallets are security wallets, lab approved by the United States government that contain material used by the military and tested to stop the skimming credit cards stored inside these type of wallets. Simply add your credit cards to the credit card slots of any RFID wallet and your information is fully protected. The wallets can be leather and look like regular quality wallets. Some of the most popular RFID wallets to look at can be found here.
Men's Bi-Fold RFID Security Wallet
If you're looking for a security wallet for yourself or the man in your life, a bi-fold security wallet makes a great gift! This RFID wallet is thin and lightweight.  Easily carry it in a pants pocket or jacket. It has enough storage room to keep all your credit cards and financial information secure. You can never be safe enough when it comes to identity theft – the hackers and scammers could be watching every move you make in a store with an exposed wallet. Men's bi-fold RFID security wallet.
Ladies Checkbook RFID Wallets
Many women want to carry their complete wallet including all cash, credit cards and a checkbook in one. If that sounds like you or someone you know, the new ladies checkbook RFID wallets are sure to fit the bill. Find them in a wide variety of sizes, styles, weights, colors and stay safe from identity theft at the same time. Security wallets look like regular wallets so no one will know how smart you are and you will frustrate the identity theft scammers trying to get a look at your personal or financial information! See more, here
Don't Want to Change Your Wallet? ID Protection is Easy with RFID Credit Card Sleeves or RFID Passport Sleeves
These sleeves can be added to almost any wallet or carried alone to house a few or many credit cards at a time. Many people prefer a credit card sleeve instead of a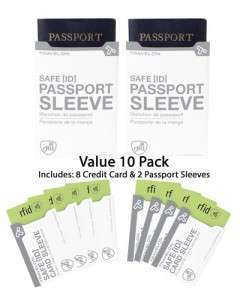 complete wallet for the convenience and small size that make them easy to carry and disguise.
Consider college and high school students and keeping their identity safe as well with a security wallet or credit card sleeves. Students are often not thinking about the possibility of identity theft in their daily lives. Inexpensive RFID credit card sleeves or RFID passport sleeves are great products to shield credit cards from data skimming.  These  RFID sleeves are a practical solution.
Do yourself a huge favor and begin taking steps to protect yourself from identity theft by buying a RFID credit card protector in the form of an RFID wallet, RFID passport case, or simple RFID credit card or passport sleeve. Stay alert to other new ways to protect your identity online and offline as well – a security wallet is a great start.