What People Steal From Hotels
Have you ever taken something from a hotel? How about travel-sized shampoo or unused soap? Hotels expect that and even see it as advertising for the hotel you take home. However, what some people steal from hotels goes beyond that. Some hotel guests steal large and expensive items like towels and robes. No doubt you've found a card placed on the hanger holding the robe that it can be purchased upon check out, this is an attempt to reduce theft and keep people honest. Perhaps the thieving hotel guests want to make their home feel as luxurious as a five or four-star hotel?
Wellness Heaven, the luxury hotel and spa guide recently surveyed 1,157 hoteliers to determine which items are the most commonly stolen from hotel rooms. The top five stolen items from hotels are towels, bathrobes, hangers, pens, and cutlery. According to Wellness Heaven's below chart, hotel guests will also steal batteries, remote controls, and even lamps!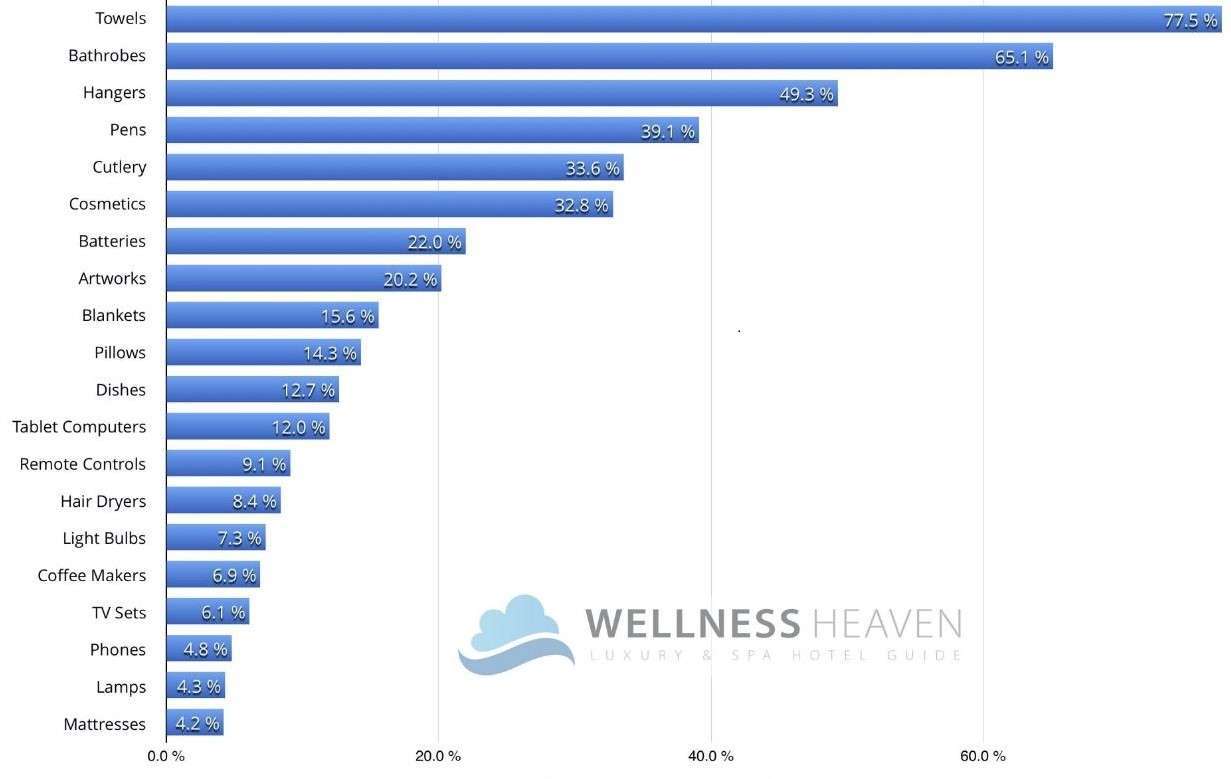 The overwhelming majority of hotels reported guests stealing:
1. Towels are the most popular at 77.5% of hotels surveyed, have you ever stolen a towel?
2. Bathrobes are the second most item that thieving guests can't resist, 65.1% of hotels report.
3. Hangers just about 50% of hotels say these are stolen too.
4. Pens about 40% of hotels say guests take pens. We think pens with the hotel's name on them are advertising for the hotel, hot just souvenirs.
5. Cutlery one-third of hotels report having cutlery stolen. Whatever is taken surely won't match what the guest has at home.
Other High-Value Items Stolen
Coffee makers are stolen at 6.9% of hotels according to this survey. These thieves must have a lot of extra room in their bags.
Tablet computers commonly referred to as "suite pads" are stolen 8.2 times more frequently in 5-star hotels than 4-star hotel.
Hmmm, maybe theft is contributing to why hotel stays can be costly.
Hotel Room Luxury at Home
If you love hotel luxury, recreate the feel at home, start with hotel towels.
While most hotels use white towels, you can have the same luxury towels but choose from
any color.
If you're craving a new luxurious hotel-style robe, Amazon offers the best selection of hotel style robes. Think if you want a lightweight cotton or a thick terry style robe.
Related Articles You May Like