There are four separate Trusted Traveler programs operated by the Department of Homeland Services (DHS). They are designed to get pre-approved travelers faster and more efficiently through airport security. (Read avoiding the long lines of TSA checkpoints) Each program has a different travel security focus depending on where you tend to travel to the most. They all have a fee associated with them but the membership lasts for five years. See if you qualify for any of these time-saving programs to make your trip through the airport easier and stress-free.
Trusted Traveler Programs Explained
TSA Precheck –  applies only to air travel within the U.S. and does not guarantee expedited security processing. The TSA agents at the airport have the right and responsibility to screen all passengers. You can't use this program everywhere as some airports don't have TSA PreCheck lanes.
Global Entry – is best for frequent international travelers even it's just once a year or once every two years. Here's why, it includes TSA Precheck and since it only costs $15 more for the five membership, or $3.00 per year more, it may be the better investment between TSA Precheck and Global Entry. You must have a passport to apply for this program.
Nexus – is limited the those whose international travel in mainly between the U.S. and Canada and includes TSA Precheck and Global Entry.
Sentri – is a program for travelers who regularly cross the U.S. and Mexico border by vehicle. The participant gets an RFID chipped card that brings up all your personal information quickly on the border patrol's computer.
An interesting side note is that sometimes your boarding pass will be flagged with TSA Precheck even if you're not enrolled in the program and will allow you to go through the Precheck line and not have to remove your shoes or jacket. The TSA randomly selects passengers for expedited screening based on the information they can read from your frequent flyer profile you established with the airline you're traveling on. So the tip here is always sign-up for the frequent flyer program of the airline you're traveling with as it might get you through the TSA screening process quicker on your next trip.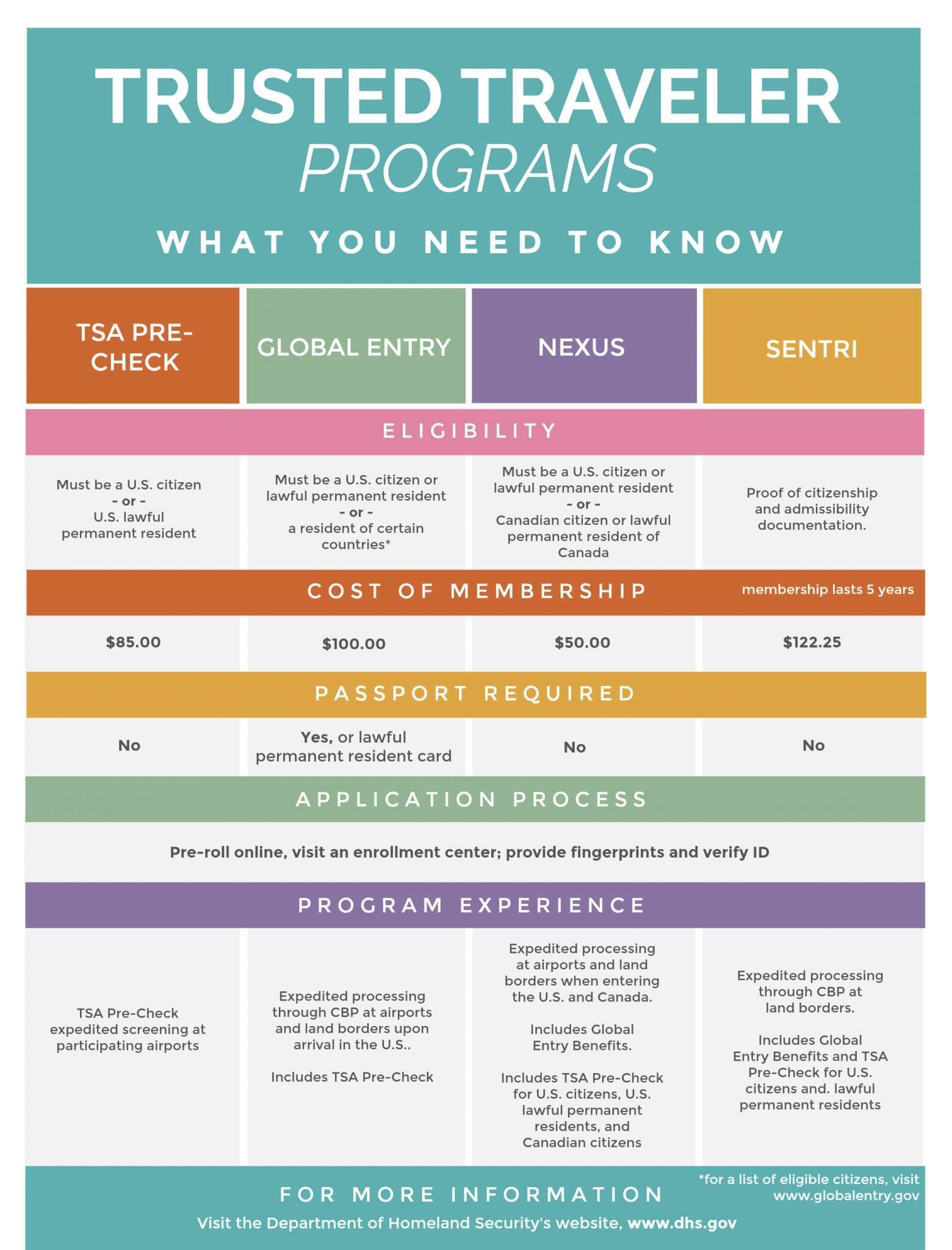 For more information, visit the website of the Department of Homeland Security (or click HERE).