The Best Money Belts to Hide Money, Credit Cards, and Passports
Travel Smart and Keep Valuables Close and Secure
The best travel money belt is a security money belt or pouch and it can be your most important travel accessory, especially when visiting busy and popular tourist attractions. It is in these locations where pickpockets and thieves target tourists. Shield and protect your valuables from pickpockets, distraction thieves, and snatch and run crooks with a hidden money belt, security neck, or body pouch. A money belt depending on its size and design is used to hide money, cash, passports, identification, and other valuables that you don't want to lose.  A money belt is a personal item and is not a "one size fits all" by any means. The best money belt designs have anti-theft technology and offer various designs and sizes, so you're sure to find one just right for you. Now you have a choice of traditional belts with a zipper to hold just bills, wallets you wear on your leg and hide under pants, and even more styles which you wear around your neck or waist and tucked under clothing. Enjoying water sport or the beach? No problem, you can choose from a variety of completely waterproof styles of money belts so you can swim and play in the water while keeping your passport and other valuables close and dry!
Read on to learn about the various types of best money belts and secret wallets available with anti-theft features. The latest styles of neck and body pouches have RFID blocking to stop identity theft by tech-savvy thieves.
Why Use a Money Belt?
You want to select a money belt for a sense of security and peace of mind, and to protect your money and other smaller valuables from thieves. Money belts also keep your hands free so you can do more, as you don't need to hold or worry about a bag. Bottom line – A money belt is the best investment you'll make costing you only $10- $25.
What are the Pro and Cons of Travel Money Belts and Pouches, Neck Pouches or Waist Wallets?
Waist Style or Under-Clothing Money Belt
This style of money belt can be worn either tightly against the stomach with your shirt or blouse covering it or dropped loosely into your pants below your waistband. If you are going to purchase one of these – give strong consideration to a money belt that has a steel cable embedded within the rear strap so it cannot be cut by a sneak thief from behind and pulled off.  There are several popular styles of waist wallets
with built-in anti-theft features such as RFID blocking to guard your passport, money, credit cards and identity.
Tips for Wearing a Money Belt:
The safest way to wear a waist wallet or money belt is tucked inside your pants. The strap should fit loose enough to tuck below your pant waistband so that is not visible. The pouch should also be tucked into your pants. If you choose to wear the waist wallet outside of your pants make sure your shirt is long enough to cover the money belt from view. Try this at home before you pack.
If you wear your shirt un-tucked, be aware that a professional pickpocket could bump into you in a crowd, lift your shirt, cut the rear strap, and flee with the belt in a matter of seconds. An embedded steel cable in the waistband makes this type of theft impossible. Alternately keeping the money belt strap tucked below the waistband of your pants protects from this type theft too.
Best Money Belt for Runners
The best money belt for a runner is slim and fitted to the body to prevent bouncing. The beauty of this belt is that it can be worn when not exercising too while walking around town and sight-seeing during travel.
Best Full Sized Money Belt
This money belt fits 3 passports easily, has RFID protection and is water-resistant. What's more, the money belt strap is elastic for comfort and to fit a variety of waists. See more colors by clicking on the image.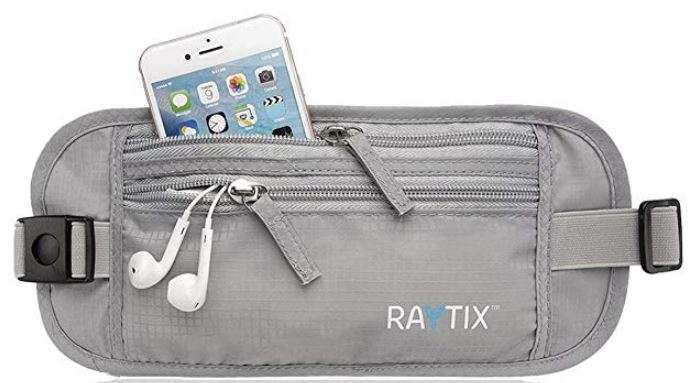 Best High-Tech Money Belt with Theft Insurance
This money belt is made by Peak Gear of 210D ripstop nylon so it is lightweight and durable. Besides having built-in RFID blocking technology this money belt also includes 2 global recovery tags that you attach to valuables like your phone or passport. Attach the tags to your phone, passport, camera, etc. If the protected items are ever lost and found, ReturnMe's 24/7 call center will help get the items back to your door, from anywhere in the world. There is NO additional cost.

Best Hidden Wallet – Belt Loop Wallet
This style of money belt is a single pouch that hangs inside your pants from your belt or belt loop. It is usually made out of nylon or cotton an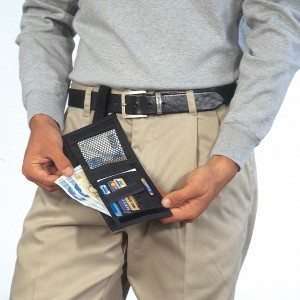 d has one or two zippered compartments. It is very easy to slide out and tuck back in. This is an extremely secure way to carry cash and cards since it attached to your belt. Some designs are large enough to hold your passport, money, and a credit card.  Many designs offer two different colored belt loops (black and brown) to blend in with your belt, so it is not so obvious that you have a belt secured wallet. A popular design is this belt loop wallet because it is completely hidden with zippered compartments to secure contents.
All About Neck Wallets – Money Belt Alternative
Travelers have relied on neck wallets, often referred to as a security neck pouch or neck safe for years.  They are one of the most common and secure types of money pouches and are highly recommended by experienced travelers. Quality neck pouches are made with soft moisture-wicking fabric for comfort.
However, neck wallets do have some drawbacks. A neck pouch hangs under your clothes, and the biggest complaint is that depending on the type of shirt or blouse worn, it may take a while to get to it when needed.
Whenever possible you do not want people to see that you are wearing a money pouch around your neck. Neck pouches are designed to be flat and not bulky, even though a tight fitting top will reveal that you're wearing a neck pouch so look for one with a long strap so that you can lengthen it and wear lower towards the stomach. Lowering it also makes it easier to access because you just need to lift up the bottom of your shirt. The bottom line is even if noticeable, a neck wallet is a great security wallet because no pickpocket or thief can reach through your shirt and get at the contents.
Considerations for a Neck Wallet or Body Pouch:
When worn for long periods of time, you may be aware of it more than other money belts.
When considering the purchase of a neck pouch, think about one in a tan or beige color.  A black one may be easily seen if you are wearing light-colored clothing and thereby calling attention to it.
Always purchase a quality neck pouch that has some type of inner liner. The inner liner works as a moisture barrier to protect contents.
Consider how you will retrieve items from the neck pouch. If you are wearing it when you go to dinner at a nice restaurant, will you have to excuse yourself to the restroom in order to unbutton your shirt to retrieve your money or credit cards? This may not be a problem if you are a student and backpacking your way across Europe, but for others, you may want to consider another style or plan ahead and tuck what you need in a secure pocket.
A thief may recognize the pouch strap around your neck (they are not that hard to recognize) and a non-reinforced strap can be easily cut from behind by a skilled pickpocket and then pulled off your body. Therefore, the best type of neck pouch to wear is one that has a wire woven throughout the length of the strap. That way your property is better protected from snatch and run thieves. This is one of our favorite styles of a neck wallet or neck pouch to recommend.
Leg Pouch Money Belt
This device straps around your calf, or like the photo here slides on like a sock to stay secure. Leg safes have pockets in the sock sleeve where you place your money and passport, so it's a money belt too. Leg safes or leg wallets are adjustable to fit most leg sizes and, of course, need to be worn only when you're wearing long pants. These are ideal "second wallets" when you want to split up where you carry your valuables.
Classic Money Belt
Always popular when looking for a dressy option this is a real hold-up-your-pants leather money belt with a zippered compartment on the inside that stores a dozen currency notes. It's a proven favorite for the holidays! Classic money belts only conceal cash, they do not conceal passports or credit cards.
Best Leather Money Belt
On the inside of the belt is a slim zippered compartment that remains hidden from view.  The hidden money belt was made to keep your cash hidden and safe from sly pickpockets. Designed to look like a regular belt, these types of money belts come
in a more finished look. They can be worn with a dress or casual pants, as well as shorts, and not look out of place
Airport Friendly TSA Money Belts Won't Set Off Metal Detectors
Designed to help save time and hassle from going through security checkpoints and metal detectors at airport screening stations. TSA beep free belts are made of nylon webbing, non-metal buckles, and non-metal zippers. The buckle (the part that sets off most metal detectors) is made out of a rigid, but security friendly composite material that will not set off the screening station alarm.  Hidden in the back of the belt is a zipper compartment to hide bills.  It is completely made of nylon and high impact plastic, including the zipper track and pull so it is completely TSA friendly. With no metal in the belt, you won't have to worry about having your belt buckle set off TSA airport metal detectors. Learn more about TSA Screening Money belts
.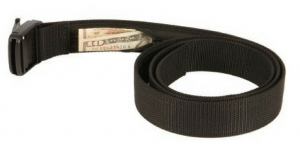 Waterproof Fanny Packs, Neck Pouches, and Body Pouches
When going to the beach, parasailing, or simply swimming in a hotel pool where do you store your valuables? Now you can play, lounge, or snorkel and not worry about who's watching your valuables!  Take them swimming with you for peace of mind.  See the latest designs of water-proof gear
that protects your valuables, including your phone and take them with you into the water.

Before you leave on your trip, spend some time understanding how pickpockets operate so you can "see them coming" before they get your wallet, camera or phone.  Get a quick tutorial by watching videos of "pickpockets in-action." Before You Go – Watch Real Pickpocket Videos and Read Up on Pickpocket Scams
 Additional Advice You May Like