Would you give your fingerprints to the TSA in exchange for a faster experience at airport security?
There's nothing worse than waiting in a long line at the airport. You're already running late but your line isn't moving. Out of the corner of your eye, you see an alternative shorter line moving much faster than your line. You also notice that those passengers don't need to remove their shoes, laptops liquids, belts, or light jackets. Those passengers must know a secret. That secret is the TSA Precheck program. If you want to save time at the airport, TSA Precheck is the best way to do it.
In December 2017, 93% of TSA Precheck passengers waited in line for less than five minutes. There are more than 5 million members already taking advantage of the program and 200 airports and 42 airlines provide TSA Precheck.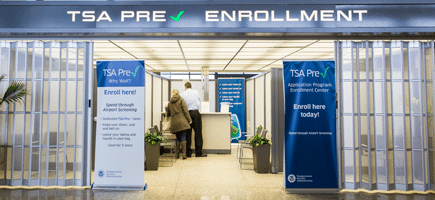 How to Get TSA PreCheck
To join TSA Precheck, you need to submit an online application and schedule an appointment at any of the 380+ enrollment centers. An additional requirement is to attend a 10-minute in-person appointment that includes a background check and fingerprinting. The cost for a 5-year membership is $85 for TSA Precheck.
Here's a pro tip: Many travel credit cards offer to cover this cost once every five years, check your credit card benefits if they offer it use to pay for the TSA PreCeheck application.
Why the TSA Needs Your Fingerprints
In June of 2017, the Transportation Security Administration announced that it was testing technology to identify passengers by their fingerprints. The FBI also inspects your fingerprints to make certain they match the same person and identity, but the FBI does not retain your fingerprints. Ultimately, using fingerprints in the airline boarding of passengers might make the process faster. The fingerprinting is now done by a fingerprint scanning machine instead of the old-fashioned way with ink and paper.
If you decide that fingerprinting is worth it, you will want to enroll in the TSA Precheck program.
When you enroll in the TSA Precheck program, you join a group of smarter travelers who save time during the security screening process. Visit TSA.gov to enroll so the next time you travel you have peace of mind knowing you're on the list with a TSA Precheck boarding pass in hand. Expedited screening and TSA Precheck lanes will absolutely save you valuable time.
Travel With TSA Accepted Travel Gear 
Another way to speed up your journey through TSA baggage check is to use the right kind of travel accessories. There are  TSA accepted items that will help you save time no matter what line you're in at the airport.
The Triple Security TSA Lockdown Luggage Lock, pictured below, allows the TSA to access your bag and helps to keep thieves out.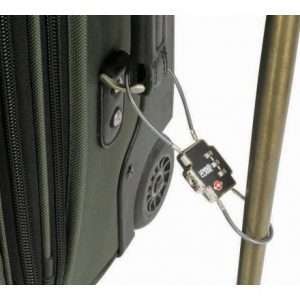 The Search Alert TSA Luggage Lock, pictured below, is a luggage lock that the TSA Airport Security won't cut off. If you don't use TSA-accepted luggage locks, you must leave your checked luggage unlocked so that TSA agents can open it if selected for inspection. The Search Alert re-settable combination luggage locks have a security feature that allows TSA security agents, using a secured access device, to open Search Alert TSA luggage locks without destroying the locks. Learn More here.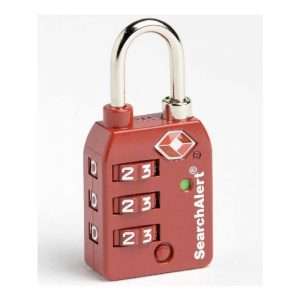 The TSA Flexible Cable Luggage Lock, pictured below, has an easy-to-use flexible cable shank. This luggage lock is TSA accepted and they won't cut it off. It's also easier to attach to zipper pulls with a flexible steel cable. Learn more here.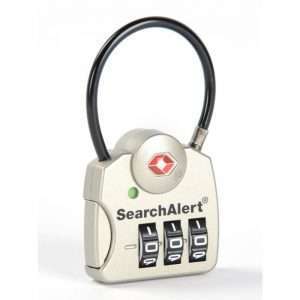 The TSA Combo Lock with 48″ Steel Cable, pictured below, is recognized by the TSA and features a special identification mark that alerts TSA personnel that they may open this lock with a proprietary TSA passkey that doesn't damage the lock. Learn more here.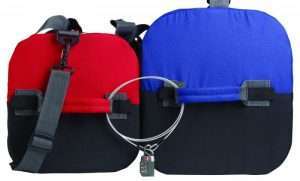 The Search Alert Heavy Duty Longer Shackle Case Lock, pictured below, is for use on equipment cases. The Search Alert feature lets you know when your equipment was opened and inspected at the airport by the TSA. Learn more here.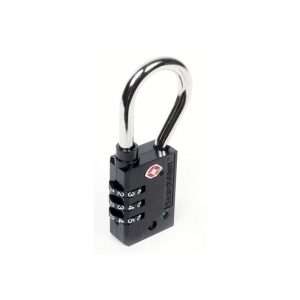 The Strapsafe 100 TSA Luggage Strap by Pacsafe, featured below, is the only security luggage strap that combines the patented "Baggage Constrictor TM" technology and TSA compliance. The strap cannot be loosened once locked, unlike other luggage straps, and the TSA can open it without damaging it. Learn more here.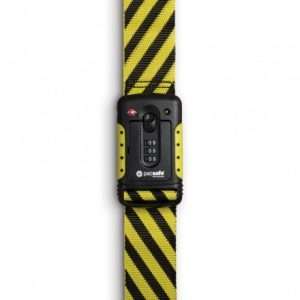 There are also additional items that will come in handy for the TSA airport screening such as the TSA Airport Friendly Belt. It is 100% metal free belt that is TSA accepted and will not set off the metal detector so you don't have to remove it when going through any screening line.  Leather belts with no metal and other styles will help you sail smoothly through the TSA PreCheck lines.
Related Articles You May Like