Posted by
Travel Admin
on Apr 9, 2014 in
France
|
Comments Off on Paris Pickpockets – How To Recognize and Avoid Them
With over 2.2 million city residents and millions of tourists, it is easy to see how this crowded city can make a petty thief rich. The US Embassy reports that major sites such as the Eiffel Tower, Notre Dame, and the Champs-Elysées are prime hunting grounds for Paris pickpockets who work near tourist attractions. Additional areas where travelers need to be vigilant of pickpocket scams in Paris which include metro trains, monuments, beaches, trains, train stations, hotels, airports and parks. Spending a little to understanding how to recognize and avoid Paris pickpockets can save you a lot of heartache by making you more street smart around Paris.
The Awes of Paris – Around the City
There is never enough time to truly discover Paris. From the breathtaking sites of the Eiffel Tower, Arc de la Triomphe, the Louvre, Sacre Coeur to the romantic walkways along the Seine River or narrow streets on the Cité Island, there are many reasons for travelers to explore the Paris city limits. Because there is a large concentration of museums, monuments, and parks in close proximity, it creates the perfect hunting ground for petty thieves and pickpockets.  The following tourist sites are frequented by pickpockets and other thieves: Madeleine, Arc de Triomphe, Champs Elysees, Sacre Cœur, L'Opera, Chatelet, Les Halles/George Pompidou Center, Porte de Clingnancourt flea market, and the Eiffel Tower.
Video of Young Paris Pickpockets
Watch this video so you can see what a typical group of young teenager pickpockets look like when they travel as a group.  While they look like an innocent group of kids, trust that they are far from it.  Note how they will cover their faces when they see that someone is filming them.
Pickpockets at Paris Museums and Monuments
The following is a list of typical Paris pocket picker scams that are reported around local museums and monuments
No place in Paris is safe from the skillful, delicate hand of a pickpocket. While touring the Musee D'Orsay you may notice fellow tourists and even Parisians examining the superb collection of art, including the young, foreign man dressed in khaki trousers, a pink, Polo button down shirt with a large camera hanging from his neck. The man and you must be walking through the museum at the same pace because he keeps accidentally bumping into you. After viewing the treasures of the museum, you start to make your way out and notice that your bag is unzipped and open. In fact, your wallet is missing. The fellow tourist was not only examining the exhibitions, he was examining you.
The Eiffel Tower is probably the area with the most pickpockets and swindlers. The grounds below the tower are open and quite large. In 2009, 6.6 million visitors took in the world class views from the top deck. With millions of travelers carrying valuables such as money, cameras, purses, etc., it is no wonder that a man would spend his entire day there zipping around on rollerblades and grabbing whatever he can. Because of the rollerblades, he is able to escape quickly and never be caught.
There are even small, organized gangs that operate on the Eiffel Tower grounds. They may be selling miniature statues of the Eiffel Tower or other souvenirs. When you try to pay for the trinket, one of the "salesmen" grabs your purse, wallet or waist pack and runs away. Although there is a police presence to protect visitors from these occurrences, the thieves have learned to outsmart the police by throwing the stolen goods from member to member until they disappear.
Solution: If you are interested in purchasing a souvenir from a street vendor, after selecting the item and agreeing on a price, step back from the group; discreetly remove the needed money and return to pay. Try to maintain a distance from the salesmen, so that your items are not within hand's reach. Also keep small change for these sorts of purchases. Do not expect street vendors to make change for you.
Additional Paris Pickpocket Scams
Solution: Try to keep a distance from strangers. If someone bumps into you, check your pockets and bags immediately. You can also reduce the incidence of loss by storing money in
your leather belt. The Leather Security Money Belt looks like a normal belt, but there is a hidden compartment on the inside to securely hold your cash.
Additionally, always be aware of your surroundings. When observing the sites, make sure to also observe those around you. If you find yourself in a crowded area, such as an elevator, keep an eye on all of your belongings. Travel with a waist pack with hidden closure and zipper locks, Waist Pack, or a hidden underclothing waist wallet.
More Paris Pickpocket Scams
Settled on a hill top in the Montmartre neighborhood is the stunning Basilica of the Sacre Coeur. This is an excellent location to view the city from above, especially when lit at night. While taking a peek inside of the Basilica, a man lightly bumps into you as you are admiring a statue. Startled, you look at the man and then out of the corner of your eye, you catch the movement of the man's hand in your purse.
The steps in front of the Sacre Coeur are a popular hang out for young people and tourists. As you search for a good place to rest on the steps, a man approaches and offers to perform a "let's be friends" trick.  Americans love to be loved and hate to be embarrassed in public, which make them a perfect target for this type of scam.  The man who approached you innocently asks if you'll help him  (or her) with a "demonstration" for other curious tourists.  The scammer proceeds to

make a "friendship bracelet" right on your wrist.  But when he's finished, you're suddenly and unexpectedly asked to pay for this simple string bracket.  Since you can't easily take it off, you pay up to avoid creating a scene in front of the crowd.  The picture to the rights shows a scammer tying the bracelet around the wrist of an un-assuming tourist who will be quickly asked to "pay-up."

Another version of the string bracelet being tied around wrist starts off the same way, but this time you are confused because this is no trick and once the bracelet is tied, the man can see if you are wearing a watch and steal it, or a group of friends quickly surround you and demand money for the bracelet, you are forced to "pay-up" for the bracelet in order to get your watch back.  Stay clear of anyone trying approaching your with the bracelet scam..
Famous artists such as Claude Monet, Vincent van Gogh and Pablo Picasso once had studios in the Montmartre neighborhood. Today tourists can still visit the tiny streets and the decadent bistros of this hilltop quarter. A local artist may even approach you offering to sketch a caricature of you. After much convincing, you finally agree. The artist has indeed sketched a very fun portrait, and after he charges you a steep price of 50 Euros.
You decided to visit the Centre Pompidou to see what the controversy is about – some people find the contemporary style to be an eyesore and some truly appreciate it. You sit down on a bench outside of the center and another person sits down on the same bench, but behind you and facing the opposite direction. The pickpocket then carefully slides their hands into your jacket pocket and steals everything inside. They then quickly disappear into the crowd.
Solution: When you sit, you cannot feel the weight of your heavy pockets or bags. This makes it easier for a petty thief to take what they want without you noticing. Try to keep belongings out of sight from others. If this is not possible, hold them in front of you, or in eye's sight when taking a rest.
Additionally, never purchase anything without agreeing to a price beforehand. There are many pickpockets and swindlers in this area, so beware.
Pickpockets Scams in Paris Neighborhoods and In-between 
The city of Paris is split into districts or quarters. Many of these neighborhoods are quite unique and attract many visitors. The Marais, Les Halles, Latin Quarter, Republique and especially the Pigalle quarter are areas where travelers should pay special attention to their belongings.
While walking through the streets of "Old Paris" in the Marais quarter you refer to your travel guide to find directions to Place des Vosges. While studying the guide, a French woman asks if she could look quickly at your book. As the woman examines the map in the book, you realize that another man is standing very close to you. The woman quickly gives back the book and the two walk off together. You inspect your bag and notice that one of the zippers is open and money is missing.
The Pigalle is known as the adult entertainment district of Paris.  The US State Department reports, "Many entertainment establishments in this area engage in aggressive marketing and charge well beyond the normal rate for drinks. Reports of threats of violence to coerce patrons into paying exorbitant beverage tabs are not uncommon. There have also been several violent confrontations between rival gangs in the district, including one in August 2007 one block from the famous Moulin Rouge cabaret. Visitors are encouraged to avoid this area unless touring with a well-organized and reputable tour company."
It is a beautiful, warm summer evening and you decide to walk from Montmartre to the city center via the Pigalle district. When near the Moulin Rouge a man sees you smoking and asks for a cigarette. You give the man a cigarette and another passerby also asks for a cigarette, you give this person a cigarette too. The next morning when you pack your travel pack for the day, you are unable to find your camcorder. Thinking back on the previous evening, you realize that the people who asked for cigarettes where actually working as a team to distract you and steal from you.
To stroll the streets along the River Seine is a wonder way to view the splendid bridges of Paris, some even centuries old. Unfortunately Parisians and tourists are not the only people taking in the sights of the city; pickpockets also work this well-traveled path. A fellow passerby stops to ask you which direction the famous Pont Neuf, the most famous and oldest bridge in the city. You pull out your map to help guide the friendly traveler in the right direction and beneath the map, the traveler has their hands in your bags.
There are many joggers in Paris, it is a beautiful place to get some exercise. A jogger dressed in a Nike outfit accidentally bumps into you and knocks you down. He apologizes and frantically tries to help you up. He also helps himself to the contents of your pocket.  If someone is truly lost and you wish to offer assistance, it may be a better idea to simply hand over your map, so they can find the location on their own. This allows you to keep an eye on your belongings and pockets, while they find their way.  If someone bumps into you, first check to make sure their hands are not on you.
While walking across Le Pont de l'Archevêché (bridge) a passerby accidentally spills their ice cream cone on your back. The person apologetically stops and pulls out tissues to help you clean off your shirt. While they help clean your shirt, they also help themselves to your back pocket.
While standing at a street corner waiting to cross, a woman asks you if you can change out their 5 Euros bill for coins so they can use the nearby pay phone. You pull out your wallet to try to make change and the man swipes your wallet and runs off.  First off, you should never give money to beggars, as you don't know their intention.  If you did in fact want to do this, carry small change (about 5 Euro) in your pocket so you do not have to pull out your wallet in these situations.
You want to check out the wares at one of the city flea markets, such as the one in Clinancourt. It is a sunny, Saturday afternoon and the market is swarming with people. You decide that it is safer to hold your cell phone in your hand, rather than in your pocket. As a tall man walks by, he grabs the cell phone right from your hand and disappears in the crowd. If you choose not to carry a purse, but still want to travel with small items such as a smartphone, wallet, or small camera, purchase a small purse small enough to hold this small amount of items such as the Slingsafe 75,  which is a smart, stylish and lightweight option. The strap is slash-proof and there is a tamper-proof safety hook on the inside to help secure your phone.
Walking home from a late dinner, you notice a group of 10 or 11-year old kids skating on the sidewalks and clumsily bumping into people. At first you enjoy watching the children having fun on their rollerblades, but the longer you watch, you see one of the children bump into an old man and swipe the wallet from his back pocket.
The Overseas Security Advisory Council reports that petty theft can also occur in Parisian department stores such as Galleries Lafayette, Printemps and Bon Marché. Thieves swipe wallets, credit cards or even passports that customers set on counters when paying.
Pickpockets and Travel Scams at Paris Restaurants and Hotels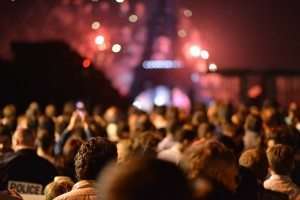 Pickpocket and Travel Scams Reported in Paris Restaurants and Hotels:
You arrive in Paris exhausted and jet lagged at 6 a.m. You arrive to your hotel and are unable to check in until 2 p.m., but the hotel agrees to hold your bags until then. You decide to go to a nearby café to try your first, authentic, French croissant and a café au lait. You pay the waiter and then once you leave, you realize that he double charged you. Always check a menu before entering a restaurant or café and always examine the bill at the end of a meal.
Although there are fast-food chains such as McDonalds, Subway and KFC in Paris, these restaurants usually attract American tourists and pickpockets know this. You want a break from the foreign and decide to enjoy a hamburger at one of the surprisingly clean and stylish chains in the city. You sit down at a table and a few minutes later, another diner asks to share your table. When the man next to you leaves, he grabs his bag and yours as well.
You want to experience the Parisian nightlife and decide to go to a bar to have a drink. Once it is time to pay the tab, the barkeeper informs you that you owe 30 Euros for 2 beers.  Always check a menu or ask for prices before ordering. Also, locals such as Irish Pubs attract primarily tourists, as well as and petty thieves and swindlers who target intoxicated travelers.
You decide to eat breakfast at your hotel and take your travel pack with you so you can immediately after start your sightseeing for the day. Because the breakfast room is on the lower floor of the hotel, you set your pack on the chair across from you. After you finish eating, you collect your things, but to your surprise, your bag is gone. A thief, pretending to be a guest, snuck into the hotel to take the belongings of unsuspecting travelers.
After returning from a long day of sightseeing, you return to the room to find that your bags are open and empty, even the socks and undergarments are missing. The only other person who had access to the room was the cleaning staff.  You never know where or when you will be the victim of theft. Keep items in your hotel room locked using a luggage lock or a portable travel safe with padlock.
The US State Department reports, "In hotels, thieves target lobbies and breakfast rooms, and take advantage of moments of inattention to snatch jackets, purses, and backpacks. While many hotel rooms do have safety latches that allow guests to secure their rooms from inside, this feature is not as universal as it is in the United States. If no chain or latch is present, a chair placed up against the door and wedged under the handle is usually an effective obstacle to surreptitious entry during the night. There are, however, reports of thieves breaking into hotel rooms on lower floors through open windows while the occupants are sleeping. To guard against this, hotel room windows should be kept locked at all times. Whenever possible, valuables should be kept in the hotel safe."
Ways to Outfox Pickpockets and Travel Scams In Paris – Explore the City like a Local
Dress like the locals. Parisians typically dress in darker or neutral colors. Shorts, running shoes, baseball caps and t-shirts scream "tourist".
Learn a few French phrases. Parisians are more likely to help you, if you make an effort to speak their language.
Use a small street guide such as "Paris Pratique", it is easier to use and the map of choice by many French.
Familiarize yourself with the local currency in your hotel room, not in a public square. You can even research the different Euro bills online before leaving home.
It is great to be patriotic, but try to avoid wearing the US flag on your backpack or clothing. This again indicates that you are a tourist.
Save time for the lesser known and less crowded attractions such as the Musée D'Orsay. The larger Louvre, for example, is always busy with visitors and petty thieves.
The Police authorities in Paris have created a safety guide for travelers, Paris in Complete Safety. The guide offers tips on how to avoid becoming a victim and who to contact if theft occurs.
If you would like to provide additional security to your valuables when visiting areas that are known to be frequented by pickpockets, you may want to consider any one of a number of ingenious travel security products that have been specifically designed to give travelers additional peace of mind when traveling.  Some of these products include special slash proof bags with locks, special hidden money and travel document holders, hidden money belts and wallets, neck pouches, and wrist, arm or leg wallets.
To view a variety of these items, many including demonstration videos that show how they protect your valuables, visit www.corporatetravelsafety.com. To fully educate and prepare yourself for a chance encounter with a petty thief, check out "Traveler Beware, an Undercover Cop's Guide to Avoiding Pickpockets," an audio book by Detective Kevin Coffey.  All of the cutting edge travel gadgets discussed here, as well as the "pickpocket training" CD to give you peace of mind when traveling can be found at www.corporatetravelsafety.com.
Related Posts