What you need to know about how the Real ID ACT will affect how you board a plane.
Will the TSA accept your driver's license as ID? The Real ID act is a piece of legislation that imposes much stricter measures on how people can obtain a driver's license and sets more thorough standards as to what will be displayed on them. Why is this important to you and domestic travel? Because you need a federally approved driver's license or similar ID to board a plane. 
The REAL ID Act sets forth new federally mandated requirements for all state driver's licenses and ID cards. The Department of Homeland Security (DHS) has set standards not entirely dissimilar from the requirements already in place for most states throughout the country, however not all states are compliant.
The bottom line is…
Driver's licenses and IDs must now meet the Act's minimum standards when they are produced. The higher standards to be tamper-proofed and to signify that your identification has been verified and approved by the TSA.
The Below is From the Department of Homeland Security
Please continue to check DHS's REAL ID webpage for the most up-to-date information on individual state compliance as status can change over time. You can find a list of identification accepted by the Transportation Security Administration on TSA's website.  You may also check with your state's driver's licensing agency about how to acquire a REAL ID-compliant license.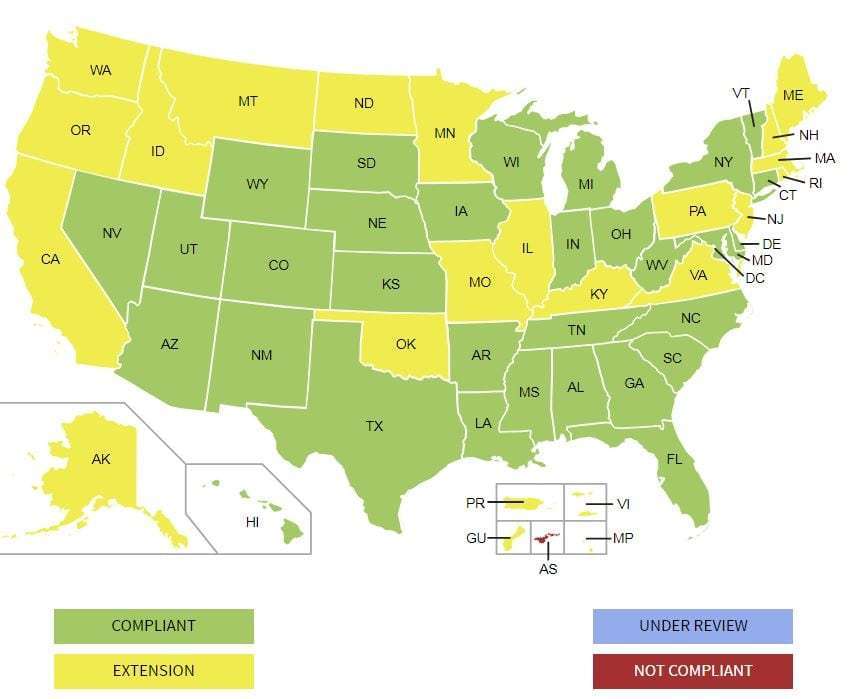 Fact: Until January 2018, if traveling by air, residents from ANY state are still able to use a driver's license, or any of the various other forms of identification accepted by the Transportation Security Administration (Passport or Passport Card, Global Entry cards, U.S. military IDs, airline or airport-issued IDs, federally recognized, and tribal-issued photo IDs. See the full list on the TSA website.)
Effective January 22, 2018, if you have a driver's license or identification card issued by a state that does not meet the requirements of the REAL ID Act, unless that state has been granted an extension, you must present an alternative form of identification acceptable to TSA in order to board a commercial domestic flight.
Starting October 1, 2020, you will need a REAL ID-compliant license, or another acceptable form of identification, for domestic air travel.
Fact: TSA will continue to accept driver's licenses issued by all states through January 2018 and, then, will continue to accept licenses from all compliant states or non-compliant states with an extension.
Fact: You have until October 2020 to replace your current license with a REAL ID compliant license, as long as your state is compliant or is non-compliant with an extension.
Fact: REAL ID does not build a national database nor does it grant the Federal Government or another state access to a state's driver's license data.  REAL ID is not a national identification card. States and territories will continue to issue its own unique license, maintain its own records, and determine who may access those records and under what circumstances.