A Famous Tourist Scam in Paris, France
This is a very popular scam in Paris (as well as other tourist cities in France and Italy).  It is known by several names such as the "String Scam or the "Friendship Bracelet Scam" or the "Paris String Scam."
Where the String Scam Occurs
One of the most common Paris locations where you'll find the Friendship Bracelet Scam practiced is throughout the Montmartre area. Specifically, the scammers will target tourists and first-time visitors as they approach and walk up the giant staircase that leads from the Metro to the Sacre Coeur area of the Basilica of Sacré-Coeur. This is a popular stomping ground for tourists and is Montmartre's leading tourist attraction and one of the most-visited church in Paris. Visitors to Paris should also be aware that this scam is also prevalent at many of the Metro lines and stations that you travel on to get to this location. Two things can happen with this scam. The first thing is that the scammers ask you to extend your arm and give you a "free" string bracelet in the spirit of friendship. Then they harass you for a donation and will not leave you alone until you finally give them some money. The second thing that can happen is that while you're distracted by the artisan an accomplice cleans out your pockets or bag of valuables.  Travel with a pickpocket-proof bag and beware of these scammers!
Here are a few videos that show how the scam works:
Videos of Paris String Scam
Here are a few videos that show how the scammers operate and take advantage of unknowing tourists. The first video was shot on the Piazza del Duomo Milano. However, it is the same scam that occurs in Paris.
Additional Tips
1. Use an underclothing money belt or wallet to keep valuables hidden from pickpockets who often work with the string men. They offer immeasurable peace of mind. and there are various comfortable and discreet styles for both men and women.
2. Keep larger valuables safe with an anti-pickpocket proof daypack or bag.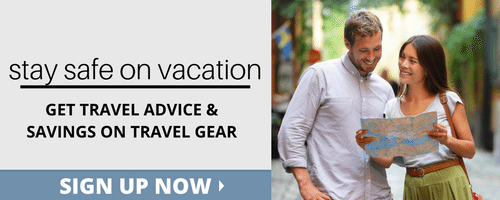 Related Posts via Categories